Scotland takes top spot in UK for gaming sector job growth
Scotland has seen the largest increase in gaming sector employment of any part of the UK in recent years with the sector worth some £350 million to the country's economy, new research has revealed.
The study by Knight Frank found that the number of people employed in gaming grew by 60 per cent between 2017 and 2019 – the latest period for which relevant data was available. Dundee has the fourth highest concentration of gaming companies among the UK's major towns and cities, the commercial property consultancy noted, and a new £60m "digital" e-sports arena with up to 4,000 seats is likely to be completed in the city in 2025. Dundee also retained its gaming top spot in Scotland.
During the first half of 2023, Edinburgh featured in the UK's top three cities for property leasing transactions in the gaming sector, measured by number of deals, according to the report. Glasgow is also included among the top five areas for gaming skills.
Knight Frank said the growth of the industry in Scotland had been supported by the delivery of gaming-specific courses. Abertay University, which has consistently been ranked number one for video games education in Europe, offers six accredited courses - the second most of any academic institution in the UK. Six more universities offer games-related degrees, while 11 colleges offer HNC and HND-level qualifications.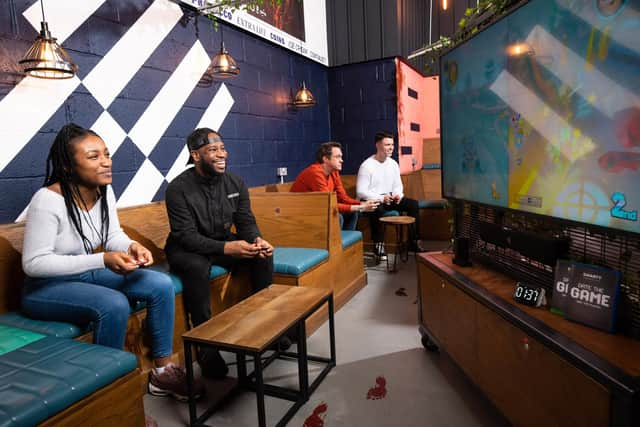 Alasdair Steele, head of Scotland commercial at Knight Frank, said: "Scotland has a strong track record when it comes to gaming, with Lemmings and Grand Theft Auto among the iconic games to be developed here, and 4J Studios bringing Minecraft to consoles. Dundee is widely recognised for its expertise in digital media and gaming, with Abertay University forming the UK's first centre for excellence in computer games education.
"The growth of the sector has been strong in recent years, and that only looks like continuing with such a strong skills base and new infrastructure like the Dundee e-sports arena. Property will undoubtedly have its role to play in supporting creativity, attracting and retaining talent, and giving occupiers the flexibility for high growth."
Knight Frank partner Jamie Phillips added: "The gaming sector is one of the UK's major success stories of the past few years, earmarked as a priority growth sector by the government. The sector's success is a UK wide story, with 63 per cent of gaming companies based outside of London. Thriving gaming hubs can be found in larger cities as well as locations including Leamington Spa, Guildford and Dundee."
Scotland was recently highlighted as a video games employment hotspot after studio numbers across the UK leapt by almost a fifth in a little over a year. Figures from trade association Tiga showed that employment in the UK's games development sector surged by 11.4 per cent, while studio numbers jumped by about 18 per cent during the period from December 2021 to April 2023. Wider games industry employment, tax revenues and investment also grew markedly, August's report noted. It also highlighted that almost 80 per cent of the UK's games development workforce is located outside of London.
Comments
 0 comments
Want to join the conversation? Please or to comment on this article.