Rent crunch: The Scottish cities where monthly bills are rising faster than London
Annual rental inflation is running well into double digits with four Scottish cities named among the UK's hotspots ahead of an expected interest rate hike this week that is likely to compound the financial misery for millions.
The average UK rent has increased by £110-a-month - or 10.4 per cent - since April 2022, according to the latest data from property portal Zoopla. That takes the average cost of a new let to £1,126 per month, following 21 consecutive months in which rental rises outstripped wage growth. The situation has been fuelled by a range of factors including rising interest rates, a demand/supply imbalance, the withdrawal of many buy-to-let mortgage products and landlords deciding to sell up amid the cost-of-living crisis.
While London remains the most expensive area of the UK to rent a property, with the average monthly bill breaching the £2,000 mark, Scotland has also experienced soaring rental inflation over the past year. The Zoopla research reveals that average Edinburgh new-let rents have jumped by 13.7 per cent to £1,130, in Glasgow they have risen by 12.3 per cent to £868 while Aberdeen has seen a 10.6 per cent hike to £652. Dundee, with its large student population and growing cultural reputation, has notched up a heady 14.5 per cent increase in average rental payments.
Scotland as a whole has registered a 13.1 per cent annual rise to an average of £725, marking the highest regional growth outside of London. While Edinburgh is the most expensive place to rent north of the Border, East Ayrshire is the cheapest, with an average rent of £519.
Zoopla's rental sector survey is published every three months and tracks the rents that landlords request when listing a property, though analysts also adjust the figures to reflect the rent that is eventually agreed. Up to a third of landlords who have sizeable mortgages are facing the biggest impact of soaring borrowing costs, which are going up further than previously expected. The Bank of England is this week widely predicted to announce another quarter-point hike, taking the base rate to 4.75 per cent, though further increases are anticipated later in the year. Earlier this week it emerged that the average fixed two-year mortgage rate on offer had topped 6 per cent for the first time this year.
Ben Laidler, global markets strategist at social investment network eToro, said: "The UK faces a critical week and the market consensus is not pretty. It's widely expected that underlying inflation will have stalled to around 6.8 per cent, keeping us at the highest rate in the developed world. Consequently, the Bank of England will be forced to hike interest rates for a 13th time, to 4.75 per cent, with financial markets seeing the peak still far off at 6 per cent early next year. This will further increase pressure on the housing market with the Halifax price index already negative for the first time in a decade and mortgage approvals down by a third versus last year. It also increasingly risks driving the UK economy into the recession it has stubbornly so far avoided."
The Zoopla data indicates that the average UK tenant now spends more than 28 per cent of their pay before tax on rent. It means people are forking out more of their wages on their monthly rent than at any other time in the last ten years. Richard Donnell, executive director at Zoopla, said: "The impact of higher rents is not uniform with those on low incomes bearing the brunt, with increasing signs of stress."
Over the last two years and since the economy reopened following Covid lockdowns, the average London rent has increased by £490 a month. This brings the average rent in the UK capital to £2,001. The good news for many renters is that the rate of rental inflation is slowing down in inner London. The monthly rent for a new let in that area is only £26 higher today than it was in January 2023, according to the figures. Zoopla said this was an indication of prices hitting their ceiling in this area, as people struggle to afford higher rents.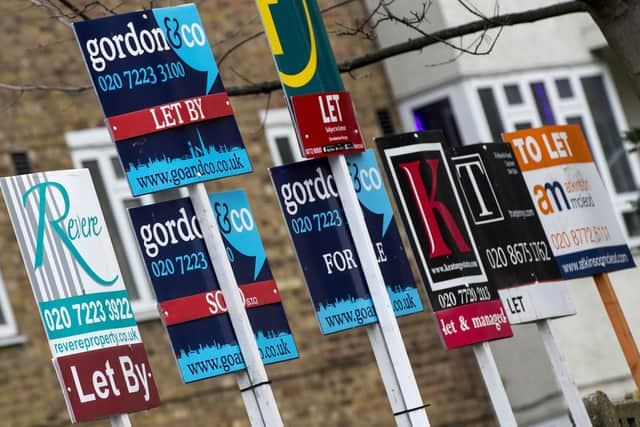 The lowest rental growth is currently being registered in the city of Doncaster and the towns of Grimsby and Blackpool. The typical monthly rent in these areas has increased by less than £30 per month since April 2022.
A report last week suggested that landlords were making their lowest profits for 16 years amid the backdrop of rising interest rates. Property agency Savills said 12 consecutive increases in the central bank's base rate, matched by rising mortgage costs, were putting a squeeze on landlords' incomes. Many smaller buy-to-let investors were also nearing retirement age.
Mortgage experts have warned of the "catastrophic effects" from potential further increases in interest rates. Amanda Aumonier, head of mortgage operations at mortgage broker Better.co.uk, said: "The majority of those who purchased property during the pandemic did so with two or three-year fixed-rate mortgages – many of which are now due to expire. As such, we still haven't seen the full impact of the Bank of England's strategy to increase the base rate over the past 18 months. If the BoE decides to raise the base rate once again this week, it will not only continue to jeopardise the housing market overall but could also have catastrophic effects on this group of homeowners, who now need to remortgage."
Comments
 0 comments
Want to join the conversation? Please or to comment on this article.