Reaction: AG Barr cracks open 'strong' H1 results while search for next CEO continues
Roger White, chief executive of Irn-Bru-maker AG Barr, has said there is no update as yet regarding the search for his successor as the group unveiled effervescent half-year figures.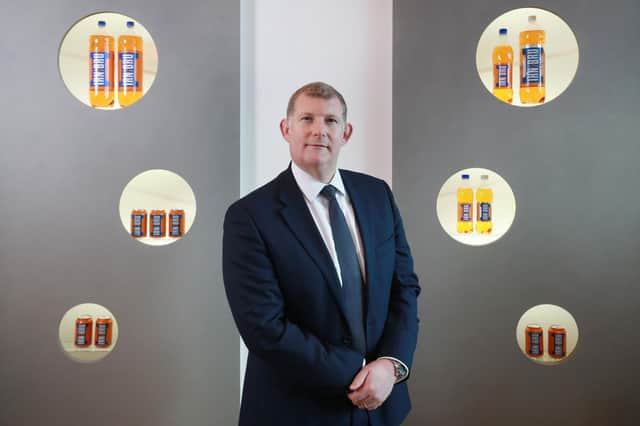 The FTSE 250 firm for the period ending July 30, 2023, posted revenue of £210.4 million, a year-on-year jump of a third and as per the trading update in August, while like-for-like (LFL) revenue was up by just over a tenth to £174.3m. The group, whose brands also include soft drinks Rubicon and Snapple as well as Funkin pre-mixed cocktails, added that adjusted pre-tax profit came in at £27m, up 6.7 per cent. Basic earnings per share amounted to 18.87p, down 0.6 per cent, with AG Barr attributing the drop to a higher tax rate, saying it would have been up 12 per cent otherwise. Interim dividend per share grew 6 per cent to 2.65p.
Its CEO told The Scotsman that the Cumbernauld-based business achieved a strong financial performance in the first half, and made progress across all parts of its strategic agenda during the year, including bringing Boost Drinks and oat brand Moma Foods into the group. Regarding any progress in appointing his successor, with the executive having announced in August that he was stepping down at some point in the following year, he said the process to choose the next CEO is progressing. The firm, which dates back to 1875, is also subject to ongoing strike action, but said there has been no impact on customer service, and it is "keen to resolve it sooner rather than later".
White also noted that the group has "exciting plans in place for the balance of the year to sustain its growth momentum". As for what this could entail, he said it would pursue value-added opportunities, with the overall focus for the second half comprising growth, investment, and innovation.
He also said: "We remain confident in delivering a full-year profit performance in line with our recently increased market expectations, and are well-positioned to deliver strong shareholder returns for the long term."
Analysts Darren Shirley and Clive Black of house broker Shore Capital said the results dovetail with their expectations. They added: "We reiterate our view that AG Barr has a leading stable of propriety brands, a world-class manufacturing infrastructure, a very strong balance sheet (FY24F net cash of £63.5m) and an attractive, long-term track record of high teens returns. We see much to like."
Also commenting was AJ Bell investment director Russ Mould, who said: "If... consensus forecasts are correct then AG Barr will grow its profits for the third straight year in the 12 months to January 2024 as it picks up the pieces in the wake of the damage done by lockdowns and the pandemic. The trade-off may well be [sacrificing] some operating margin to achieve this, but shareholders could still be pleased if the outcome is a resumption of sustained growth, especially after the challenges that have faced the firm over the past decade or so.
"These have included regulation on sugar content, Covid and lockdowns, carbon dioxide shortages and now input cost inflation. The uncertainty caused by Scotland's proposed deposit return scheme continues to linger, even if it is currently in abeyance. The firm is also having to adapt to changes in consumer tastes and trends."
Comments
 0 comments
Want to join the conversation? Please or to comment on this article.