Perth-headquartered energy giant SSE announces £40bn major injection in clean energy, creating thousands of jobs
SSE has outlined plans to invest up to £40 billion over the next decade, creating more than 1,000 green jobs a year, saying the record sum would mark one of the largest clean energy investment programmes the UK and Scotland have ever seen.
The Perth-headquartered energy giant says the move includes plans to inject more than £21bn into Scotland alone, and will see it ramp up its deployment of renewable energy, the "vital" network infrastructure to connect and transport it around the UK, and the flexible power sources to back it up when needed. It comes after the FTSE 100 firm in January pledged record green investment.
SSE has unveiled the major plans alongside its full-year results for 2022/23, reporting a "record" investment of £2.8bn for the year – in excess of 50 per cent more than its £1.8bn adjusted profit after tax in the same period – as it builds out major energy projects including the world's largest offshore wind farm at Dogger Bank. Adjusted earnings per share increased 75 per cent year on year to 166p.
The group added that its "strong" financial performance, combined with "increasing visibility over its pipeline of investment opportunities over the coming decade", has enabled it to update its previous capital expenditure plans, with the fully funded element of the plan increasing by more than 40 per cent to £18bn.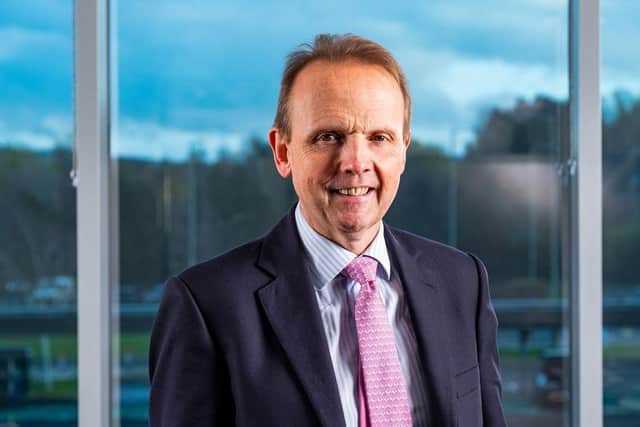 Alistair Phillips Davies, chief executive of the group that can trace its origins back 80 years to the first hydro schemes in the Highlands, said: "This [£40bn-plus plan] is a massive commitment to the UK and, at around £10m every single day, amounts to one of the largest clean energy investment programmes this country has ever seen – helping create and support thousands of new jobs and powering green growth from Shetland to the Isle of Wight.
"As a Scottish-headquartered business, we are incredibly proud to be one of the biggest investors in Scotland, supporting tens of thousands of jobs and helping the country accelerate progress towards net zero."
Vote of confidence
UK Chancellor Jeremy Hunt branded the record investment programme "a further vote of confidence in the British economy", adding: "We have the second-largest offshore wind capacity in the world, with renewables providing 40 per cent of our electricity, and investment like this ensures long-term energy security, lower bills and thousands of jobs in our industrial heartlands."
Also giving his view was AJ Bell investment director Russ Mould, who said SSE now intends to spend £18bn by March 2027 rather than £12.5bn by March 2025. However, he added: "Utilities, even ones whose focus is renewable energy, are conscious of accusations of profiteering in these inflation-stricken times, and SSE is careful to flag its record capital investment budget, the acceleration of its drive to net zero and the planned dividend cut for the coming fiscal year as it reveals a healthy jump in underlying profits for the 12 months to March 2023."
Additionally, Stuart Lamont, investment manager at RBC Brewin Dolphin, said: "SSE continues to deliver strong results… The emphasis on its investment in the UK's energy network and transition towards net zero are front and centre, which seems a sensible step in the current backdrop. The company is in a good place, but there are likely to be hurdles to overcome in the months ahead."
Comments
 0 comments
Want to join the conversation? Please or to comment on this article.