The 95m-tall criss-cross structures, which stand around the same height as Big Ben and weigh 2,000 tonnes apiece, are the foundations for the new £3 billion Seagreen project.
The bases are due to be transported on barges from the Port of Nigg, in the Moray Firth, to their final destination around 17 miles off the Angus coast in a journey that will take around 36 hours.
The 114-turbine scheme will be the world's deepest with fixed-bottom foundations.
It will have capacity to generate 1.1GW of green electricity when it becomes fully operational next year – enough to power more than 1.6 million homes, equivalent to two-thirds of all households in Scotland.
When complete, each structure will stand 280m above sea level, almost as tall as the Shard – the UK's loftiest building – and more than double the height of highest point of the Forth Bridge.
The first turbine was erected at the site in December 2021.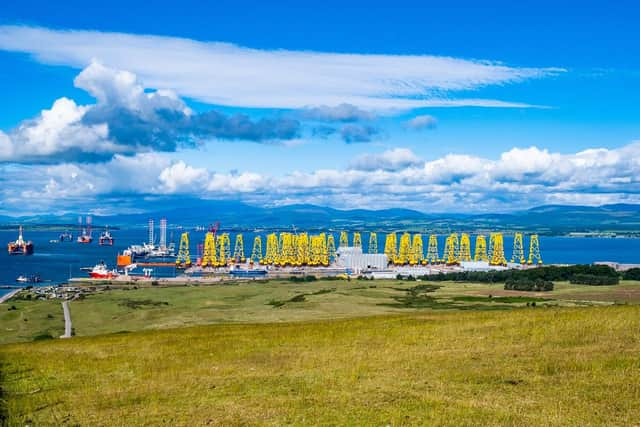 Power will be exported to the grid via a new substation at Tealing, near Dundee.
Estimates suggest the wind farm will displace in excess of two million tonnes of carbon dioxide from electricity generated by fossil fuels every year – similar to removing more than a third of Scotland's total annual car emissions.
A further 36 turbines are due to be installed at a later date.
Seagreen is a joint venture between Scottish-headquartered energy giant SSE Renewables and French oil, gas and renewables firm TotalEnergies.
Scottish ministers have set out an aim to create 11GW of new offshore wind in Scottish waters by 2030 to help end use of fossil fuels and cut greenhouse gas emissions.
It is part of moves to reach the national target of net zero by 2045.
So far there is 892MW of operational projects, 4.9GW consented and 4.4GW in the pipeline.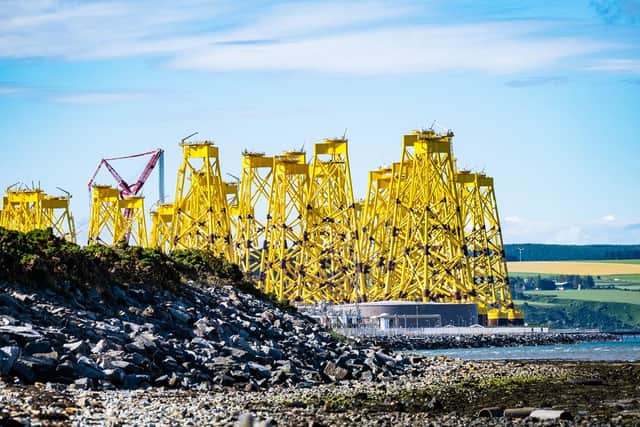 A further 25GW could come onstream through the first round of the new ScotWind initiative, with more expected in future.
Developers say the country is entering "a golden age for clean energy".
Alistair Phillips-Davies, SSE chief executive, said: "Projects like Seagreen show we are entering a golden age for clean energy in this country.
"Recent debate has focused on whether the next Prime Minister will support net zero as an environmental policy.
"Seagreen shows that net zero isn't just about climate change.
"It's about creating jobs, delivering major clean infrastructure, regenerating rural communities and ultimately helping us secure our own energy future and reduce our reliance on imported gas.
"Those are things we should all be on board with."
SSE renewables is simultaneously working on the Dogger Bank wind farm in England, sited off the coast of Yorkshire, which at 3.6GW is the biggest in the world.
It is also a partner in the 370MW Viking scheme in Shetland and has set out intentions to build a 4.1GW scheme in the outer Firth of Forth, Berwick Bank, that would scoop the 'world's largest' title.
With around 300 turbines proposed, it would have capacity to power around five million homes – more than twice the number of households in Scotland.