Nasa astronaut touches down in Ayrshire innovation centre
A Nasa astronaut has touched down in Kilmarnock in a major coup for the town's Halo Enterprise and Innovation Centre.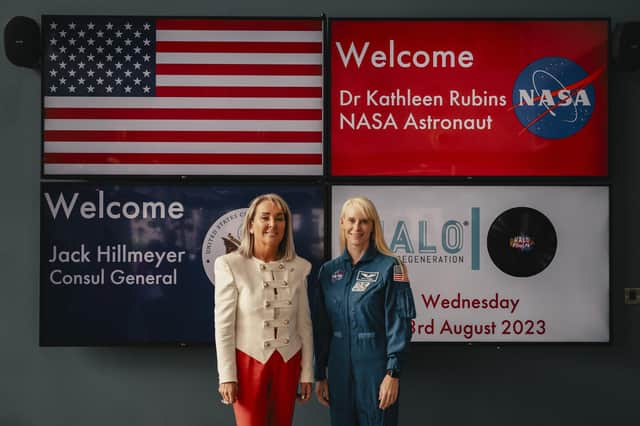 Kathleen Rubins, who has spent a total of 300 days in space, visited the facility and addressed an audience of invited business guests and a group of Ayrshire schoolchildren. She told the story of the 60th woman ever to travel into space and how the opportunities are widening for women in the areas of science, technology, engineering and mathematics (Stem) - a particular focus for the Halo venture, which is behind the regeneration of the former Johnnie Walker bottling plant site in the town.
It marks the latest collaboration between Halo and Rubins who, during an expedition on the International Space Station, took a piece of Halo's own tartan into space. The tartan was designed by Ayrshire College student Graeme Bone, now a Halo tenant, who won a competition to design the tartan and which now features in many designs and furnishings within the building.
Rubins said: "I am excited to be here in Scotland and getting to visit the Halo project in person. Space exploration is an international endeavour and future success lies in engaging and encouraging the next generation. Having the opportunity to bring Nasa's message to the young people of Scotland, I hope it will inspire some of them to think of a future in helping us achieve our mission."
Marie Macklin, founder and executive chair of Halo Urban Regeneration Company, said: "To be able to welcome Dr Rubins not just to the Halo, but to Scotland, is a privilege both for me and the team. Since Dr Rubins rocketed a little bit of the Halo and Scotland into space back in 2020, we have celebrated a number of successes including award wins and visits from prestigious business leaders and politicians, but more importantly, we have been able to welcome a wide variety of organisations who have made the Halo Enterprise and Innovation Centre their home. We are thrilled to welcome Dr Rubins to Kilmarnock and to have the opportunity to update her on the impact the Halo is making in Ayrshire and across the country."
Comments
 0 comments
Want to join the conversation? Please or to comment on this article.