A cost of living crisis has been declared by the media, and this time around there's more than a bit of truth to it.
The increases that families are having to bear are truly extraordinary. Energy regulator Ofgem has increased the variable rate energy cap by 55 per cent, taking the average dual-tariff bill to nearly £2,000 a year.
Higher power bills are extremely regressive – they hit the poorest the hardest. Not only do they gobble up a much greater portion of lower-income families' pay, but those families tend to live in homes that are less energy efficient as well.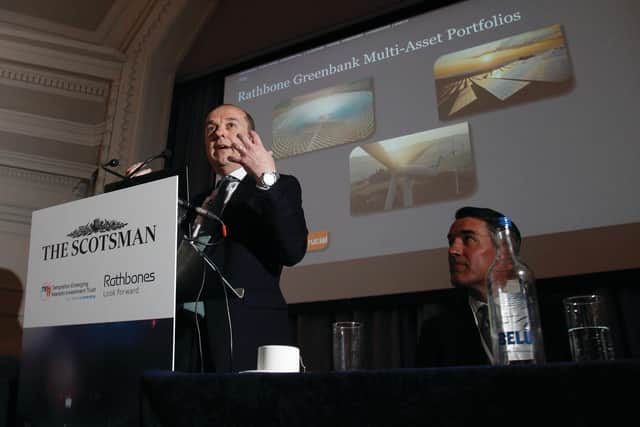 Skyrocketing power bills are just the bit that most people are fixated on. The squeeze on working families is much broader; rents are starting to rise as well. Last year they rose 2 per cent – the fastest rate in five years.
For those who own their homes, mortgage costs are rising too, with the average UK borrowing rate rising from 3.61 per cent to 3.83 per cent in the past few months. This is likely to increase as the Bank of England forges ahead with rate hikes.
And then there are higher taxes. Don't let the headline announcements of the recent Budget fool you – taxes as a share of GDP are on track to hit levels not seen since the 1960s. The Office for Budget Responsibility expects household disposable income to fall by 2.2 per cent in the coming 12 months – the worst in a single fiscal year since records began in the 1950s.
The transition to green energy has been headlong and well-intentioned, but the strategy is fragile, in my view.
The baseload for cleantech power generation has not yet been found, leaving us reliant on gas. Despite the importance of gas for keeping the UK's lights on, investment in its storage has been allowed to dwindle to virtually nothing, putting our energy security at risk.
We're not alone in this. The Continent has much better storage capacity than we do, but the EU's gas overwhelmingly comes from Russia, which means they must come up with a credible alternative and fast.
It's interesting that the EU did an abrupt U-turn on gas and nuclear power shortly before the Russian attack on Ukraine. These two energy sources are now considered to be sustainable – as a "best alternative" sort of stopgap – under EU investment rules.
Perhaps it dawned on them that they may very well need to invest a lot of money very soon in infrastructure to ship in liquefied natural gas and build new reactors to ensure they aren't reliant on a belligerent nation for energy.
These fuels are nowhere near perfect, but they represent the most logical option for tiding Europe over till cleantech matures.
Meanwhile, petrol and diesel-fuelled transportation is the reality for many more years. Even if all the internal combustion engines could be swapped out with electric vehicles – which is impossible because we can't dig up the precious metals fast enough to build the number needed – the increased demand for electricity would overwhelm our power grid.
We will need to invest in oil infrastructure in the coming decades to ensure the petrol is there to keep our societies moving. It's not great, but it's an inconvenient reality.
When I think about the future of energy, overarching everything is investment. A gargantuan amount will need to be put to work all over the world to build a cleaner energy complex. This money will flow to windfarms, hydro projects, solar installations and geothermal plants.
But it must also be spent on retrofitting existing pipes, plants and motors to take hydrogen, on insulating our homes and offices to reduce energy use, and on building electric vehicle infrastructure. And it must also be used to secure energy in the meantime through investment in less-than-perfect fuels, such as nuclear, natural gas and even oil production.
I think this needs to be accepted and we need to have a nuanced discussion about how to manage a more protracted transition that ensures the energy costs aren't crippling for families and businesses.
This will need investment, strong policies and a realistic appraisal of our situation. We can't let the perfect get in the way of the good.
- David Coombs is fund manager at Rathbone Multi-Asset Portfolios
A message from the Editor:
Thank you for reading this article. We're more reliant on your support than ever as the shift in consumer habits brought about by Coronavirus impacts our advertisers.
If you haven't already, please consider supporting our trusted, fact-checked journalism by taking out a digital subscription.