Investment conference: Investing in a spirit of optimism in dark times
A lot has happened in the world since The Scotsman's last in-person Annual Investment Conference in early 2020.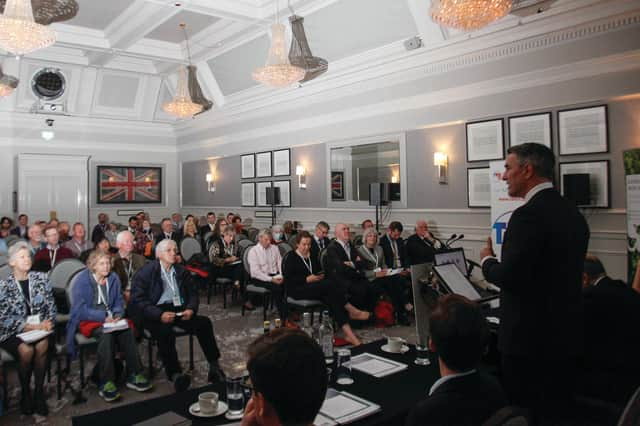 Meeting just two weeks before the first lockdown, the mood had been upbeat with the general understanding that it was a good time to invest.
Fast-forward two years to a world still recovering from the Covid-19 pandemic, but also worrying about a war, expecting enormous energy price hikes, but trying to plan the road to net-zero, and the investment landscape has changed significantly.
Five experts joined the panel at the Royal Scots Club in Edinburgh on Wednesday to share their experience and insight with a room full of delegates, ranging from first-time investors to seasoned pros.
The positive mood created by a group pleased to be back meeting in person after a long hiatus was not entirely dampened by the news the panellists had to share.
Indeed, the first speaker was keen to point out his optimism. Andrew Ness, portfolio manager at Franklin Templeton, presenting for the first time in three dimensions after two years "banished to the attic and a big screen", spoke of the opportunity that still exists in the emerging markets.
"Emerging markets account for 65 per cent of global growth," he observed, explaining that this could be attributed to three factors.
These were the increased resilience of the financial institutions in these markets; their diversification with consumption and technology providing secular growth drivers, and the fact they leapfrog established business models through innovation.
The top driver of this growth has been earnings, it made a 6.4 per cent contribution to total returns on average.
While Ness conceded that the Russian market remains an unknown, the next speaker, David Coombs, was very clear on the future of another contentious issue.
"I must begin this presentation with a trigger warning," he told the audience, before discussing the merits of investing in fossil fuels.
He spoke about the realities of the energy crisis, and the uncomfortable questions that will need to be addressed on the road to net-zero.
"Just because it's renewable energy, don't think it's going to be nicey-nicey, it's going to be brutal," he said.
Coombs went on to tell delegates that since the UK is behind the curve on nuclear power, and green hydrogen is 20 years away from commercial application, we need to find creative ways to solve the problem.
Jo Freeman-Young, a sustainability actuary from EY, picked up the theme of net-zero in her presentation. She told the conference that in the wake of COP26 there has been a chain reaction which the markets cannot ignore. The pressure is rising from regulatory frameworks, from shareholders and from customers, which means there is the real possibility of reputational damage from greenwashing, and low scores in climate indices can lead to companies losing out to competitors.
"Climate is a financial and material risk," she told the audience. "Companies need to disclose transition pathways by 2023."
In contradiction to some of Coomb's earlier points, Freeman-Young pointed out that all countries have committed to phase down coal, and so she advises financial services firms to look at their exposure to coal and other fossil fuels and how these parts of investment portfolios can transition.
"Clients should rapidly and deeply decarbonise by prioritising the most carbon-intensive sectors," she said.
"Support and influence clients to rapidly, deeply decarbonise, prioritising the most carbon intensive sectors. Set specific, time-bound expectations for clients or investees on decarbonisation, and act when they are not met. Provide support and guidance for decarbonisation to clients or investees, and increase capital availability –or lower cost of capital – for climate solutions."
Moving on to property investment, Mark Brennan, partner at Foresight Group UK, said that property was in transition as an asset class.
Due to regulatory changes and fund closures, traders are wondering how to allocate property in their portfolios and whether it is worth the structural risks.
"It is a very liquid market, with over $2 trillion of global market cap in real estate investment trusts," he said.
Brennan went on to point out that portfolio yield is being delivered at 4 per cent and it's a source of inflation-linked income. However, he underlined the importance of going global, particularly by investing in US real estate investment trusts.
The final speaker of the day brought a much riskier asset class to the table – early-stage businesses.
Speaking as an angel investor and as the managing director of of Investing Women, Evelyn Simpson captured the imagination of many in the room, judging by the line of people waiting to speak to her afterwards.
She spoke about the woeful under-representation of women-led businesses and their even worse access to capital.
"We were founded by Jackie Waring in 2016 and we've just had our first exit – of TC Biopharm, who floated on the Nasdaq. They were the first Scottish company to ever do that," she said.
The company, which floated with a valuation of $119.25m and raised an additional $17.5m from the initial public offering, was co-founded by its chief operating officer, Angela Scott, and Dr Michael Leek, who now serves as executive chairman. TC Biopharm was also ranked as one of the UK's top five female-powered firms by JP Morgan last year.
Thanks to Investing Women leading the way, some 13 per cent of Scottish angel investors are now female, up from just 2 per cent in 2015.
The benefits of angel investing include empowerment, inclusion and impact, although at seven years, it is a longer average period of investment than other forms.
Simpson told the conference that many people went into angel investing having exited their own businesses with the desire to give something back to early-stage businesses.
"We have a strong ethos of using our skills and experience to support early-stage founders," she said.
The panel discussion that concluded the event prompted lively discussion, with plenty of audience participation and – being live –nobody accidentally speaking while on mute.
Questions centred on trying to predict the outcome of the Ukraine crisis, the wisdom or otherwise of investing in cryptocurrencies, and whether now was a good time to invest.
Coombs said: "In my experience the best time to invest is when you're feeling most uncomfortable – and my goodness, it's uncomfortable right now."
A message from the Editor:
Thank you for reading this article. We're more reliant on your support than ever as the shift in consumer habits brought about by Coronavirus impacts our advertisers.
If you haven't already, please consider supporting our trusted, fact-checked journalism by taking out a digital subscription.