Interest rates: Bank's 'dangerous groupthink' will tip thousands over the edge
The Bank of England's big bazooka rate hike is likely to tip thousands of small businesses and individual borrowers over the edge and there is certain to be more pain to come.
Faced with persistently sticky inflation, which at a headline level is running more than four times above the central bank's 2 per cent target, a majority of policymakers opted for a dramatic half-point hike in the base interest rate, taking it to 5 per cent - its highest level since 2008. Seven members of the Bank's nine-strong monetary policy committee (MPC) voted in favour of the latest increase, the 13th in a row. The two dissenters voted to keep interest rates unchanged at 4.5 per cent.
The continued drive to push up borrowing costs comes as the Bank faces criticism for its one-trick approach, using higher interest rates to attempt to control an inflationary backdrop caused mainly by supply-side issues, energy costs and soaring food prices. In contrast to previous spending-fuelled inflationary bubbles, people this time round have simply been forking out more buying the same basic goods and services, putting the squeeze on any discretionary spending.
The 0.5-percentage point hike was the sharpest increase since February, surprising economists who had been expecting a smaller hike of 0.25 percentage points. Financial markets have predicted that interest rates will strike a high of 6 per cent by early next year amid warnings that 1.4 million mortgage holders will lose at least a fifth of their disposable income in additional repayments. The pound was volatile in reaction to the Bank's move, rising sharply then losing ground as investors eye difficult times ahead for the UK economy.
Daniel Casali, chief investment strategist at wealth manager Evelyn Partners, said that despite inflation expectations coming down, the Bank of England was still likely to maintain a tightening bias and leave open the possibility of further rate increases. He said: "Currently, the money markets expect the UK overnight interest rate (a proxy for the base rate) to reach around 5.9 per cent in 12 months' time. That's because despite rising interest rates, the BoE knows that impact on the UK economy and inflation is likely to be slow, particularly as five-year fixed rate mortgages account for 59 per cent of outstanding mortgages. It will take time for most mortgages to roll over onto more expensive rates to cool domestic demand. The BoE is also aware that if it doesn't address elevated inflation now it could become entrenched in the economy and more difficult to tackle later."
Concerns over continued increases in wages alongside persistent goods and services inflation had already driven mortgage rates higher in recent weeks. It recently emerged that the average two-year, fixed-rate homeowner mortgage on the market had topped 6 per cent for the first time this year.
Sarah Coles, head of personal finance at investment platform Hargreaves Lansdown, said those on a fixed-rate mortgage were protected for now, but the threat of a re-mortgage "will be keeping millions of people up at night". She added: "Higher rate expectations are being priced into fixed-rate mortgages, which continue to ramp up. The fact that the Bank has delivered such a big hike will cement the market's conviction that more rises are on the cards, and that's going to filter through into even more painful rises in mortgage rates."
Chieu Cao, CEO of financial platform Mintago, said: "It already felt like we were on the edge of a cliff when it comes to Britons' financial wellbeing, but [Wednesday's] inflation data and [this] base rate hike will push many people over the edge and onto the rocks below."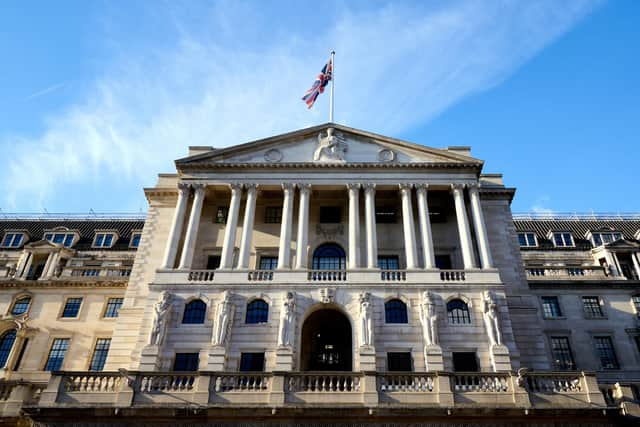 Sharply higher borrowing costs will also deal a severe blow to businesses, amid the already challenging balancing act between inflation and recession. Many small and medium-sized enterprises (SMEs) will have prepared for rate hikes by locking in their debt into fixed-rate structures, but others now face significant uncertainty.
Philip King, a cashflow expert at Tide, the digital business banking platform, said: "The rise in interest rates is painful news for small businesses. Already suffering from increased energy costs, higher priced materials and supplies, and wage inflation, the last thing business owners need is higher funding costs and a squeeze on available funding. This comes at a time when SMEs are facing a double whammy of higher costs and fewer customers, with inflation causing a weakening in demand for their products and services. Higher interest rates will lead to more businesses and individuals being unable to service their debts leading to greater numbers of insolvencies."
The Federation of Small Businesses' (FSB) Scotland policy chairman Andrew McRae added: "As small businesses look to trade the country back to economic recovery, this will come as a cruel blow to their plans. We know that smaller firms already find it harder to access finance, so making debt more expensive will surely put a further dent in their chances, affecting their margins and rippling through their business."
TUC general secretary Paul Nowak claimed the interest rate hike was the result of "dangerous groupthink" in the Bank of England and Downing Street, adding: "Inflation was caused by global energy shocks and government should be doing more to ensure households and businesses benefit as prices fall. Instead of scapegoating workers who are desperate for their pay to keep up with prices, ministers should focus on a credible plan for sustainable economic growth and rising living standards."
Comments
 0 comments
Want to join the conversation? Please or to comment on this article.