Mortgages Scotland: Average two-year fixed rate mortgage tops 6% for first time in 2023
The last time the average two-year fixed rate mortgage was 6 per cent or higher was December 4, 2022
The average two-year fixed-rate homeowner mortgage on the market has topped 6 per cent for the first time this year.
The rise takes the rate back towards territory last seen during the market volatility that followed last autumn's mini-budget.
Across all deposit sizes, the average two-year fixed rate edged up to 6.01 per cent on Monday, Moneyfactscompare.co.uk said.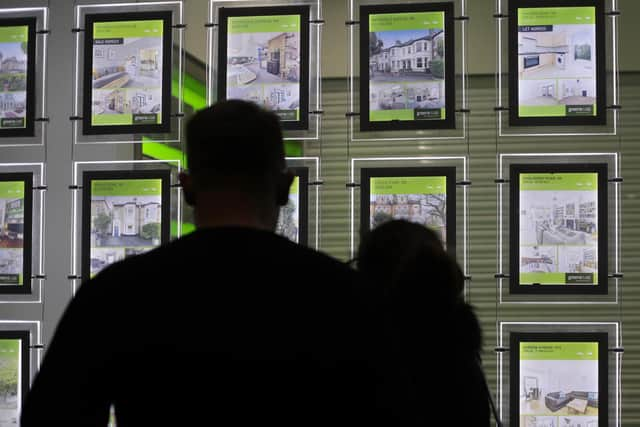 This rate was at 5.98 per cent on Friday last week and hit 6 per cent over the weekend.
The last time the average two-year fixed-rate mortgage was 6 per cent or higher was on December 4, 2022, according to Moneyfacts's figures.
Mortgage rates previously rocketed amid market turmoil after the mini-budget in September last year. Average two and five-year fixed mortgage rates topped 6 per cent last autumn, before later settling down.
By October 20 last year, the average five-year deal was 6.51 per cent and a two-year product was 6.65 per cent typically.
Moneyfacts's figures also show the average five-year fixed-rate mortgage on the market is sitting at 5.67 per cent, across all deposit sizes.
The choice of residential mortgages had fallen from 4,923 on Friday to 4,683 on Monday morning, the website said.
Mortgage rates have been rising amid expectations over inflation, which has been stickier than some had predicted. The Bank of England is expected to raise the base rate further on Thursday.
Some analysts expect the base rate to rise by another 0.25 percentage points on Thursday, taking the rate to 4.75 per cent. This would immediately push up costs for people on variable rate tracker mortgages.
The Government is under pressure to fulfil its pledge to halve inflation by the end of the year. Consumer Prices Index (CPI) inflation eased back far less than expected in April, hitting 8.7 per cent.
But the Bank of England is "caught between a rock and a hard place, as it has to choose between pushing more mortgage borrowers towards the brink and letting inflation run riot", according to Laith Khalaf, head of investment analysis at AJ Bell.
Rises in wages and living costs have fuelled expectations that interest rates will remain higher for longer. Mortgage providers have been withdrawing the availability of deals through some channels to manage the flow of applications and refreshing their ranges with higher rates.
The latest inflation data will be published by the Office for National Statistics (ONS) on Wednesday.
Around 800,000 fixed-rate deals are due to end in the second half of this year, according to trade association UK Finance.
According to the Resolution Foundation think-tank, annual mortgage repayments are set to rise by £2,900 for the average household remortgaging next year.
Speaking to ITV's Good Morning Britain, Prime Minister Rishi Sunak said that halving inflation was a priority.
He said: "I know the anxiety people will have about the mortgage rates, that is why the first priority I set out at the beginning of the year was to halve inflation because that is the best and most important way that we can keep costs and interest rates down for people.
"We've got a clear plan to do that, it is delivering, we need to stick to the plan."
Comments
 0 comments
Want to join the conversation? Please or to comment on this article.