In depth: Edinburgh-based craft brewer Innis & Gunn taps into higher turnover as it enters 20th year
Craft brewer Innis & Gunn has toasted higher annual turnover as it enters its 20th year and continues to raise its profile, but it also highlights the impact of choppy economic conditions that includes stalling its plans to build a new Edinburgh brewery.
The firm, which is headquartered at Orchard Brae House in Edinburgh, said its 2022 financial results "show positive performance and growth" despite "continuing market volatility due to the long-reaching disruptive effects of Covid on the on-trade and the explosive rates of cost inflation driven by the Ukraine war – external factors faced by all brewers".
Gross profit increased to £7.8 million, up 5.2 per cent from 2021, with the firm saying this is a "typical reflection of the cost pressures that have hit the supply chain and is being addressed by a sharp focus on margin". Turnover grew by 7.8 per cent to £22.8m, spearheaded by the return of the UK on trade to normal trading after a year of closures due to the Covid pandemic.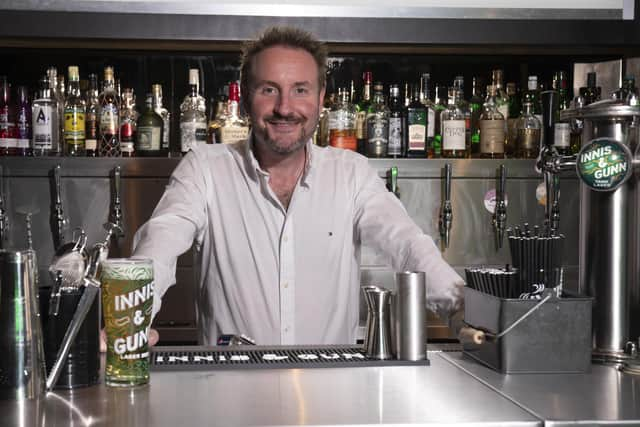 Internationally, Innis & Gunn said its total portfolio has also grown both in volume and turnover, which was up 14 per cent. Canada is the brewer's second-largest market outside the UK, and the largest for its The Original product, accounting for 72 per cent of its volume.
The firm also pointed to product launches and limited editions, such as Islay Whisky Cask, in partnership with Laphroaig; Cherry Kriek Sour Beer; and the sixth edition in the Vanishing Point annual release series.
Dougal Gunn Sharp, founder and master brewer, said: "We've delivered positive results despite the uncharted post-Covid territory and challenging external factors beyond our control. Innis & Gunn, like any other business operating in the beer industry, faces potential risks with economic downturns and instability, fluctuating energy and commodity prices, but we remain optimistic, and continually review and maintain risk-management strategies.
"This has been without doubt the toughest year of trading we've faced. However, we have taken a robust approach to the business with a firm steer on, and forensic review of, our product lines to ensure that they not only enhance the brand, but importantly provide a strong margin return to protect the company's bottom line. This will be a continued focus for 2023."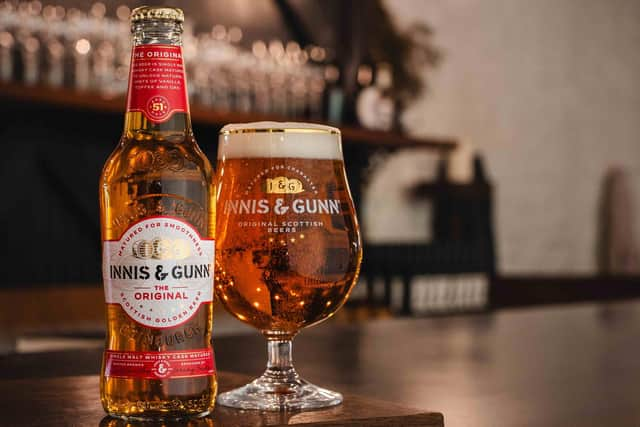 He addressed the "explosive inflationary costs impacting on all businesses", particularly the rise in energy costs. "We have passed on some price increases, and absorbed some of the costs. We also changed product line-ups, and have done as much as we can with efficiencies. It's never a good place to be, having to push up prices."
As for a potential increase in minimum unit pricing in Scotland for alcohol from 50p a unit currently, he said this would be a "significant" step up. "Everyone will be concerned about the spectre of a 65p minimum unit price, because that will affect every household in Scotland that consumes alcohol. It's fair to say that there is a lot of conflicting evidence out there on minimum unit pricing. We also saw the first major duty increase for many years take place in August this year."
He has now said: "The Edinburgh brewery project is still a strategic priority – but we just cannot do it right now amid the cost-of-living crisis and all the implications for the budget of that brewery. We have to be realistic, and at the moment it is not the right time to be building a brewery of that scale.
"What we do have is a brewery in Perth that is close to capacity, although there are things we can do to extend [that]. One of the things we are looking at is putting a small canning line in there... Inveralmond came with a fabulous brand, Ossian, and that is one of the real gems of our portfolio. Ossian Smooth, which we launched a couple of years ago, is just going from strength to strength."
For the time being, Innis & Gunn says it has maintained its position in the off trade as Scotland's number one craft beer brand, and in the Scottish on trade is currently the fastest-growing premium lager in the top five, behind Stella and Peroni. It has also inked tie-ups with major Scottish events The Royal Edinburgh Military Tattoo and the Royal Highland Show, and has just scooped half a dozen prizes at the World Beer Awards, its The Original beer awarded a Gold and crowned Country Winner, for example.
In terms of its corporate social responsibility, the firm last year donated £30,000 to Meals & More, a charity focused on ending holiday hunger and social isolation among children, and it has undertaken its first carbon footprint review.
Gunn Sharp also said: "We have continued to invest in our brand and Inveralmond Brewery, a renewed focus for 2023. The site is running close to maximum capacity, but without the reliance on third parties, we can be more agile with small batch brews thus reducing the working capital tied up in stock. This also provides a clear pipeline for Innis & Gunn to continue to invest in new product-development, sustainable initiatives, and capabilities.
"As we move into our 20th year in business, we remain extremely positive with a strong brand and encouraging performance… as we continue to navigate the current economic challenges, our attention on margins and costs must be ever-more acute."
Comments
 0 comments
Want to join the conversation? Please or to comment on this article.