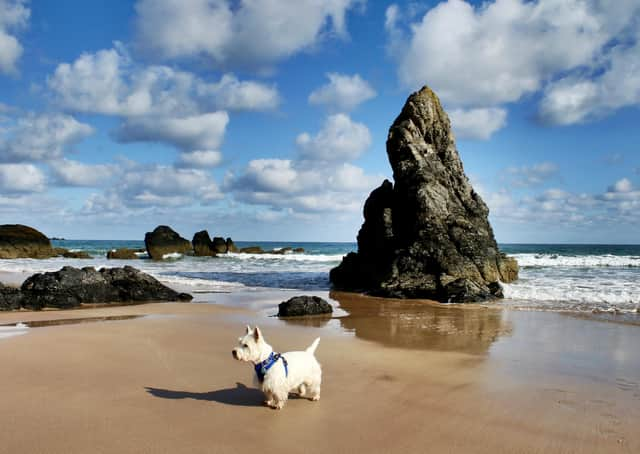 The spectacular beach at Sango Bay at Durness, Sutherland, makes it a popular destination for tourists
Sango Sands Oasis, a beachside resort in Durness, Sutherland, begged campers to "stay away" and not to view it as a place of refuge during the global health crisis.
Its owner has been forced to block the entrance to the 60-pitch campsite after fielding calls from across the UK in recent days from people looking to book a space in the rural destination.
The tiny village of Durness is 120 miles from the nearest intensive care unit at Inverness.
The resort owner, James Keith, said: "I can't stress enough that we have elderly and vulnerable in our village and we want to try and keep them as safe as possible.
"This includes the person who phoned from Manchester to tell me he was coming up overnight. What part of closed do you not understand?"
In a message shared on Facebook, he added: "The sooner we all act responsibly, the sooner it'll all be over and we can get back to normal.
"I know it's going to be difficult but it's out of our hands. Be sensible and stay away from the NC500 for the moment, it'll still be here for you to enjoy after this has all blown over."
The message attracted support from other Durness residents as well as previous guests.
Kath Spare replied: "It boils my blood when I read posts from people who are off to 'self isolate' in remote places, when advice is only travel if absolutely necessary."
Another said: "Something in this speaks to the way people in urban areas see rural communities."
Sango Sands is a well-known beauty spot in Sutherland and attracts thousands of visitors during the summer season.
Durness, a rural community spread across a wide area, is a popular stop-off on the North Coast 500 scenic route.
A 2019 study evaluating the impact of the route on the community in the north of Scotland also found it resulted in 180 full-time equivalent jobs being created.
The research, by the Moffat Centre for Tourism at Glasgow Caledonian University, found an additional £13.5 million was spent on accommodation, activity and retail along or near the route throughout 2018.
Tourism-related businesses along the route also reported a 16% uptick in business between 2017 and 2018.