High-rise homes, high-end dividends - David Alexander comment
An unlovely and unloved building (well, it was used by HMRC) in the centre of Glasgow is to be demolished and replaced by a build-to-rent (BTR) development which, when completed, will be the city's tallest building.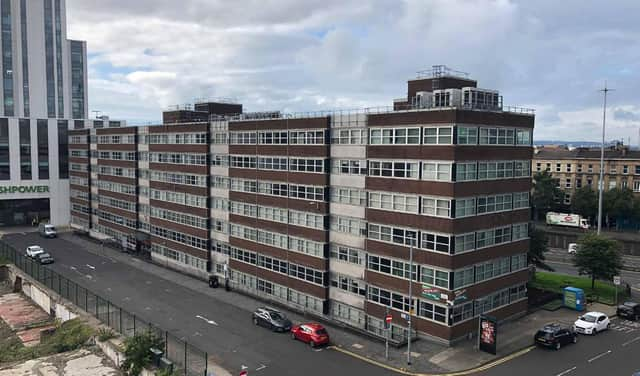 Portcullis House in Glasgow is to be replaced by what will be the city's tallest building. Picture: contributed.
This was revealed last week by the Watkin Jones Group, a developer and manager of residential property for rent, following its purchase, in August, of Portcullis House in India Street from Mapeley Investment Group.
Its replacement will comprise up to 30 storeys, accommodating about 825 homes plus amenity and ancillary facilities, with the potential for retail, café and co-working space at street level. A planning application is being submitted to Glasgow City Council and, if approved, completion is anticipated by 2024.
The building will not be the tallest ever to have been erected in Glasgow; that accolade went to the Red Road flats, constructed on behalf of the former Glasgow Corporation in the 1960s. At 31 storeys they were not only the tallest buildings in Glasgow but the tallest flats in Europe at that time. Sadly their existence was time-limited due to social problems and a number of other factors and the scheme was demolished in phases between 2010 and 2015.
Glasgow city centre already has an impressive portfolio of high-rise commercial buildings, the tallest of these being the 20-storey Hilton Hotel; ironically, despite the number of new developments over the past two decades, the second-highest is the former St Andrews House on Sauchiehall Street, the city's first office tower block completed in 1964, and now a Premier Inn hotel.
However it is, perhaps, a sign of the times that the new tallest building planned for the city will be given over to residential rather than commercial activities. I have no idea how much the practice of "working from home" brought on by Covid will affect the future requirement for business space but it looks as if residents may become as key to the survival of city centres as office workers are (or were before the pandemic).
A city where this is already becoming reality is Manchester where high-rise residential development in or near the centre of town dwarfs anything actual or planned for Glasgow. Unlike most other local authorities in the UK, Manchester City Council does not, in general, impose height restrictions and planners are minded to grant permission for high rises in the central area.
Overshadowed
As in Glasgow, the first wave of tower block construction applied to the commercial sector, but in Manchester these have been overshadowed by privately-funded developments of high-rise buildings for residential rent or purchase. At present the prize in terms of height goes to one of the four buildings forming Deansgate Square which is 659 feet tall and has 65 storeys.
This is followed by Beetham Tower, 554 feet in height and comprising 47 residential storeys plus 18 used as a Hilton Hotel. Residential accommodation appears to range from one-bedroom apartments to substantial penthouses.
Unlike in some other cities (no need to mention which!) buildings of this type are not considered vulgar and Mancunians are proud of their developing Manhattan-type skyline. But apart from aesthetics, these schemes also make a huge contribution to the local economy and to confidence in the city among institutional investors (there are plans for even taller developments in the pipeline).
I'd like to think Glasgow could have some of this action, so perhaps the BTR scheme planned for India Street is just the start of something bigger. However it would help if the tax difference between Glasgow and Manchester in terms of upper-middle and higher-priced properties was not so great.
In Glasgow, taxation is actually less on purchases up to £325,000, although the £400 saving is miniscule in terms of the overall price. But once you get to £500,000, Land and Buildings Transaction Tax (LBTT) on a property in Scotland is £15,000 more than Stamp Duty in England; by £750,000 the gap rises to £27,500 and by £1 million it is £43,750.
So on the presumption that Glasgow City Council would actually like to attract more high-end, high-rise residents (and their spending power) to its central area, LBTT at present rates isn't exactly helping.
This, of course, will fall on deaf ears among the current establishment at Holyrood. One can only keep hoping that, eventually, reality will dawn, i.e. that lower taxes on property can actually lead to higher net income for local and national government.
David Alexander is managing director of DJ Alexander
A message from the Editor:
Thank you for reading this article. We're more reliant on your support than ever as the shift in consumer habits brought about by Coronavirus impacts our advertisers.
If you haven't already, please consider supporting our trusted, fact-checked journalism by taking out a digital subscription.
Want to join the conversation? Please or to comment on this article.