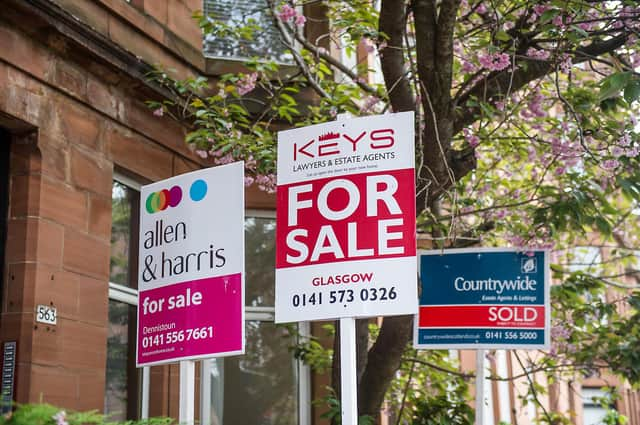 The conditions that go with an offer need to stand up, says Alexander. Picture: John Devlin.
The move probably saved the private housing sector – vital to the strength of the UK economy – from a slump that would have had imaginable consequences as well as saving thousands of jobs directly or indirectly dependent on it.
Omitting four- and five-figure taxation from transactions has not only held up the value of housing stock but in some instances actually increased it because higher demand almost inevitably leads to rising prices. But has this led to some vendors taking advantage of the situation or, to put it less euphemistically, has late-1990s style greed reinfected the market?
It certainly seems that way according to the latest asking price index produced by the internet portal, Rightmove. Its results suggest that the average price of property coming to the market increased 1.1 per cent in the past month, to an all-time national record of £323,530, which is 5.5 per cent higher than a year ago; this in turn was the largest annual growth rate for more than four years and equivalent to in excess of £16,000.
Which of course sounds hunky-dory until you come to the bit where Rightmove suggests many vendors, caught up in the buying mini-boom, are setting their prices at too high a level, which may harm a sale as the looming winter season and the end of the Stamp Duty/LBTT "holiday" in March come further into focus.
According to Tim Bannister, Rightmove's director of property data, "the annual rate of growth will peak by December at around 7 per cent higher than a year ago. Many buyers seem willing to pay record prices for properties that fit their changed post-lockdown needs, though agents are commenting that some owners' price expectations are now getting too optimistic, and not all properties fit the must-have template that buyers are now seeking".
So is it really the case that some buyers, buoyed by the summer's unexpected rise in demand, are becoming too greedy for their own good? During the ups and downs of the market over nearly four decades I have come across individual sellers who are out and out "greedy". Typically, the client – perhaps inspired by hype from people who should know better - insists on a price that is out of all proportion to what others are prepared to pay.
Realistic
Not surprisingly, some of them have ended up accepting a price that was lower than what they would have achieved had they chosen a more realistic figure at the outset. In most cases, however, "over-optimistic" seems more appropriate than greed. There are people who seem to think they can set their selling price at a level enabling them to recoup the full cost of kitchen, bathroom or other refurbishment when this is rarely achievable; or that they can demand a premium on the basis of location alone.
But when most sellers fall down on setting a price it is mainly because they fail to see the bigger picture. Of course it is only only natural to want to achieve the best price possible for one's house but the conditions that go with the offer also need to stand up. Say you have two offers where the higher-priced bidder still has a house to sell but the lower-priced bidder does not; assuming there is not too great a gap between the two figures, the lower offer might seem the wiser choice.
It is also be worth considering if the highest bidder actually has the funds to deliver the sum promised; if, on completion of missives, the money is not forthcoming there is the option to sue for breach of contract, but many would really have the stomach for that while still trying to sell their house at the same time?
And what if the best-paying bidder insists on a move-in date that requires the vendor family and its pets to take up temporary rental accommodation (assuming a landlord will allow pets) as well as incurring the added cost of storing furniture? Therefore while understandably trying to achieve the best-possible price for a property, one should never underestimate the hidden value of a seamless, uncomplicated sale.
David Alexander is managing director of DJ Alexander
A message from the Editor:
Thank you for reading this article. We're more reliant on your support than ever as the shift in consumer habits brought about by coronavirus impacts our advertisers.
If you haven't already, please consider supporting our trusted, fact-checked journalism by taking out a digital subscription.