Greenock Ocean Terminal says more than 90 cruise liners are booked into the Inverclyde town's new dedicated pontoon over the course of this year – a year-on-year rise of more than 25 per cent – with up to 150,000 passengers and 38,000 crew members set to be welcomed.
Jim McSporran, Clydeport port director at Peel Ports, said: "We're extremely proud to be announcing a record cruise year for Greenock Ocean Terminal. Welcoming cruise liners to Greenock is a hugely important aspect of our port offering and we're delighted that we continue to attract and grow cruise numbers to the region."
Clydeport welcomed 71 vessels to the terminal last year as it returned to almost pre-pandemic levels, adding that the world's largest residential ship – The World – was one of those to stop off. Amongst the ships making a maiden visit to the terminal this year is the recently built ultra-luxury MSC Virtuosa, which is 331 metres long and can carry more than 6,000 passengers.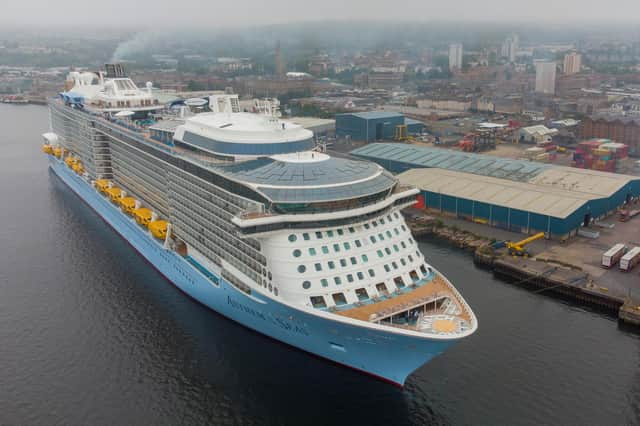 It comes ahead of the completion of a new £19.2 million cruise ship visitor centre later this year at the terminal, which will be home to facilities including forthcoming bar and restaurant Scotts Greenock. Inverclyde Council has estimated the development will provide a £26m boost to the Scottish economy, and Councillor Stephen McCabe, leader of the local authority, said: "The cruise sector here in Inverclyde continues to go from strength to strength and I'm delighted that this year is set to be the busiest yet."
Separately, the Port of Cromarty Firth (PoCF) has more than 125 vessel visits currently scheduled, with at least 200,000 seaborne tourists expected to arrive at the Easter Ross Port between April and mid-October.
Arrivals
The first ship, Ambassador Cruises' Ambience vessel, which can accommodate 1,700 passengers and a crew of 600, is due to berth at Invergordon on April 1, and The Norwegian Star, owned by Norwegian Cruise Lines and carrying up to 2,500 passengers along with 1,000 crew, is scheduled to be the final visitor of the year, on October 16.
PoCF added that during the season, 15 liners will make their maiden calls there, with Aida Cruises' AIDAdiva set to be the first to arrive on April 19. In 2022, a record total of 109 cruise vessels visited Invergordon, although Covid-19 precautions saw passenger numbers lower than in some previous years, at just under 142,000.
Allison McGuire, PoCF's cruise manager, said: "The record numbers of ships and passengers due to arrive at Invergordon this year shows the continuing popularity of cruise holidays and the enduring appeal of the Highlands as a destination for visitors from around the world. It's great to see such a high number of maiden calls scheduled and it's always a particularly special occasion when a vessel arrives at the Port for the first time. The significant rise in passenger numbers this year will increase the local spend and contribute in excess of £20m to the wider Highland economy."