Green future: The Aberdeenshire firm with decades of oil and gas experience making it big in offshore wind
Constructing and maintaining wind farms at sea is big but highly complex business these days and an Aberdeenshire offshore services provider is using its decades of experience in the North Sea to build a significant renewables operation.
Headquartered in Kintore and employing more than 1,000 people globally, OEG Energy Group's heritage dates back more than 50 years. Its predecessor companies - Ferguson Seacabs, Containental and Vertec Engineering - were among the pioneers in the supply of equipment to the North Sea oil and gas industry.
The group has grown quite aggressively in recent years, with a string of acquisitions fuelling the expansion of its renewables business, which now accounts for almost half of its $330 million-plus (£265m) turnover. It is targeting overall group turnover of $1 billion in the next five years, boosted by the raising of $140m in financing last month. The fresh funding has been backed by NatWest, Citi, Santander and Goldman Sachs.
Chief executive John Heiton, a local to the Aberdeenshire area, joined OEG in 2008, coming from a banking background, and has overseen a period of rapid growth, taking OEG from just a handful of employees 15 years ago to its present scale.
"The big push over the last three years has been into renewables and offshore wind," he said. "That has increased to roughly 50 per cent of our revenues. We are probably Scotland's largest services company in the offshore renewables space now. That's where I see the future."
He was speaking as the group announced details of its latest deal, acquiring Dutch firm Bluestream Offshore, a specialist in subsea and topside services, for an undisclosed sum. With a turnover in excess of €55m (£48m) and a roster of blue-chip clients, Bluestream has a core employee base of about 55 people along with more than 300 offshore subsea and topside specialists.
It marks the fifth acquisition undertaken by OEG this year, and the 11th since the group began growing OEG Renewables in 2020. Heiton said the takeover would allow the business to pursue further opportunities in the growing offshore renewables industry in mainland Europe. EU targets centre on doubling current installed capacity by 2030.
"We are delighted to welcome Bluestream Offshore to the OEG group," Heiton said. "This strategically complementary acquisition will further strengthen OEG's service offering and operating footprint in the growing European offshore energy market. This is in line with our strategy to position OEG as the leader in the provision of mission-critical services and solutions supporting the energy transition."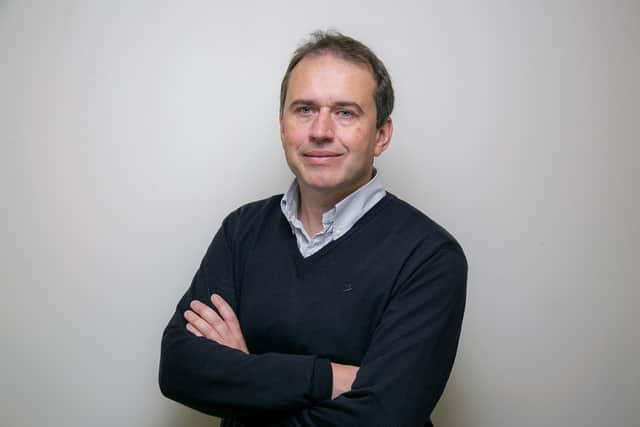 Bluestream will retain its established brand and operate as a subsidiary within OEG Renewables, expanding the division's workforce to more than 500 people. The transaction is expected to close by the end of the year, subject to regulatory approvals.
Rolf de Vries, managing director of Bluestream, added: "Becoming part of OEG Group and leveraging its global footprint will help Bluestream increase the value proposition to the offshore energy market. OEG has done a great job of establishing itself as a valued partner in the supply chain for offshore wind, and this merger will further enhance that status and open up new opportunities for the group within the growing European offshore renewables industry."
Historically, much of OEG's business has been the provision of containers, tanks and specialised modules to the offshore oil and gas industry. In 2008, OEG Offshore was ranked as the number five player in the market, but through organic growth and acquisitions it has become a global leader, with a circa 40 per cent market share. The specialised modules it supplies are designed and built in the UK and cover a wide range of functions of varying complexity from welfare accommodation to sophisticated workspaces and control rooms.
Heiton said that while the oil and gas side of the business was very much focused on Aberdeen and the Peterhead area, shipping stuff to and from offshore installations, the rapidly expanding wind business was spread more widely. "Every small port can host operations," he noted. "It's a much more diversified industry. This is all to do with preparing the seabed, laying the cables. There is also annual inspection and maintenance work and the skills we have built up around oil and gas are very transferable. There are skill-sets that don't transfer but these subsea ones do. However, one of the challenges is simply getting access to talent. We need to spread our network to tap into different markets."
Billions have been pumped into the development of vast offshore wind farms but one of the main challenges has been getting the power back onshore and linking up to the grid. As OEG's chief executive observes, a wind farm has to be connected somehow and that can create a "log jam" amid the rush for green energy.
"We have a new excavation tool for putting in place cables for initial installation and maintenance," he said. "That has involved a lot of research and development (R&D) investment. It's a first in its class development and involves a UK-based team, with the technical staff in Edinburgh. There is significant growth coming in terms of new wind farms though it hasn't been easy especially in a time of high inflation and high interest rates. That's affecting all markets and not just the UK. There has been some negative mood music but there is still a major pipeline out there."
With the Global Wind Energy Council forecasting that more than 380 gigawatts of new offshore wind capacity will be added over the next decade, it seems that OEG has a bright future ahead.
Comments
 0 comments
Want to join the conversation? Please or to comment on this article.