Edinburgh-based TSB Bank 'proud' of customer support as profits and defaults rise
The boss of Edinburgh-headquartered TSB Bank said he was "proud" of the support being provided to its cash-squeezed customers as the group reported a sharp rise in profits but also a jump in defaults.
Results for the six months to the end of June show that statutory profit before tax topped £147.9 million, an increase of 43.7 per cent compared to the first half of 2022. The main driver was higher income, which rose 11 per cent to £584.5m primarily reflecting the impact of the higher interest rate environment, partially offset by lower mortgage margins in a "highly competitive market".
TSB relaunched in 2013 as a separate entity after merging with Lloyds Banking Group in the 1990s and was acquired by Sabadell Group in 2015. Robin Bulloch, TSB's Scots-born chief executive, said the latest results reflected the "strong progress" that the bank had made to deliver a better service and more value to its customers.
He added: "We've made it easier than ever before for our customers to talk to our highly skilled experts in branches, over the phone and through video banking, as well as improving services through our digital channels. At a time when many of our customers are having to manage rising costs, our Money Confidence purpose couldn't be more relevant. I'm proud that TSB continues to be there to support our customers, and I want to thank colleagues for going above and beyond to look after them."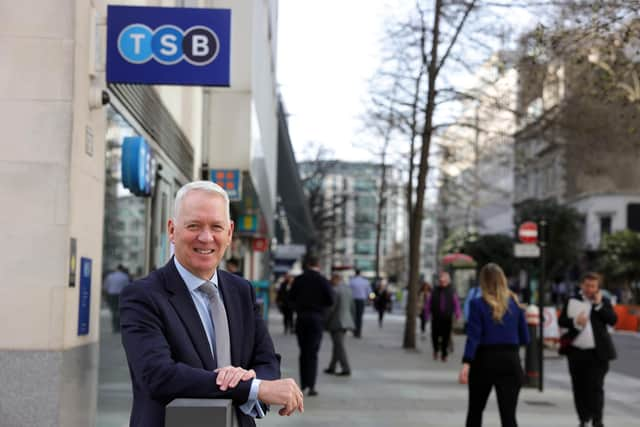 Credit impairment charges leapt by 54.7 per cent to £27.7m, though the prior period had benefited from Covid-19 provision releases. TSB said the higher 2023 charge also reflected the "uncertain economic outlook, increased interest rate environment and growing inflationary pressures" for customers. Customer defaults are increasing, it noted, but remain within expectations and below historic levels.
There are concerns that more borrowers could struggle with mortgage and loan repayments amid rising interest rates, with the Bank of England widely expected to announce a further quarter or half point hike next week.
TSB's results came as Barclays reported a jump in its half-year profit but set aside an impairment charge of £900m to cover expected loan losses. The banking giant said its pre-tax profit hit £4.6 billion in the six months to the end of June, up from £3.7bn in the same period last year. The previous year it had suffered a hit from a trading blunder in its US structured products division. The latest credit impairment charge of £900m is more than double the amount set aside last year.
Zoe Gillespie, investment manager at wealth firm RBC Brewin Dolphin, said: "After Lloyds underwhelmed [on Wednesday], Barclays has delivered a strong set of results that meet expectations. The increased capital returns through a share buyback programme and dividend are signs of growing confidence from management and will be welcomed by shareholders. With a more diverse income stream than some of the other major UK banks, provided no conduct issues from the past re-appear, Barclays appears to be in a great position."
Comments
 0 comments
Want to join the conversation? Please or to comment on this article.