Skye Tales, a puzzle-adventure game promoting mindfulness and accessibility, is the debut game to be released by Puny Astronaut, whose co-founders met at Abertay University, and an early version of the offering earned the firm a funding award at the 2016 Dare to be Digital student developer competition.
4J Studios' co-founders Paddy Burns and Chris van der Kuyl invested a six-figure sum in Puny Astronaut in 2018, helping it complete the game as per the initial vision. It will be the first title to be published by 4J Studios, set to launch on the Nintendo Switch console in 2023, and comes after the Scottish company earlier this year appointed former NBC Universal executive producer Brian Gomez to the newly created post of creative director and executive producer, who has since worked on new, original next-generation games and technology.
Skye Tales focuses on the adventures of Skye, a friendly dragon, and has been designed as an ideal entry point to the world of video games for players of all abilities. Puny Astronaut said its team, which now numbers 17, worked closely with accessibility charity AbleGamers during the game's development.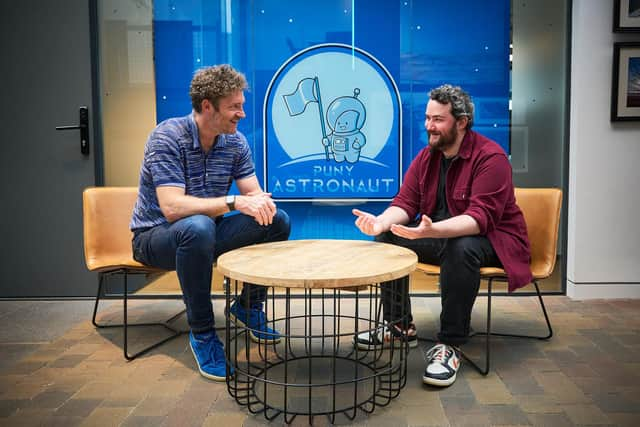 Puny Astronaut MD Cian Roche said: "Skye Tales is the perfect introduction to gaming for children and adults. [It] takes a gentler and more sensory approach to gaming, focusing on the journey just as much as the destination. We continue to benefit from Chris and Paddy's mentorship and are delighted 4J Studios is publishing our game, given how closely they have been involved in our story to date and the incredible relationships they have in the global games industry."
Mr van der Kuyl, chairman of 4J Studios and Puny Astronaut, said: "Cian and the rest of the team have gone out of their way to craft a magical, colourful, and accessible world that gamers of all ages and abilities can enjoy. It is a perfect example of the 'games for everyone' approach we believe in at 4J Studios. We are particularly pleased that Skye Tales will be the first game to be published by 4J Studios, which feels like an entirely natural progression for us, given the way consumers are now buying games online. We have more new games scheduled for release in 2023 – a mixture of original games from 4J Studios and titles from studios we are invested in through Chroma Ventures."
Professor Gregor White, dean of the School of Design and Informatics at Abertay University, said: "We are enormously proud of the Puny Astronaut team and it's been a genuine pleasure to witness the care and attention to detail with which Skye Tales has been developed since the original concept was designed in our labs.
"Producing such a highly polished game as a first release shows the level of skill that these developers have, and also speaks volumes about the time and space they have been afforded, thanks to the vision, backing and belief shown by Chris and Paddy at 4J Studios." He added that Skye Tales highlights the "talent and professionalism" that exists in Dundee.