Dundee accelerator picks ten fledgling firms with power to 'benefit the world'
A venture looking to make buildings greener and a boat travel booking app are among ten young businesses chosen for a Scottish accelerator programme that has already triggered millions of pounds of investment.
The fledgling firms have been successful in applying to take part in Michelin Scotland Innovation Parc's (MSIP) latest accelerator, which is committed to "amplifying sustainable mobility and decarbonisation solutions". MSIP is a joint venture between the French industrial giant, Dundee City Council and Scottish Enterprise, founded to regenerate the former Michelin tyre factory site in Dundee.
Partly funded by Scottish Enterprise and delivered by Skillfluence, the accelerator has been specifically designed to help "ambitious young companies" focused on sustainable mobility and decarbonisation achieve a step-change in their business. This is the fourth cohort of the MSIP accelerator and the successful applicants are developing a range of "future thinking" products and services. They include: Innovate Rural, which is behind Boaber, an on-demand boat travel booking app utilising the power of artificial intelligence; Copper & Carbon, whose wind turbine can speed up the net zero ambition by controlling wind flow; and Redbarn Group, trading as Veritherm, which is looking to decarbonise buildings and "empower sustainability by making measurement mainstream".
A number of participants will become the first users of MSIP's newly launched Innovation Labs and will have first access to the soon-to-launch Innovation Hub. The accelerator is one of many initiatives MSIP is undertaking as part of its innovation programme.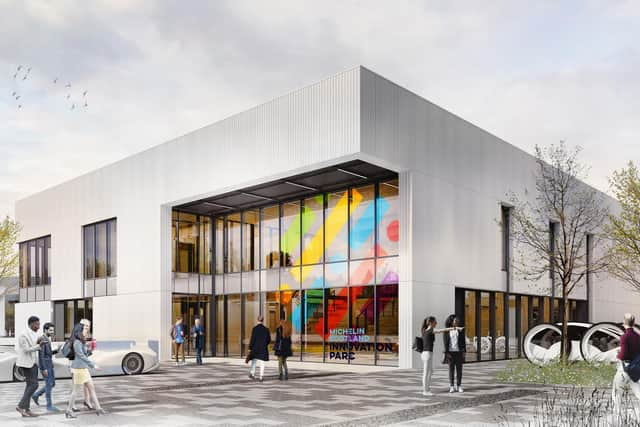 Sarah Petrie, innovation director at Michelin Scotland Innovation Parc, said: "I'm so pleased to see the start of our fourth MSIP accelerator programme. The 31 companies that have participated to date have demonstrated some astounding progress.
"In the past 18 months alone, MSIP accelerator companies closed equity investments totalling £1.08 million and sales have increased by over £2m in the same period. Twenty of these companies have also received innovation grants to the value of £1.47m, and several have been recognised for their ground-breaking products and businesses. To have ten new ambitious companies to work with and continue that level of impact, is incredibly exciting."
Alison Gray, founder and director of Skillfluence, which is providing a specialist programme to support Scotland's net zero carbon ambitions, said: "We're excited to collaborate with the Michelin Scotland Innovation Parc team to support this remarkable cohort of founders. They're creating businesses poised to significantly benefit the world. Given the pressing climate challenges, their efforts, alongside MSIP's, have gained unparalleled significance and we look forward to working with them to accelerate their impact."
Suzanne Sosna, director of economic opportunities and climate at Scottish Enterprise, added: "Green energy is a key sector of the future and, with sustainable mobility in particular being a crucial element, there are huge opportunities for innovative companies. It is fantastic to see the calibre of innovators we have coming forward in the accelerator and really exciting to help them develop the ideas that will tackle the climate challenge. Supporting businesses to develop in this space is vital to ensuring we maximise their potential and the part they will play in a successful greener Scottish economy."
Comments
 0 comments
Want to join the conversation? Please or to comment on this article.