Cost of living crisis: 40,000 businesses on the brink amid 'financial reality check' - Begbies Traynor
The number of firms facing "critical" financial distress has leapt by a quarter with almost 40,000 UK businesses now at risk of insolvency amid the cost-of-living squeeze and higher borrowing costs.
There has also been a jump in cases of "significant" financial distress, according to the findings of the latest Red Flag Alert from business rescue and recovery specialist Begbies Traynor. Of the 22 sectors covered by the report, 18 saw a double-digit increase in companies in critical financial distress compared to the previous quarter.
Serious concerns have been raised regarding the outlook for the construction and real estate & property services sectors after critical financial distress levels jumped 46 per cent and 38 per cent respectively in the past three months. Cases of critical financial distress also rose considerably in the retail sector, with food & drug retailers up 33 per cent and general retailers up 14 per cent, compared to the previous quarter.
The latest Red Flag Alert, which has provided a snapshot of British corporate health for the past 15 years, paints a worrying picture across the UK. Experts said that with many UK companies accustomed to years of near zero interest rates and access to government-backed Covid support loans, the "new world" of elevated borrowing costs would continue to push many businesses to the edge of collapse.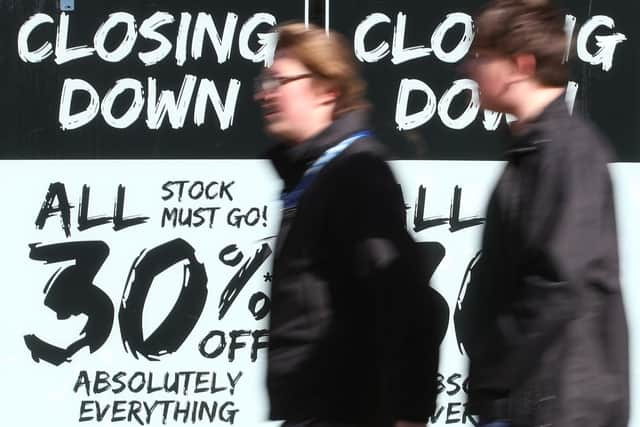 According to the report, 37,722 companies were in critical financial distress in the third quarter of this year, up by nearly 25 per cent since the second quarter. Almost 480,000 businesses across the UK were found to be in significant financial distress, 8.7 per cent higher than Q2 and 4.7 per cent up on the third quarter of 2022.
It said the pressures of higher interest rates, sticky inflation and weaker consumer confidence were taking their toll. These pressures are now clearly being seen beyond consumer facing sectors and are becoming widespread, particularly within the construction and property sectors, Begbies Traynor noted.
Partner Julie Palmer said: "Tens of thousands of British companies are now in financial dire straits now that the era of cheap money is firmly behind us. Businesses that had loaded up on debt at rock-bottom rates, and were only able to cling on during the pandemic thanks to government support, must now deal with a financial reality check as higher interest rates hit working capital for the foreseeable future. Taken together with stubbornly high inflation and weak consumer confidence, many of these businesses will inevitably head towards failure.
"The construction industry, which has long been a bellwether for the health of the economy, looks particularly vulnerable with over 70,000 firms now in significant financial distress and circa 6,000 in much more serious critical financial distress - often a precursor to formal insolvency. These businesses must now struggle through a period of inflation-eroded margins, weak demand and a looming recession. It is likely to be an insurmountable task for many.
She added: "This latest data highlights how the debt storm, which has been brewing for years, but had been held off by several measures to provide breathing space for companies, may very well break. Something that will send shockwaves through the whole economy."
The report has been released in the same week as the Bank of England announces its latest move on interest rates, with most analysts expecting the second pause in a row after almost two years of consecutive hikes. The base rate, which influences the amount of interest that consumers and businesses pay on loans and mortgages, is widely expected to be kept at 5.25 per cent, although markets see some chance that it could rise.
Susannah Streeter, head of money and markets at investment platform Hargreaves Lansdown, said: "The trend of companies in financial difficulties and being forced to fold is at a level not seen since the great financial crisis. So, the Bank's monetary policy committee will be highly mindful about not piling on more pressure, with the UK economy only just crawling ahead."
The Red Flag Alert shows that London had the greatest number of both significant and critical distress cases in the latest quarter, followed by the south-east of England and then the Midlands. Scotland ranked in eighth place in both listings. Construction and property companies now account for almost 30 per cent of all firms in critical financial distress as the slowdown in the residential housing market continues to bite. Rises in the retail sector also contributed to the overall uplift in critical financial distress.
The report's algorithm measures corporate distress signals, drawing on company accounts and factual, legal and financial data from a wide range of relevant sources, including intelligence from Begbies Traynor. The algorithm was refreshed in the first half of this year to "enhance the risk factors" analysed in the data.
Ric Traynor, executive chairman of Begbies Traynor, said: "The current combination of macro-economic risks is piling on the pressure and really starting to take its toll on UK businesses. I am hopeful that stabilising inflation and interest rates will start to slow the rising levels of distress in the economy in due course, but history dictates that this will take some time and insolvencies often peak long after a recovery has started. Unfortunately for many businesses, time is not on their side.
"The ongoing geo-political uncertainty, which is particularly affecting commodity and energy prices, coupled with high interest rates, weak consumer demand, sticky levels of inflation and an anticipated recession over the coming year, may simply prove too much for many of these distressed businesses."
Comments
 0 comments
Want to join the conversation? Please or to comment on this article.