News that the former telecoms monopoly is likely to have slashed its 130,000-strong global workforce by between 40,000 and 55,000 bodies by 2030 overshadowed full-year financial results which revealed a 12 per cent decline in pre-tax profits to £1.7 billion and a dip in revenues.
BT is one of Scotland's largest private sector employers with in the region of 7,000 staff, including those employed at the group's broadband network-building Openreach subsidiary. An independent study published in 2019 suggested that BT Group was responsible for generating £1 in every £110 produced in the Scottish economy, while supporting more than 20,000 jobs through the firm's direct employment, its spending with contractors and suppliers and the spending of its employees. A spokeswoman for BT Scotland said it was too early to say what impact the changes would have north of the Border over the coming years but stressed that the group was "committed to Scotland".
The jobs blow comes just days after Vodafone said it was cutting 11,000 roles while the global tech sector currently resembles something of a bloodbath. Collectively, the likes of Amazon, Facebook owner Meta and Twitter have taken the axe to tens of thousands of jobs, chiefly in their US homeland, but also impacting operations globally.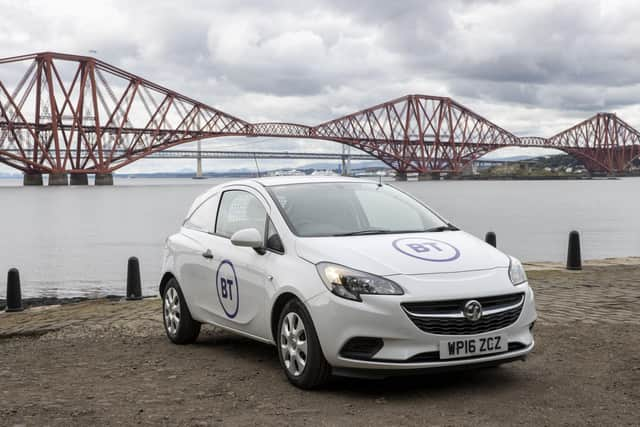 BT said it wants to rely on a "much smaller workforce" and a reduced cost base, and to digitise its processes. Some 10,000 jobs will go as the group digitises, and as customers rely more on online and app-based communication rather than call centres for things like account servicing and upgrades. The increasing usage of artificial intelligence (AI) is also a key part of the company's technological transformation plans. BT stressed that once its full-fibre broadband and 5G mobile network is rolled out, it will not need as many staff to build and maintain the technology.
Chief executive Philip Jansen said advanced AI would make services faster, better and more seamless for customers. "The biggest driver here is customers, make no mistake," he said, while claiming that the AI shift will not mean customers will "feel like they are dealing with robots".
Jansen said: "New technologies drive new jobs in the end. But that is the second stage and it's what we are all working on right now. By continuing to build and connect like fury, digitise the way we work and simplify our structure, by the end of the 2020s BT Group will rely on a much smaller workforce and a significantly reduced cost base. New BT Group will be a leaner business with a brighter future."
More than 15,000 roles will go when investment in high-speed, full-fibre systems begins to taper off, and more than 10,000 will disappear as the group stops running double networks like 3G and 4G. Natural attrition - where an employee leaves the company but is not replaced - is also likely to play a part in achieving job reduction targets.
Matt Britzman, equity analyst at investment platform Hargreaves Lansdown, said: "Headlines will no doubt focus on the job cuts, with up to 55,000 to come over the next decade as BT looks to find more ways to cut costs despite a cost-cutting plan already delivering £2.1bn in savings. It's drastic, but it's not overly surprising given the mounting costs and slim margins in the wider business.
"Once the Openreach and 5G networks are built out the strategy shifts to monetising the infrastructure that's in place and leveraging new technologies to do that. Progress on both is looking promising, BT's 5G now covers 68 per cent of the population and Openreach is on track to reach 25 million premises by 2026."
Victoria Scholar, head of investment at Interactive Investor, said: "Telecoms appears to be awash with job cuts with Vodafone and BT reducing the size of their workforces. Both have been struggling with the pressures of inflation, most notably from energy. BT is focusing on digitisation and integrating AI, a shift which is likely to require fewer workers."
Matthew Dorset, an equity research analyst at Quilter Cheviot, noted: "BT has seen Vodafone's job losses and taken them to another level, with up to 55,000 expected to be cut from the workforce by the end of the decade as the business seeks to cut costs. The business has faced pressure from alternative network providers, although on the retail side customer numbers have remained stable," he added.
"BT remains well capitalised to take advantage of infrastructure demand from the country. Fibre rollout continues apace with 41 per cent of the network completed and reaffirmed guidance to reach 25 million homes by 2026."
BT said it would be working with its union partners throughout the job restructuring process. A spokesman for the Communication Workers Union (CWU) said the announcement of job reductions was not a surprise. He added: "The introduction of new technologies across the company along with the completion of the fibre infrastructure build replacing the copper network was always going to result in less labour costs for the company in the coming years. However, we have made it categorically clear to BT that we want to retain as many direct labour jobs as possible and that any reduction should come from sub-contractors in the first instance and natural attrition."