BrewDog founder James Watt flying high with expansion plans as 'unicorn' search reaches climax
BrewDog co-founder James Watt has given clearance to the next phase of the Scottish craft beer maker's global expansion plans.
The maverick Aberdeenshire brewer has sealed a partnership with SSP Group, the food service giant that operates thousands of restaurants, bars, cafes and other food and beverage concessions in travel locations across 36 countries. The tie-up will initially bring the BrewDog brand to various sites in the UK, with the first outlet scheduled to open by the end of the year at London Gatwick Airport. SSP will operate a number of bars at airport and railway stations to be opened over the next few years.
Watt, who set up the Ellon-based beer-maker in 2007 along with co-founder Martin Dickie, said the major assault on the travel sector would rapidly expand the group's reach, bringing its range of craft beers and concept to millions of international travellers and those on the move. BrewDog already has a bar within the airside terminal at Edinburgh Airport.
Watt said: "This partnership with SSP will bring brilliant new craft beer experiences to thousands of travellers. It's part of our own journey as a business. We want to make everyone as passionate about craft beer as we are."
The new bar at Gatwick's North Terminal promises guests an "innovative menu" specially tailored for the airport location. Watt said beer would "be the hero", with travellers able to enjoy the choice of "rare and exclusive beers" sourced from BrewDog's extensive beer programme. The bar will also feature a low-alcohol drinks menu, and offer spirits, cocktails, wines, soft and hot drinks.
Kari Daniels, chief executive of SSP UK & Ireland said: "BrewDog is a globally renowned brand with an incredible back-story and huge potential to do well in the travel space. It's a brilliant next step in our growth to help BrewDog build their brand in the UK travel market, and we're confident that our shared values and combined expertise will pave the way for a successful partnership. London Gatwick, which is a truly international airport and welcomes a particularly relevant passenger demographic, is an excellent starting place for our adventure together."
Jonathan Pollard, chief commercial officer at London Gatwick, which handled some 32.8 million passengers in 2022, added: "BrewDog is a fantastic brand and one which I'm certain will be well received by London Gatwick passengers."
BrewDog's bar footprint is expanding around the world with new sites opening in the US, India and Australia in the past few months. Earlier this year, the brewer said it was ramping up its presence in the world's biggest beer market after sealing a joint venture with Budweiser China. The Asian powerhouse economy currently accounts for less than 1 per cent of BrewDog's overall sales but the tie-up will allow the firm to tap into Budweiser China's vast sales and distribution network. It will take BrewDog's biggest-selling brands such as Punk IPA, Hazy Jane and Elvis Juice across the country.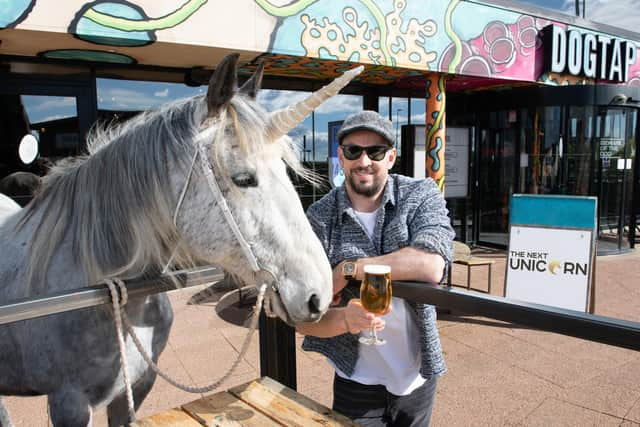 Still headquartered in Ellon, the brewer now employs more than 2,300 staff and operates 100-plus bars and venues worldwide. It has additional breweries in Columbus Ohio, Berlin Germany, and Brisbane Australia.
Watt also provided an update on his mission to find the next "unicorn", after he turned Dragon earlier this year, putting up £5 million of his own money in a bid to find the next billion-dollar start-up business. Using a new investment model where members of the public can also back the chosen companies, Watt's initiative aims to create the next generation of unicorns, following in the footsteps of his beer business which achieved the landmark $1 billion unicorn valuation in 2017.
The BrewDog boss, who revealed he had been rejected twice by BBC's Dragons' Den programme, is partnering with crowdfunding platform Crowdcube to receive pitches from a range of European entrepreneurs.
Watt said: "So many of the pitches have been good. We've had goats, laptops thrown from balconies, eaten loads of bugs, eaten meat snacks, pitches that were long and pitches that were concise. But I think overall the standard has been fantastic.
"I would love to do the Next Unicorn again. I love investing, I love business – first and foremost, I'm a huge business geek. It's what I'm most passionate about and I want to take everything I've learned from building a unicorn and help other companies, other founders do exactly the same thing."
The final five companies are being invited to Las Vegas, where three winners will be picked at BrewDog's rooftop bar this week. The Next Unicorn search will see Watt invest a total of £1m in the three firms, with a further £4m to be unlocked as the winning companies reach certain milestones.
Watt sought early funding from Dragons' Den, but BBC producers made a last-minute decision to reject the beer firm from entering the Den back in 2009. The BrewDog chief revealed that he was actually rejected twice from the Den – the second time more recently, when he was approached and shortlisted to become a Dragon himself, but ultimately didn't end up getting the position.
Watt added: "I've found the process of the Next Unicorn amazing so far. With the Next Unicorn we've had more than 750 companies apply - we've been blown away by the standard of those businesses, the passion of the people behind them and it's just been incredibly difficult to shortlist 20. And it's going to be even more difficult to shortlist five. The pitching days have been fantastic, and we've seen awesome businesses."
Comments
 0 comments
Want to join the conversation? Please or to comment on this article.