Using a new investment model where members of the public can also back the chosen companies, Watt's initiative aims to create the next generation of "unicorns", following in the footsteps of his beer business which achieved the landmark $1 billion unicorn valuation in 2017. The BrewDog boss, who revealed he had been rejected twice by BBC's Dragons' Den programme, is partnering with crowdfunding platform Crowdcube to receive pitches from a range of European entrepreneurs. He will then whittle down entrants with the help of a "carefully selected panel", including Crowdcube co-chief executive Matt Cooper, and Evelyn McDonald, the boss of Scottish Edge – which helped the brewing company get started 16 years ago.
Watt, who set up the Aberdeenshire beer-maker in 2007 along with co-founder Martin Dickie, said: "Building and growing businesses is a real passion point for me, and I have learnt so much on my journey getting BrewDog to unicorn status. Given the current economic climate, it's never been more important to support companies, and I can't wait to share my experience with some of the brightest business minds across Europe. What's truly unique about this competition is that it's not just about watching me invest my own money in someone else's business. Thanks to Crowdcube, anyone can invest in these companies too, and on the exact same terms as my investment. The window for entries is a short one, so if you've got a business that has potential to reach a billion-dollar valuation, I want to hear from you."
Watt sought early funding from Dragons' Den, but BBC producers made a last-minute decision to reject the beer firm from entering the Den back in 2009. The BrewDog chief revealed that he was actually rejected twice from the Den – the second time more recently, when he was approached and shortlisted to become a Dragon himself, but ultimately didn't end up getting the position. His "The Next Unicorn" search will see him invest a total of £1m in three firms, with a further £4m to be unlocked as the winning companies reach certain milestones.
The submission window for pitches runs to April 14. Shortlisting and judging will take place over a two-week period, before finalists are invited to pitch live to Watt and his panel in London. The three final companies will then be invited to Las Vegas, where they will receive their funding at BrewDog's rooftop bar on May 26. Following the Vegas announcement, the three winning businesses will be live on Crowdcube.com for the public to tap into the deal. On top of a cash injection, the competition winners will each enjoy an "unusual day" with Watt to test their personal relationship and adaptability in unexpected circumstances. The scenarios will include fishing on Watt's grandfather's boat and working a day pulling pints at the beer firm's Camden bar.
Cooper added: "We've transformed retail investing by creating more pathways for investors to invest in high-performing private companies than ever before. Now, with our partnership, the public can invest alongside leading entrepreneur James Watt in the search for Europe's next unicorn."
Last spring, BrewDog unveiled a bumper £100m share award, further global expansion and a push into spirits as it set out a "blueprint" for the coming 15 years. Watt announced that he was donating a fifth of his personal stake in the business to staff to mark the firm's 15th anniversary. The share award was worth just under £100m, or some £120,000 to each salaried "crew member" over four years based on the most recent fundraising valuation. Following the giveaway, BrewDog's 750 or so salaried crew members and Equity Punk shareholders will own 25 per cent of the shares, owning the biggest stake in the business between them.
And, in what bosses described as a "ground-breaking move for hospitality", BrewDog said it was overhauling how its bars operate. Each venue is now going to share 50 per cent of its profits with team members. The blueprint also included major investment in the brewer's Ellon HQ, a number of people and culture initiatives, a continued focus on sustainability, a push into spirits and further international expansion.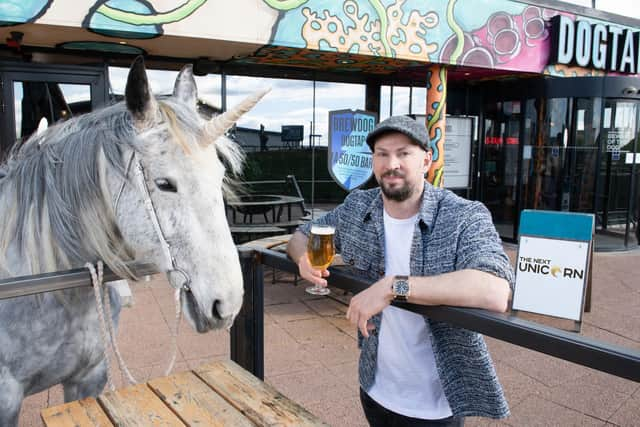 "The road ahead is going to be exciting, but it won't be easy. Redefining an industry never is," said Watt, who in 2021 made an apology after being accused of fostering a culture of fear among staff. "The share giveaway and profit share scheme will ensure that we are all in this together as we look to write the next chapter in the BrewDog story."
The share award, based on a fundraising valuation of £1.8bn, will be worth even more if the company meets ambitious growth targets, potentially giving the workers an even greater reward. Last month, BrewDog said it was ramping up its presence in the world's biggest beer market after sealing a joint venture with Budweiser China.
The Asian powerhouse economy currently accounts for less than 1 per cent of BrewDog's overall sales but the tie-up will allow the firm to tap into Budweiser China's vast sales and distribution network. It will take BrewDog's biggest-selling brands such as Punk IPA, Hazy Jane and Elvis Juice across the country. The long-term agreement will focus on expanding the BrewDog brand across Greater China and allows the Scots brewer to capitalise on rapid market growth in the country, which is now the world's biggest producer and consumer of beer. BrewDog's beers will be locally produced by "expert brewers" in China in collaboration with BrewDog's global brew master and the head of quality at Budweiser China's Putian Craft Brewery in Fujian province.