BioCity-based ultrasound sensor specialist Novosound makes further in-roads into US market
A start-up behind technology aiming to go beyond traditional ultrasound capabilities has grown its activity in the US where it is seeing "remarkable" progress, and where it expects to generate more tie-ups in 2024.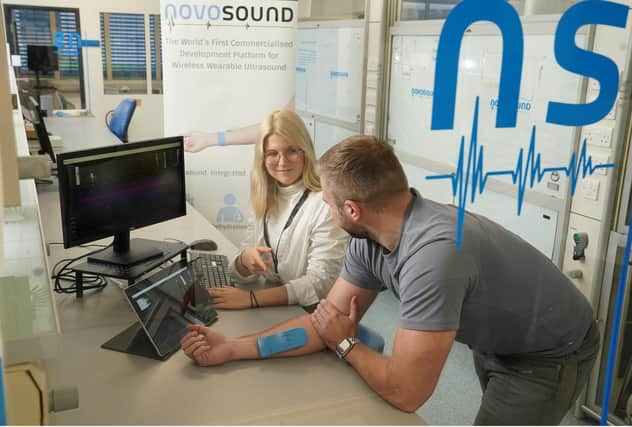 The firm, which is based at BioCity just off the M8 at Newhouse, says it has expanded its healthcare and wireless ultrasound operations in the States. It has recently entered a wearable ultrasound collaboration with Dr Todd Rosengart, billed as one of America's leading cardiovascular surgeons, who is vice president and DeBakey Bard chair of surgery at Baylor College of Medicine, based at the Texas Medical Centre in Houston, said to be the world's largest medical centre.
Dr Rosengart said: "I have been very impressed with the Novosound technology and how we are applying it to a global clinical need, which we believe will save lives and could indeed become the next vital sign monitor."
Novosound chief executive and co-founder Dave Hughes said: "We're making remarkable progress in the US, venturing into varied sectors such as healthcare, wearables with several clients in the West Coast tech scene, renewables and energy, including an introductory visit to Axiom Space, which closely follows their exciting partnership announcement with the UK Space Agency."
The Scottish firm designs and manufactures ultrasound sensors using a "groundbreaking" thin-film technique, and has secured medical imaging collaborations with Nasdaq-listed PAVmed Inc. and dental company dSound, which "continue to progress through significant developmental milestones".
Hughes added: "We're seeing that our [research and development] partnerships are frequently translating to commercial agreements, and we expect to announce a number of these in 2024, particularly in the States. Novosound is growing rapidly across our three main sectors – medical, wearables, and industrial monitoring – in North America. On the financials, this equates to us doubling revenue for the fourth year in a row, while adding expertise to the team. Overall, we demonstrate that we're at the forefront of ultrasound sensor technology, and our clients are helping us achieve our vision."
Comments
 0 comments
Want to join the conversation? Please or to comment on this article.