Analysis: Sir Richard Branson in conversation with emerging Scottish business founders
Few entrepreneurs would have believed at the start of their bid to bring their business idea to life that they would one day find themselves trading stories in person with one of the world's most high-profile business tycoons.
The meeting took place in the hotel's "Curiosity Shop" space, which sees products with a sustainability focus displayed and sold, with founders of participating businesses in attendance to celebrate and drive forward the initiative. They included Dr Sally Gouldstone from Seilich, which produces natural skincare products using ingredients grown in its wildflower meadow; Dr Craig Rose from Dr Seaweed's Weed & Wonderful, which makes dietary supplements from organic Hebridean seaweed; and George Greer and Ka Jo Wong, co-founders of Project Harmless, which has created dog waste bags made from water-reactive and non-toxic material.
Making up the remainder were Jill and Steve Henry from Meander Apparel, which is behind a clothing line made by and large using natural or recycled, low-impact materials; Jennifer Norrie and Harry McDonough from Sensi that makes silk products such as eye masks and pillowcases, and Genevieve Sweeney from eponymous knitwear brand Genevieve Sweeney, which harnesses both traditional artisan and innovative knitting techniques using Scottish spun yarns.
The Curiosity Shop is part of a tie-up with Virgin StartUp, the not-for-profit incubator that is part of Sir Richard's globe-straddling business empire, and was created to shine a light on local firms. "This is the first opportunity we've had to get everyone together [in person]," giving attendees the chance to talk about, say, opportunities to collaborate as well as challenges, Virgin StartUp MD Andy Fishburn, who led the group's conversation, told The Scotsman. "There's something that's really quite energising about getting founders together."
Gap in market
And Sir Richard welcomed the Curiosity Shop initiative and firms making a positive impact on communities and the environment, while he gave more details on how Virgin StartUp, which this year celebrates its tenth anniversary, originated. He told the group how when he started out in business, there wasn't really any financial support such as venture capital for embryonic firms.
"And over the years, I could see governments giving big loans to students going to university, but not to people starting businesses," he said, noting how he made his case to the Prime Minister at the time, saying the state was much more likely to get its money back by setting up a not-for-profit organisation that could fund and help mentor entrepreneurs "and hold their hand to an extent".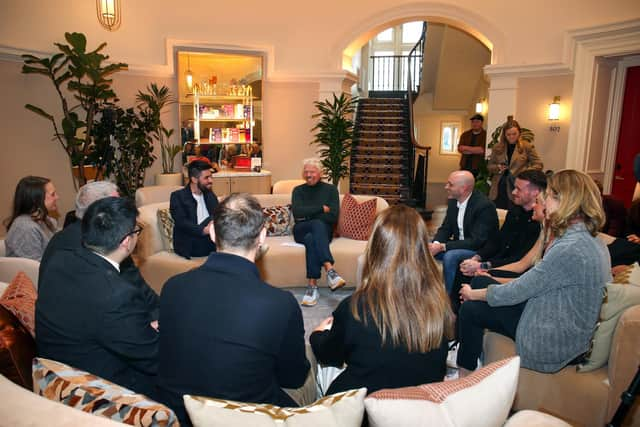 He got his wish and praises the progress already made by the incubator that along with participating firms has become "quite a mighty force," also stating that "not everyone's going to succeed the first time, the second time, or the third time – but it is a hell of a good education".
Mr Fishburn explains that Virgin StartUp has grown to be one of the UK's largest entrepreneurial mentoring programmes, having to date provided nearly 5,000 founders with more than £66 million in funding and one-to-one mentoring. Specifically, it enables budding entrepreneurs to borrow between £500 and £25,000 via the Westminster-backed Start Up Loans programme, get matched with their own mentor, and receive post-funding support for a year.
Mr Fishburn notes that many participants have seen ascendant growth – quite literally in the case of homelessness-tackling social enterprise Change Please, a coffee brand he explains started with Virgin StartUp six years ago, and has gone from a single three-wheeled coffee cart to being stocked on all Virgin Atlantic flights, present in eight countries with 50 bricks-and-mortar stores.
Support
Virgin StartUp has also outlined its bid to provide 50/50 gender-balanced support, noting that it has already distributed ​£15.4m​ to at least 1​,200 ​women founders since 2013, and "outperforms other UK funders" with 41 per cent of its finance and support provided to women founders, double the national average.
As for advice Sir Richard (who is now believed to now be worth more than £4 billion) would give aspiring entrepreneurs, he recommended focusing on something they're passionate about and really believe in, as "it's going to be so much easier to make a successful business out of it", as well as building a strong support network with which to celebrate the wins and mourn the losses.
The chat in Edinburgh also saw Sir Richard advise entrepreneurs to delegate the day-to-day running of their business once it gains traction, and he told the story of how failures can become successes, for example being turned away from an event for not wearing a tie led to him securing the space that eventually became Virgin Records on London's Oxford Street. And his portfolio of assets continues to grow; he also said on Friday that Virgin would consider opening a second hotel in Edinburgh to complement its first, the 222-room space that spans ten floors that transformed the 19th-century India Buildings complex on Victoria Street. "My zest for life is no less today than it was."
Comments
 0 comments
Want to join the conversation? Please or to comment on this article.