Tim Martin, the vocal chairman and founder of industry heavyweight JD Wetherspoon, had reason to celebrate after revealing that like-for-like sales had surged by nearly 18 per cent over the last three months of 2022, when compared with the same period in 2021.
The update came after rival Marston's said sales were up by a quarter compared with the year before across five key festive days, including Christmas Eve and New Year's Eve. Over the four months to January 21, its sales were 13 per cent higher year on year. Meanwhile, City Pub Group said its sales were up 7.8 per cent in the last three months of 2022, compared to pre-pandemic levels in 2019. Like other pub groups, it enjoyed a boost in revenues over Christmas and during big events, chiefly the Fifa World Cup.
The headline numbers appear impressive and suggest that punters were out in force over the Christmas and New Year holidays despite well-publicised cost-of-living pressures - or simply drowning their sorrows. Yet there remain several underlying challenges for pub chains, and the wider hospitality sector, to contend with.
Wetherspoons, which runs 844 pubs across the UK and Ireland, including the likes of the Caley Picture House in Edinburgh and Dunfermline's Guildhall & Linen Exchange, said its sales still remained 2 per cent lower than the equivalent pre-pandemic period in 2019. Martin noted that far more people now drink in their homes rather than in pubs.
"The aftermath of the pandemic and lockdown restrictions have been far more difficult than anyone thought," he said. "That is the picture for the whole pub and restaurant industry. People thought that after lockdown there would be a boom in people suffering from cabin fever but, instead, it has almost been the opposite situation as people have got in the habit of staying in. That's the big thing that means sales are down on 2019. Things are improving now but it's slow."
Martin was keen to stress that he feels the biggest threat to the hospitality industry is that pubs and restaurants are taxed unfairly, while supermarkets pay no VAT on food sales. "This issue has been exacerbated in recent years because supermarkets now trade next to pubs on every high street, and with a huge tax benefit, which means they can lower the price of beer," he observed. "By and large, I think the non-executive directors of the largest pub and restaurant companies prefer to dig their heads in the sand, and not get involved."
Rail strikes also continue to be a setback for pub and bar operators. On Monday, pub group Fuller's said it has taken a hit of about £4 million from train strikes since the start of October, leading it to downgrade its expected earnings. The sector is also under pressure due to soaring energy bills, costs and wage demands.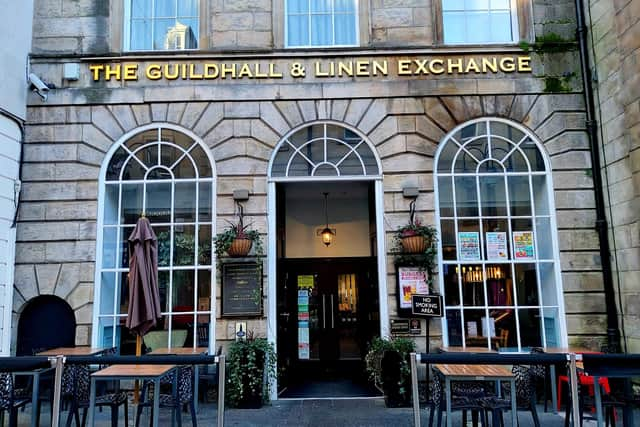 Andrew Andrea, chief executive of Marston's, which has been steadily growing its presence in Scotland with more than 20 venues these days, said: "We have continued to see positive sales momentum through the festive season and into the New Year, with particularly strong demand on the key Christmas and New Year trading days. Whilst we still have certain cost challenges to navigate in 2023, we are well positioned to continue to progress our strategy and are encouraged by the level of consumer resilience experienced to date."
While scores of pubs have had to close their doors for good amid economic pressures and changes in drinking habits, others have been pushing ahead with new openings. All Bar One, part of the sprawling Mitchells & Butlers empire, for example, has recently opened a second venue at Edinburgh Airport, marking a £1.6m investment.
After uncorking strong first-half figures, Johnnie Walker maker Diageo – the world's largest spirits company – suggested that people were "drinking better", not necessarily more, while eager to socialise again after almost three years or lockdowns and restrictions. Ewan Andrew, the firm's president for supply chain and procurement, said: "Premiumisation is a big part of what's behind the recent growth. There is also strong demand for cocktails, partly for nostalgic reasons and the 'Sex and the City factor'. More than half of pubs now stock cocktails and the standards are rising. People are opting for better quality drinks."
Derren Nathan, head of equity research at investment platform Hargreaves Lansdown, said: "It's no surprise that pub-goers were back in force during a restriction-free Christmas but Wetherspoon's sales are still lagging pre-pandemic levels. Given the multiple hits consumers are having to their spending power, it may be some time before genuine sales growth returns. And, given the cost increases being seen across the industry, this is going to hurt the bottom line.
"As the clouds continue to darken for the hospitality sector, it may be a case of last man standing. Wetherspoon will in our opinion no doubt survive, and indeed prosper with increased market share for when the cycle turns."
Reflecting on Marston's update, Victoria Scholar, head of investment at Interactive Investor, noted: "December and January's sales boost partly reflects flattering base effects versus the end of 2021 when Omicron Covid restrictions depressed sales. But Marston's also enjoyed a lift from the World Cup in November and December as well as the post-pandemic return to the pubs and a festive boost around the boozy Christmas period."