150 jobs in pipeline as fintech skills school launches in heart of Dundee
A fintech skills school has been launched in Dundee as part of a wider initiative that aims to create 150 jobs in the city.
Financial services firm Embark Group said the training facility would create a "pipeline of high-value technology roles" and inject fresh investment into the local economy. The Dundee tech school is situated within the firm's West Marketgait office and has initially recruited a dozen graduates and career changers into junior software developer roles.
Recruitment to the specialist positions is being supported by an "intensive" eight-week training and development programme, in association with tech training organisation QA and Embark financial technology - fintech - specialists.
Embark said it had a deep commitment to Dundee and was focused on helping to create a financial hub outside Scotland's Central Belt. Since becoming part of Lloyds Banking Group in 2022, the business has increased its investment in the local area, growing its customer service team and making Dundee its largest office in the UK with some 200 people.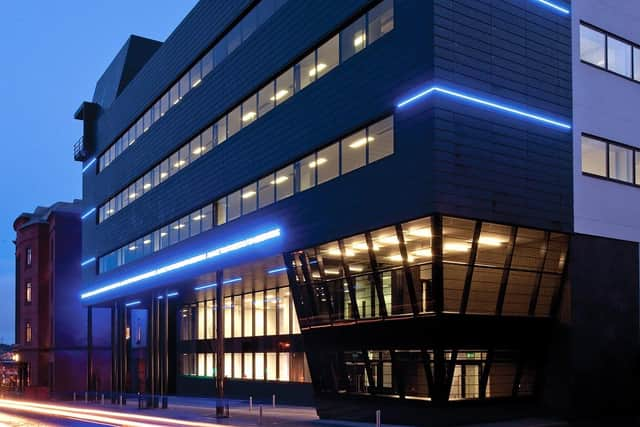 The tech school will be led by engineering community lead, Rose Ulldemolins, who will work alongside the Embark engineering team to design, develop and implement the internal training programme. The new facility, which is also being supported by Scottish Enterprise, aims to play a leading role in solving the acute skills and recruitment challenge for technology businesses nationwide. One in ten new job openings in the UK is now tech-related and the tech school should help fill the gap in training for graduates and new starters interested in a career in technology in Dundee.
Jackie Leiper, chief executive of Embark Group, said: "Dundee is world renowned as a centre of excellence for digital skills and innovation, so it makes perfect sense for us to nurture future talent right here in the city.
"I'm really excited about launching Embark's first school dedicated to bringing more young people into fintech roles, which will increase the digital skills base in the local economy. For companies like ours to grow and provide customers with first class digital services it's essential we have a pipeline of talented and skilled software developers, so I'm looking forward to inducting our first intake of students in a few weeks' time."
Mark Newlands, interim director of global investment at Scottish Enterprise, said: "We're very happy to continue our long-standing support for Embark with the establishment of its Dundee tech school. The facility will help ensure future employees have the right skills for the role, by providing them with the latest expertise and knowledge to support Scotland's dynamic and growing fintech sector. This project is also an example of partnership at its best, with business and the public sector working together to support high value employment in the local area."
The programme provides participants with a permanent role and a "highly competitive" salary from the start of their employment. It is designed to "plug participants into the Embark business in Dundee for the long term", rapidly providing them with the skills necessary to excel in a career in technology, the firm added.
Comments
 0 comments
Want to join the conversation? Please or to comment on this article.