The Scotsman Sessions #20: Marjolein Robertson
Welcome to The Scotsman Sessions. With the performing arts world shutting down for the foreseeable future, we are commissioning a series of short video performances from artists all around the country and releasing them on scotsman.com, with introductions from our critics. Here, Shetland comedian Marjolein Robertson offers some startling insights into island life from the potato patch in her garden.
Shetlander Marjolein Robertson had been anticipating one of the most exciting months of her comedy career, with a week of storytelling shows lined up in Italy and her first stand-up hour at The Stand part of the programme for the Glasgow International Comedy Festival.
The young comic, who blends surreally-tinged personal anecdotes with the folk storytelling tradition of her islands, moved to Glasgow last year in order to get more stage time, "just gigging as much as I could."
However, having been staying on friends' sofas, when the coronavirus crisis hit and "the gigs began to disappear" she reasoned that "I'd rather be in Shetland where I've got the garden, I can grow food and be close to my family, even if I can't see them." She and a friend swiftly decamped to her house back home, isolated along a dirt track.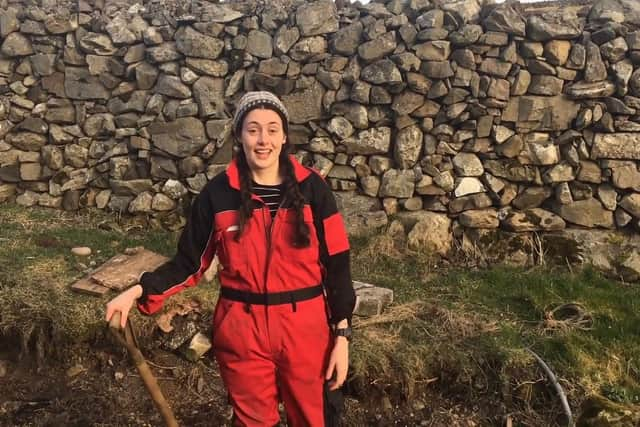 Frustrated at being unable to meet her new nephew properly, born while she was away, she reflects that "in Shetland, the coronavirus came quite early in relation to the rest of Scotland. You knew the people and you could almost watch it spreading. They shut the schools weeks before [the rest of the country]. And businesses and pubs have been shut for ages because we're such a small community, we're really fragile in something like this. We don't have ventilators or intensive care and we've such an elderly population."
Regardless, she's keeping busy, having long been accustomed to making her own sketch videos when she started out and physical audiences were few and far between. Alongside working in care, remotely and online, Robertson is participating in BBC Scotland's The People's News for its Virus Diaries season.
She is also sharing folk tales and fairytales for a global audience every night at 8pm on her Twitch channel (www.twitch.tv/marjoleinrobertson), "a lovely little community and a safe space from coronavirus mentions".
And she's recorded her first ever stand-up video for the Scotsman Sessions. Related from her potato patch, it's a typically unlikely account of drunken hi-jinks that is yet rooted in actual events, "just with a few flourishes to entertain".