Fight is on to save the King's and Festival Theatres
Described as "the beating heart and soul of Edinburgh," the King's and Festival theatres are now under threat as they race to find the £1 million necessary to bridge this year's funding gap. By Joyce McMillan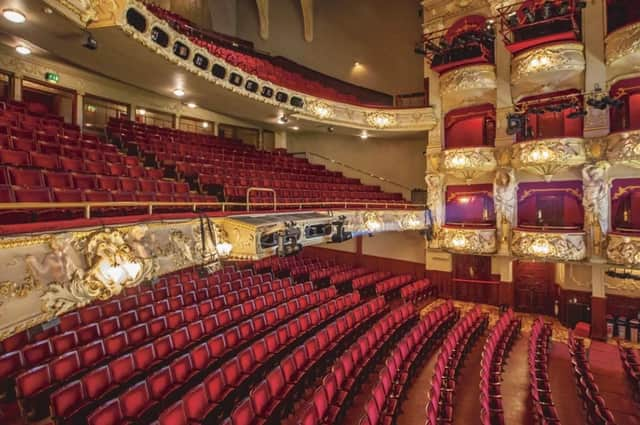 It's a humbling experience, to scroll through the crowdfunder page for Edinburgh's currently beleaguered Capital Theatres, and to experience the full force of what the King's and Festival Theatres have meant to generations of audiences and artists. Here's best-selling author Alexander McCall Smith calling the King's "the beating heart and soul of Edinburgh." Here's panto baddie Grant Stott, who like tens of thousands of Edinburgh folk had his first-ever theatre experience at the King's, arguing that we can't lose a theatre that has survived two world wars, the rebirth of Edinburgh's trams, and even the demise of Goldberg's famous Tollcross store.
Here's a family with lived experience of dementia, describing how the Capital Theatres' Raise The Curtain programme of community engagement – maintained throughout lockdown, with the help of donations from friends and supporters – has helped them through this terrible time. The producers of the annual Gang Show say they can't wait to be back "making memories" at the King's again before too long. Scottish Ballet artistic director Christopher Hampton says that Edinburgh is one of the cultural capitals of the world, and that these theatres are the beating heart of it; and Fergus Linehan, director of the Edinburgh International Festival, declares that without the King's and Festival Theatres, "it would be simply impossible to stage a Festival of international standing" in the city.
And all of this against a steady backbeat of public tributes and donations, from members of the public whose love for the theatres reflects the extraordinary range of Capital Theatres' activities, from the grandest festival opera and ballet productions, to whole seasons of amateur productions made in Edinburgh, as well as comedy nights, variety, and, of course, that annual panto, the biggest and most successful in Scotland.
One of the cruel paradoxes of the Covid crisis in theatre, though, is that it's precisely the most popular theatres – those most heavily dependent on box office income – that have been most severely impacted by the shutdown, and by any possible reopening under "socially distanced" conditions. When the doors closed on 16 March, Capital Theatres immediately lost 90 per cent of its income, while still having to meet considerable costs; the cancellation of the pantomime alone cost the company £2.3 million, 30 per cent of its annual box office receipts.
Worse, Capital Theatres was excluded from the relatively major Scottish Government bail-outs – with a maximum payment of £750,000 – which reached Scotland's main building-based producing companies via Creative Scotland in August; not least because in 2018, as a trust built around three receiving theatres (including The Studio in Potterrow), Capital Theatres had lost its Creative Scotland status as a Regularly Funded Organisation, since its mainly commercial operating model had seemed so robust.
Then in a final twist, the Capital Theatres Trust was further penalised because it had been setting aside a little of its income, each year, towards the urgently-needed rebuilding project at the mighty old King's Theatre in Leven Street, now 114 years old, and feeling its age; and the existence of that small fund meant that Capital Theatres, unlike many producing theatres, was not facing immediate insolvency. The Trust, in other words, is paying a heavy price for the success and stability the organisation achieved under its last chief executive, Duncan Hendry, who left the job in December; and it's one that jeopardises not only the future of the theatres and the team who run them, but also the vital £25 million rebuilding project at the King's Theatre, which will soon have to be closed completely unless some basic facilities can be upgraded and modernised.
The trust's new chief executive Fiona Gibson, a Glasgow University drama graduate who arrived at Capital Theatres in April after outstandingly successful periods at the Bolton Octagon and at Liverpool's Everyman & Playhouse Theatres, reckons that the trust needs about £1 million to bridge this year's income gap. And although some help has been forthcoming – it was announced on Friday that the theatre will receive £250,000 from Creative Scotland's arts venues fund, and the crowdfunder has raised about £75,000 so far – there is still a huge deficit that can only be filled by raiding the King's rebuilding fund, delaying a building project that is not only essential in practical terms, but also tremendously exciting, in its vision of a reborn King's that will become an all-day cultural, social and community hub in Tollcross.
"I think the best advice I've received, from everyone," says Gibson, "is simply not to stop. We've sent a letter to the Scottish Government signed by a huge range of figures in the arts, our patron Brian Cox has written personally to the First Minister, and if there's really nothing further the Scottish Government can do, we can approach the UK government via the Secretary of State. The money we need to help us survive this crisis without long-term damage is a drop in the ocean of current government expenditure; and we believe it's well worth it, to support Scotland's biggest single theatre organisation, and two theatres of such worldwide standing.
"The two things that have really struck me since I started this job," she adds, "is the huge outpouring of love for these theatres from artists and audiences – I remember being brought to Edinburgh to see Stanley Baxter in the pantomime when I was a child, so I understand that feeling – and also the extent to which the team at Capital Theatres are a real family, pulling together even in this terrible crisis. Here I am stuck on my laptop in Bolton, unable even to make my move to Edinburgh because of lockdown; and yet every day since April, I've been able to feel that spirit. So I'm absolutely determined that Capital Theatres, and that tremendous team, will survive this crisis intact, and that we will start the King's rebuilding project on time. And no, I am absolutely not giving up."
A message from the Editor:
Thank you for reading this story on our website. While I have your attention, I also have an important request to make of you.
The dramatic events of 2020 are having a major impact on many of our advertisers - and consequently the revenue we receive. We are now more reliant than ever on you taking out a digital subscription to support our journalism.
Joy Yates, Editorial Director