When is Scream 6 coming out, Scream 6 age rating, cast of Scream 6, why is Neve Campbell not in Scream 6
Ghostface in the big apple? Scream VI promises 'New York.New rules' and reviewers are already calling it the most "brutal" and the "best since the original" 1996 Scream. Here when you can see it in UK cinema.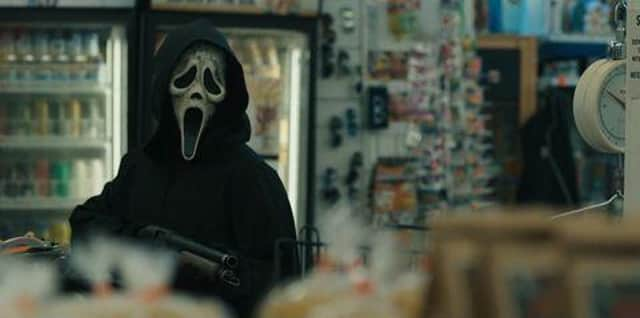 You just can't keep a good horror villain down and, after over a decade in the horror wilderness, Ghostface is back again for the second time in a year as the Scream franchise takes on its most 'brutal' film yet with the sixth instalment in the franchise.
The beginning of 2022 saw horror icon Ghostface return to terrorise Sidney Prescott and the streets of Woodsbro once again as Matt Bettinelli-Olpin and Tyler Gillett's took on the Scream machine with the interestingly titled Scream (2022) - or Scream 5 if you prefer.
However, Bettinell-Olpin and Gillett have made one of the bravest decisions in horror history as they take the franchise out of the fictional town on Woodsbro and throw him street into the chaos of the New York street – and the early reviews are frighteningly positive.
It had been 11 years since Sydney Prescott (Neve Campbell) had battled with a mass murdering maniac in a 'Ghostface' mask and fans of the slasher hit flocked to the big screen worldwide, as original characters Sydney, Gale Weathers (Courtney Cox) and 'Dewey' Riley (David Arquette) banded together again to protect the youth of the fictional Californian town.
But now the sixth film in the franchise is set to take us into a world where Ghostface has never been before and early reports say the kills are more spectacular, the scares are upping the ante and Ghostface is like nothing we have seen in the first five films. Consider us interested!
What is the plot of Scream 6
So Ghostface in New York is the biggest change to begin, and the official plot synopsis keeps its cards close to its chest by saying: "Four survivors of the Ghostface murders leave Woodsboro behind for a fresh start in New York City. However, they soon find themselves in a fight for their lives when a new killer embarks on a bloody rampage." Eek.
Scream VI review
With the film not yet released, there are very few reviews out at the time of speaking. However, and a number of film critics have been hugely positive about the film.
Pop culture curator PopCrave has set a very high bar for Scream VI by stating it is "what might be the franchise's strongest entry since the original". It has been claimed the film is "darker, gorier and more violent than ever" with the 2023 version of Ghostface the scariest ever.
Chris Joyce from Movies and Munchies said: "There's an enormous amount of thrills and unease that's present, creating an atmosphere of urgent dread that is then paid off by a lot of brutal kills" while EJ Moreno from Flickering Myth was equally in praise as the film stating: "Slashers are alive and well. This latest Scream entry offers gore and giggles, the perfect combo for this franchise."
Cast of Scream 6, why is Neve Campbell not in Scream 6, is Courtney Cox in Scream 6
Fans were delighted to hear that Hayden Panettiere's popular character of Kirby (Scream 4) would make her long awaited return to the franchise earlier last year when it was confirmed she was part of the cast for Scream VI by The Hollywood Reporter.
It appears there will be a number of returning stars for Scream 6 – or Scream VI – though shockingly Neve Campbell has been ruled out with her character Sydney Prescott confirmed not to appear in a Scream film for the first time.
The front and centre of every Scream movie so far, Sidney Prescott – played by Neve Campbell – will not be part of the sixth installment, much to the shock of fans of the film. It is reported that she decided not to return for Scream 6 because she was unhappy with the offer presented during salary negotiations. "As a woman, I have had to work extremely hard in my career to establish my value, especially when it comes to Scream," Campbell wrote in a statement.
However, Courtney Cox does return as the much loved Gale Weathers, Dewey's ex-girlfriend, a morning host, legacy survivor, and author that has been in the previous five Scream films.
She won't be the only returning cast member either, with the confirmation that Scream (2022) cast members Melissa Barrera, Jasmin Savoy Brown, Mason Gooding and Jenna Ortega will be part of the next instalment after surviving their encounter with Ghostface in the recent reboot.
There are also confirmed returns for Jasmin Savoy Brown as Mindy Meeks-Martin, Randy's niece and Chad's twin Mason Gooding as Chad Meeks-Martin, Randy's nephew and Mindy's twin. Samara Weaving (The Babysitter) also has a role in the Scream movies for the first time, she plays the character of Laura.
When is Scream 6 coming out, Scream 6 age rating
Scream VI will be available to see in cinema's UK wide on March 9, however, you can see it a day early at selected Cineworld cinemas as part of a special back to back screening with Scream (2022). Tickets can be booked here, subject to availability.
The BBFC has rated the film an 18, much like the previous five films, for strong bloody violence.