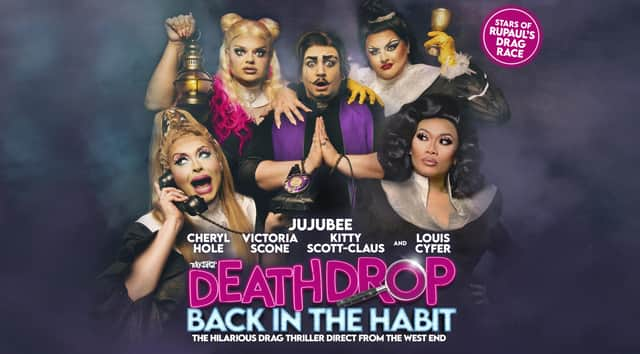 Based on an original idea by Christopher D. Glegg, Death Drop: Back In The Habit is an all new drag mystery comedy taken from the popular "Dragatha Christie" 1991 play written by Holly Stars that exploded on the West End.
With throwbacks to a number of classic and cult horror hits, Death Drop promises to be one of the biggest drag shows of the year and promises unexpecting visitors from places as far flung as the Vatican.
Audiences have been warned the show is a 'nunmissable' experience that sees some of the biggest names in drag fight it out with to unmask their mystery killer in order to save the gaggle of sisters.
What is Death Drop: Back In The Habit about
Said to be a combination of "The Sound of Music and Scary Movie", Death Drop: Back In The Habit is a riotous comedy that will pay homage to all your favourite horror films, including IT, Scream and plenty more.
The show will see a number of drag queens as they portray Nuns trapped in a Convent as a serial killer slashes through their fellow Sisters.
As the Nuns unearth clues one by one, audiences are promised a laugh a minute in the pews as the 'all-drag killer comedy' draws in on a thrilling and hilarious conclusion.
Which RuPaul's Drag Race stars will be starring in the show
The show is jam-packed with some of RuPaul's most iconic queens – including a number of finalists. Of those finalists, Kitty Scott-Claus, tops the bill after starring in Celebrity MasterChef and ITV's Queen of the Night as 'Sister Titus', while RuPaul's Drag Race Superstar Jujubee has also joined the cast as Sister Maria.
Alongside the duo are RuPaul Drag Race UK and Drag Race vs The World icon Cheryl Hole and popular RuPaul's Drag Race UK season three queen Victoria Scone. Award- winning Drag King and star of the original Death Drop LoUis CYfer will also join the cast.
Kitty Scott Claus, who starred in the original Death Drop production, said: "I am so excited tobe joining the cast of Death Drop: Back In The Habit. I had so much fun in the last Death Drop, I can't wait to get my wimple on and get the show on the road across the UK."
When is Death Drop: Back In The Habit
The show will be taking place at Glasgow's King's Theatre on Thursday 23 February, Friday 24 Feburary and Saturday 25 February and last's for one hour and 45 minutes, including interval.
The King's Theatre can be found at 297 Bath St, Glasgow.
How can I get tickets
Tickets are available from ATG Tickets here with prices starting from £13.