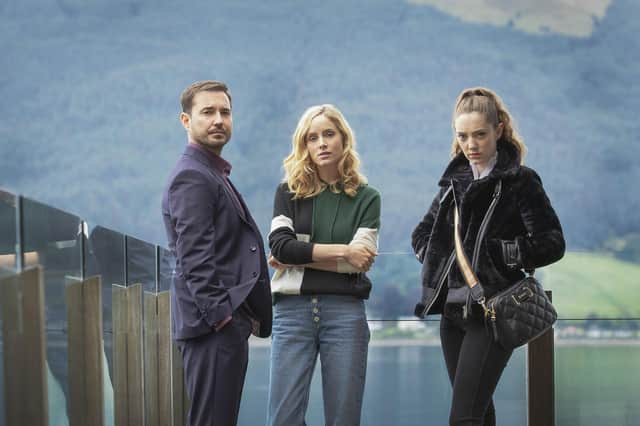 L-R Dan (MARTIN COMPSTON), Emily (SOPHIE RUNDLE), Kaya (MIRREN MACK) - (C) Studio Lambert - Photographer: Mark Mainz
In the Ken Loach film Sweet Sixteen, the Greenock-born actor was a troubled teenager who decided his best escape was to steal heroin and flog it to buy a caravan for his mum when she got out of jail.
Nicole Taylor's series concerned another troubled teen, Kaya (marvellous Mirren Mack), who was dubbed Scotland's Mary Bell for the fatal stabbing, aged 11, of her pregnant aunt. She decided her best escape was to carry a baby for Glasgow property kingpin Dan Docherty (Compston) and his wife Emily.
What a tangled web Taylor weaved, stretching from a sink estate to a property-porn dreamhome. Who was exploiting who? What's a baby worth? Who were we supposed to feel most sorry for? If Docherty could break out of poverty and into middle-class respectability via crime, why couldn't Kaya when her "offence" seemed like a good deed?
Confirming just how tangled surrogacy can be, this was how the radio's phone-in rattled and hummed when news of the Dochertys' £70,000 splash broke: "Paying for a baby shouldn't be allowed ... that means everything's for sale now ... women have a right to do whatever they want with their bodies in the male patriarchy ... if that's what feminism is, renting out your womb, it's a disgrace."
Apart from the final ten minutes when there was probably no avoiding the clutter of explanatory chat, Taylor kept all of her plates spinning, along with all of our emotions. Almost every character dipped in and out of favour, although some like Kaya's mother (creepy Shirley Henderson) didn't get back in. The only one who was consistently noble was Liz Ewing's social worker. The only one who was consistently an erse was the newspaper editor, a lazy relic who called his female reporters "wee lassies".
So the Dochertys got their baby, kind of on loan, and Kaya could resume her dreams of becoming a top businesswoman ("I want to go on planes, have one of these pull-along cases ... "). Is there enough intrigue for a second series? I'd say so.