Custard creams, Tunnock's Teacakes and Wagon Wheels: A guide to The Great British Baking Show biscuits
Here's a guide to the biscuits shown on The Great British Baking Show, from the Tunnock's Teacake to the custard cream.
If you're watching The Great British Bake Off in the United States and find yourself confused by the mentions of teacakes and Wagon Wheels, along with the technical challenge of custard creams and the biscuit's iconic design, we can help explain.
Wagon Wheels
During week two of The Great British Baking Show, contestants were asked to create biscuits in the style of two of the UK's most iconic snacks, though they're not as common in the US.
The simpler of the two to explain is the humble Wagon Wheel. Formed of two biscuits which sandwich a layer of marshmallow filling with jam, then covered in a thin layer of chocolate, Wagon Wheels are essentially the same thing as the American Moon Pie.
They may also be familiar to US audiences from an earlier series of The Great British Baking Show, with Paul Hollywood challenging bakers to create the snack during the first technical challenge of Collection 6.
Teacakes
Teacakes are a little bit more complicated. English teacakes are sweet yeast-based rolls with dried fruits. However, as baker Nicky said: "There's only one marshmallow biscuit, as far as I'm concerned, and it's a Tunnock's Teacake."
Released in 1956 by Scottish company Tunnock's, the Teacake consists of a small shortbread round which is covered by a dome of Italian meringue with the product then being encased in a chocolate shell.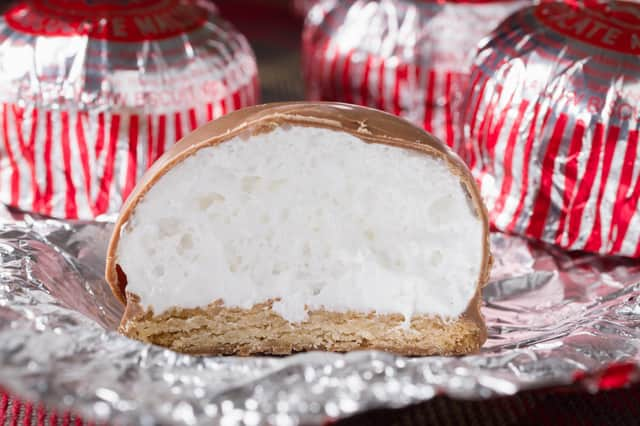 Many contestants who decided to go with a teacake inspired bake used round moulds to mimic the biscuit's shape and they could be compared to the Whippet or Mallomars products in Canada and the United States.
Custard creams
While store-bought custard creams may not be good enough for Prue Leith, who tasked bakers with creating their own versions, they're plenty good enough for the British public.
The custard cream is a sandwich biscuit filled with a creamy, custard-flavoured filling and you're likely to find a packet of them in most UK homes.
Comments
 0 comments
Want to join the conversation? Please or to comment on this article.