"When I'm performing, I always pick poems that I can remember," says poet Colin Bramwell of the prosaic (partial) reason why he's chosen the two works "The Lost Elephant" and "Hellespont" for his Scotsman Session. "I don't want to have a book in the way, or anything that's like a barrier between me and the audience. It's almost like a test of a poem, whether you can remember it… if you can't remember your own work, how can you expect anyone else to?"
Based on the Black Isle, Bramwell describes what he does as "between poetry and performance. Although I might have given you a different answer a couple of years ago, because there was much more performing going on then." His excellent 2019 theatrical storytelling show gained an enthusiastic Edinburgh Fringe audience at Summerhall, and he plays piano in the improv group Men with Coconuts.
"I write in Scots and English," says Bramwell, the runner-up in last year's Edwin Morgan Prize. "It's Scots with a Highland inflection, although I was born in Ayrshire, so there's probably a bit of west coast there as well. I've lived in Edinburgh for quite a while too, so I worry my accent's becoming too neutral." He also translates poems into English; from Taiwan and Hong Kong for his PhD, from Latin America for his own enjoyment.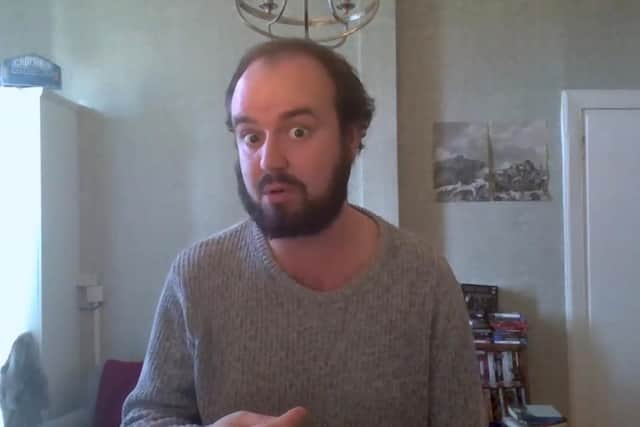 "I'm trying to be multilingual," he laughs, when asked if Google Translate is his friend. "There's sometimes this thing about Scots, where people treat it like you've either got it or you don't, but I think once you start saying 'this is a language' and treating it like one, then it becomes legitimate to try and learn. My Spanish isn't great, but my wife's from Mexico so it's improving."
These poems are taken from his new pamphlet, The Highland Citizenship Test. "The first is called The Lost Elephant, which is in the form of a villanelle," he says. "It's about moving from Ayrshire to the Black Isle and my childhood toy that I lost then, a slightly melodramatic take on that. The second is a poem of unrequited love from one side of the Bosporus to the other, from the European side to the Asian side – the map (of Istanbul) looks like two hands stretching out for each other. So yes, a poem of unrequited love, or perhaps a problematic flirtation."
The Highland Citizenship Test, by Colin Bramwell is out now, published by Stewed Rhubarb. Find out more at www.colinbramwell.com
A message from the Editor:
Thank you for reading this article. We're more reliant on your support than ever as the shift in consumer habits brought about by coronavirus impacts our advertisers.