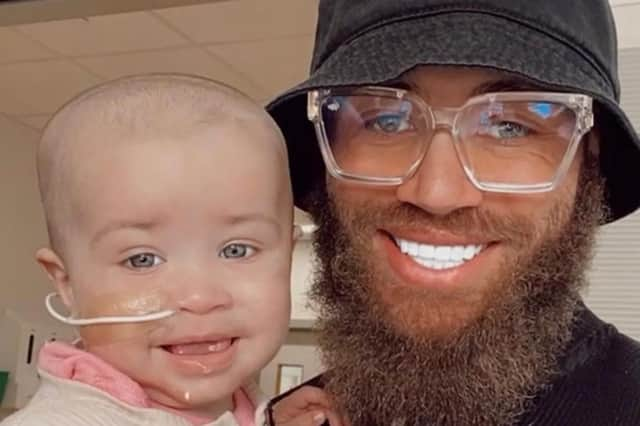 Former footballer and reality TV star Ashley Cain has raised over £1,425,000 in the first 24 hours of his fundraising campaign to allow his seven-month-old daughter to receive treatment for leukaemia.
He appealed to his celebrity friends on social media for support, as The Ex on the Beach contestant revealed his family needs around £1 million for a trip to Singapore.
He hopes to fly his daughter, Azaylia and partner, Safiyya Vorajee, for a year-long stay while Azalylia undergoes treatment.
So, what will the £1,450,000 go towards, who has donated and can you help? This is what you need to know.
Thirty-year-old Cain was formerly a footballer who grew up near Birmingham and played as a Youth for Coventry City.
He signed professionally for the team in 2008, and also played on loan for Luton , Oxford United and Mansfield Town.
He was forced to hang up his boots after failing to recover fully from a complete rupture of his right Achilles tendon in 2012.
In 2014, he appeared on MTV's Ex on the Beach and was also a contestant on The Challenge.
He is also a model for several clothing brands - including Kalibre Clothing and The Couture Club. Cain makes most of his wealth through TV appearances and sponsored social media posts, but his net worth is not known.
In 2017, he settled down with girlfriend Vorajee, a 33-year-old registered nurse, practising in aesthetics and dermal fillers.
She runs a clinic and mobile service in the Warwickshire area, under the brand Mz Pretty.
The couple welcomed their first child, a daughter, in August 2020.
What has happened to their daughter?
At eight weeks old, baby Azaylia was diagnosed with leukaemia. The seven-month-old recently underwent a bone marrow transplant but, last week, the family received the tragic news that the treatment had been ineffective.
At the time of her diagnosis, he told his fans of his heartbreak as he was informed by paediatricians that his two-month-old has a rare and aggressive form of leukaemia.
He said: "I had to go through something no parent in the world should have to go through.
"The single most upsetting, terrifying and heartbreaking experience I have ever been through.
"I found out my beautiful daughter Azaylia Diamond Cain got diagnosed with a very rare and aggressive form of leukaemia which has come with many complications.
"Mummy and Daddy love you princess, lets go champ. You can and you will beat this."
On 28 March, Cain shared an emotional appeal on his Instagram, asking fans and friends to support their trip and allow their daughter to receive treatment.
Within 16 hours, the Go Fund Me had raised the full amount, with over 105,000 donors continuing to support his cause, the appeal has now raised over £145,000.
What treatment does his daughter need?
Cain told his 855,000 Instagram followers and 177,000 Twitter audience that the several attempts to treat Azaylia had not worked, and she has now relapsed.
In an Instagram post, heartbroken Cain explained the young family are relying on travelling to Singapore in the next few weeks, to give Azaylia the best chance of survival.
He said: "Because of the aggressiveness of Azaylia's disease, we don't have time on our side and we may have to fly out within a matter of weeks."
He begged for support, adding that he and his girlfriend are "on our knees asking for help" before assuring his fans that he will donate any extra money to other children and families in the same situation as themselves.
He said flying to Singapore for a year-long CAR-T therapy, plus a haplo transplant, will give Azaylia the best chance of overcoming cancer. The treatment will take a minimum of one year.
Cain needs a £500,000 deposit to be accepted into the hospital and onto the program, and the family will also need funds to live and stay in the Southeast Asia country - as well as paying additional costs for treatment.
Who has donated to his appeal?
Within hours of appealing to his followers, Pretty Little Thing founder and billionaire Umar Kamani has dug deep to donate £20,000.
The 33-year-old retail mogul topped the list of donors, while Faded Clothing were second with a £10,000 donation. This was matched by Adam Frisby, the In The Style founder.
Love Island stars and PLT ambassador Molly-Mae Hague joined her brand, donating £1,000, as did Maura Higgins.
Pregnant cleaning superstar Mrs Hinch donated £3,000 and JLS singer and dad-of-three Marvin Humes donated £500.
The donations start from as little as £5, with nearly 106,000 people supporting the cause so far.
If you can and want to donate to Cain's appeal, you can do so via his Go Fund Me page.To support blood cancer research more generally, register to become a stem-cell donor. You can find out more about registering and donating, on the Anthony Nolan website.