Where is Michael Barrymore now? How old is he, what is he doing - and pool death of Stuart Lubbock explained
Lubbock was found dead in the game show host's pool at his home in 2001, following a house party with eight other people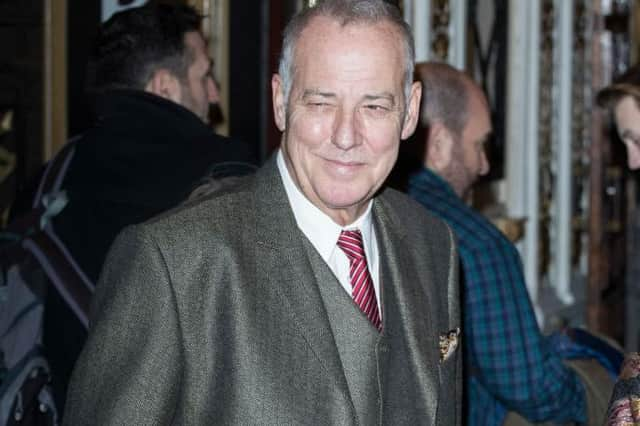 Michael Barrymore pictured in 2017 (Photo: John Phillips/Getty Images)
The ailing father of a man whose body was found in entertainer Michael Barrymore's swimming pool more than 20 years ago says he can rest in peace knowing that he has done his best for his son.
Terry Lubbock, who earlier this year said he had terminal cancer, says he thinks the truth about the death of his son Stuart will come out.
Stuart Lubbock, 31, died following a party at Mr Barrymore's then-home in Roydon, Essex, on March 31 2001. His father has never stopped campaigning for justice.
The presenter became a household name for shows such as Strike It Lucky in the 1980s (Photo: Fox Photos/Hulton Archive/Getty Images)
"I have done my best now for my son," Mr Lubbock, a 76-year-old retired toolmaker from Harlow, Essex, told the PA news agency.
"I can rest in peace now. I think the truth will come out."
In February, Mr Lubbock said doctors had told him that he had months to live. He added: "My body is going down, and my mind, and I am starting to forget things."
Barrymore enjoyed a brief return to the spotlight during a stint on Celebrity Big Brother in 2006 (Photo: Gareth Cattermole/Getty Images)
Essex Police said the man, 50 – who has not been named – was arrested in Cheshire on Wednesday after "significant new information" came to light. He was subsequently released on bail until 12 April.
Police have said they will contact all of those at the party in the coming days following the arrest, and warned: "We know that not everyone was responsible for what happened, but someone was."
In March 2020, Barrymore told ITV's Good Morning Britain (GMB) nobody who was at his house on the night of Lubbock's death knows what happened.
Barrymore competed on Dancing On Ice in 2019, but was forced to pull out with injury after breaking his wrist (Photo: Stuart C. Wilson/Getty Images)
Here is everything you need to know.
What happened?
The 31-year old Lubbock had been attending a party at Barrymore's luxury home in Roydon with eight other people on 31 March 2001 when he died.
A post-mortem examination showed Lubbock had suffered severe internal injuries which suggested he had been sexually assaulted. Alcohol, ecstasy and cocaine were also found in his bloodstream.
Barrymore was criticised for leaving his home soon after Lubbock was found floating in the outside pool, but the former television presenter, who became a household name for shows such as Strike It Lucky, has always maintained he had no involvement in his death.
Barrymore refused to answer some questions at the inquest in 2002, but said he could not jump in and try to save Lubbock because he could not swim – a claim disputed by others who knew the star.
Barrymore, his former partner Jonathan Kenny and fellow party guest Justin Merritt were arrested in 2007 on suspicion of sexual assault and murder, but were later released without charge.
In 2018, Barrymore won compensation from Essex Police last year for wrongful arrest, though the presenter's initial claim of £2.4 million was rejected by judges, who said he was entitled to "nominal damages only".
What has he said about the case?
Last year, a Channel 4 documentary about the case prompted Barrymore to issue a fresh denial of any wrongdoing, saying: "I have had nothing to do with this whatsoever and yet I keep getting bashed and bullied by the media."
Barrymore told GMB he was going through "pain and agony", and said of the other people at his house on the night Lubbock died: "I've never seen them since that day … I haven't got a number (for them), nothing. I don't know any of them."
Asked if he had anything fresh to offer the police, he said: "I honestly wish I did", adding that he had been "through 20 years of Hell", and wanted another investigation into the 31-year-old's death by a new police force.
"I've got nothing to hide. I've never had anything to hide. I've got every right to go out and to be employed and work in the business I've worked in without … being kicked in the teeth just because I'm back on the telly."
Breaking down, he said: "The only reason I got through the last 20 years is the massive support from fans and my close mates … They know I'm not a wrong 'un."
Where is Michael Barrymore now?
Barrymore's television career collapsed in the wake of the allegations, although he enjoyed a brief return to the spotlight during a stint on Celebrity Big Brother in 2006.
He has since attempted to mount multiple comebacks.
According to the Mirror, Barrymore was seen working part-time in a garden centre in 2013, but was planning on making a comeback with some acting work.
He told the newspaper: "I was offered something yesterday. It is actually for an acting part. I think the role will surprise people. It's dark. When I read the script I was excited and got a good feeling about it. Acting's my comfort zone. That's what I grew up doing, but comedy took over."
In late 2019, Barrymore competed on ITV's Dancing On Ice, but was forced to pull out with injury after breaking his wrist.
During the UK's first coronavirus lockdown, Barrymore hosted an online version of Strike It Lucky, the game show which made him famous in the 80s, on his Instagram page.
Barrymore told ITV's This Morning in his most recent television appearance in May 2020 that fans asked him to do a show on social media, but Lubbock's father urged people to boycott the entertainer's venture.
"Find something else to do when you are stuck at home and locked down," he said. "Don't watch or play Strike It Lucky with Michael Barrymore. Barrymore used to be a big star, he's not a star now."