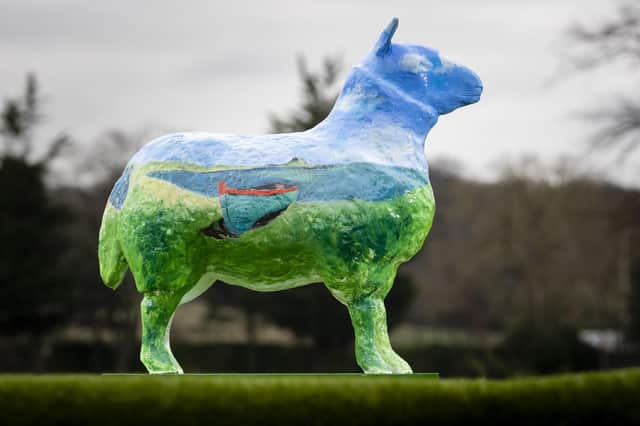 The Golden Shears World Sheep Shearing & Woolhandling Championships is returning to the Royal Highland Show in June after 20 years.
Held in the MacRobert Theatre, more than 35 countries from across the world will battle it out to see who is the fastest sheep shearer and who has the best woolhandling technique.
The highly-anticipated event will feature 39 decorated sheep sculptures that are currently on tour across Scotland in the Flock to the Show public art trail.
The Scotsman is the media partner for both events and the Royal Highland Show is held from 22 to 25 June.
Paul Kelly graduated from Edinburgh College of Art in 2004, and is now a full-time painter working from his studio in Glasgow's Merchant City.
Much of Paul's work has been inspired by the city, depicting a narrative between the people and their surroundings.
His paintings are strongly connected to his own life experiences, and of late he has become more interested in the coast and countryside, painting everything from boats to farm animals and machinery.
When asked to paint a sheep for the Royal Highland Show, Paul wanted to create a design that could relate to his own work as well as to agriculture.
After many holidays to the Berwickshire coast, he thought that painting Lindisfarne onto the sheep as a full canvas would work, as it is an island where sheep are never far away.
Subsequently, Paul painted the head and upper body blue with a beach and castle in the background, and one of his signature boats lower down.
A View from Lindisfarne by Paul Kelly raises awareness of how peat bog restoration could be Scotland's greatest carbon opportunity, as it plays a significant role in mitigating climate change.
Peat bogs are one of Scotland's most valuable ecosystems, storing vast amounts of carbon, and supporting biodiversity.
Restoring historically drained peatlands can help to reduce greenhouse gas emissions by preventing the release of carbon stored in the soil.
It also helps to protect against natural disasters such as flooding and erosion, supports water quality, and creates habitats for a range of plant and animal species.
Additionally, peat bog restoration supports rural communities by providing employment opportunities in land management, tourism and conservation.
Overall, peat bog restoration is essential for Scotland's sustainable future, and global efforts to combat climate change.
The Scottish Design Exchange is seen as the start of a retail revolution, described as a bold new shopping concept. The social enterprise has stores filled with the work of local artists and designers, right in the heart of the country's declining high streets.
Every penny spent in a Scottish Design Exchange store goes directly to more than 300 hard-working local artists, designers and creators – some working in living rooms or kitchens, some in small or shared studio spaces.
They want to create and the Scottish Design Exchange wants them to earn a good living for their creativity.
The social enterprise says: "Flock to the Show is a great platform to celebrate the best Scotland has to offer, including the work of local artists, fantastic products, and magnificent landscapes and architecture – much like the Royal Highland Show itself and it was something we couldn't miss out on."
Locate today's sheep and access our VIP competition to win free parking, hospitality, and lots more by following this link.