New treatments offered at Waldorf Astoria Spa in Edinburgh
Edinburgh's five-star hotel, Waldorf Astoria Edinburgh – The Caledonian – now has a brand new treatment selection to offer in its spa, partnering with 111SKIN and Ground Wellbeing.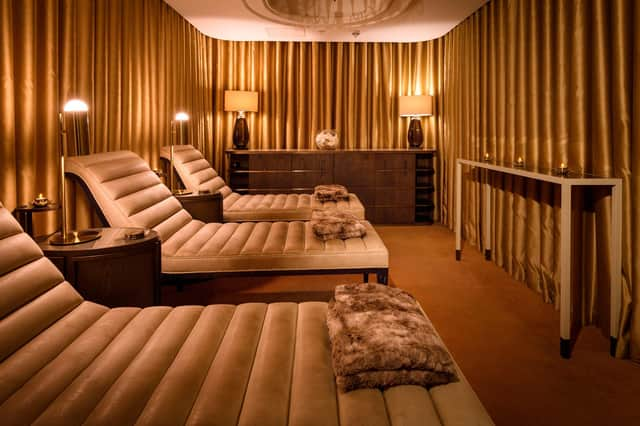 Did you know about Edinburgh's newest selection of wellness treatments right here in the city? Check out new packages!
This iconic hotel in the centre of Edinburgh, offers guests the perfect city spa experience – a haven of peace and tranquillity in the heart of the city.
And you don't have to be a hotel guest or a member to treat yourself to a spa treatment or take advantage of the facilities – which include a two-floor gym, indoor pool, whirlpool, sauna and steam room.
There are a variety of spa packages available, or you can simply indulge in a single treatment, and for an extra £20 per person make use of the spa's leisure facilities with views of Edinburgh Castle. If you're a local, check out the monthly treatment offers – this August you can have a 45-minute express facial or massage, full use of the spa facilities and a glass of something sparkling all for only £100.
The Waldorf Astoria Edinburgh – The Caledonian – has a brand new treatment selection to offer in its spa
New Treatments for the Mind, Body and Soul
This year, the spa has undergone a wellness overhaul under the stewardship of Spa Manager, Claire Doering, who has evolved the menu to ensure wellbeing and therapeutic massage rituals offer more than just relaxation, and skincare is taken to the next level.
Guests can indulge in a range of beauty and wellness treatments in partnership with 111SKIN and Ground Wellbeing, each designed to offer a unique and rejuvenating wellness experience.
111SKIN, a clinical skincare product, is used in spa beauty treatments such as facials, and plant-based Ground Wellbeing treatments are used in more holistic relaxation rituals and massages.
Enjoy a range of treatments for the mind, body and soul - perfect for relaxation
General Manager of the Waldorf Astoria Edinburgh – The Caledonian, Dale MacPhee said: "It is an absolute pleasure to welcome our two new wellness partners, 111SKIN and Ground Wellbeing, to our Waldorf Astoria family."
"Developed by globally renowned Plastic Surgeon Dr. Yannis Alexandrides M.D., F.A.C.S. and CEO Eva Alexandridis, 111SKIN is the culmination of more than 30 years+ of surgical knowledge, innovative ingredients, and medically inspired delivery methods."
The company's founder Dr Alexandrides said: "We are thrilled to offer our 111SKIN treatments at the Waldorf Astoria Edinburgh Spa; bringing Harley St. expertise, and medically inspired innovation, to the iconic setting of Edinburgh for a wellness experience like no other. Our extensive menu includes a variety of facials and body treatments that focus on providing the aesthetic conclusion, harmonising 111SKIN products, technology and therapeutic techniques."
For those seeking intense relaxation, Ground Wellbeing at the Waldorf Astoria Spa in Edinburgh, created by wellness trailblazer Peigin Crowley, offers a range of tailored massage rituals designed to stimulate and rejuvenate the body using gentle breathwork and rhythmic pressures.
Ground Wellbeing crafts natural plant-based ingredients to create products that inspire intuitive self-care. All of the products are handmade in small batches in Cork, using vegan ingredients and are blended together aiming to soothe the soul.
Among the treatments are facials, body sculpting and hydration, massage rituals, hand and foot therapies and waxing and tinting. There are also the Waldorf's signature treatments including the Tar Liom Signature Celtic Ritual, a Caledonian Chic Massage and a Deep Muscle Massage.
With Ground Wellbeing, guests can choose from six different Grounding Rituals, from Cleansing and Restorative, to Comforting and Balancing, where the use of Gua Sha stones and reflexology offer for deep relaxation.
Ground Rituals include gentle breathwork, lymphatic drainage, acupressure, hands-on rhythmical pressures and techniques, and the compelling powers of aromatherapy oils. Ground's treatments are designed with purpose to encourage sleep, help manage burnout, assist with menopausal symptoms, and relieve anxiety in the gut.
111SKIN treatments include the signature Harley Street Facial with LED light therapy, a de-puffing ritual; a rose-gold radiance or a non-surgical facial.
There are a variety of packages which are designed around luxury, sleep, the menopause, comfort and nature, radiance and pre-wedding treats. Whether you want to indulge with a partner, enjoy a luxury treat with friends or just have some time out for yourself there is something for everyone.
The Waldorf Astoria Spa is located just a few minutes from the historic Edinburgh Castle and close to The Royal Mile. Forming part of Waldorf Astoria Edinburgh – The Caledonian, the spa provides the perfect excuse for a city-break to explore the majestic beauty of Edinburgh.
The hotel then boasts an array of culinary options to choose from, from a sumptuous afternoon tea in the historic surroundings of Peacock Alley, shareable dishes that champion local ingredients at Grazing by Mark Greenway, or for a unique dinner experience, a sumptuous tasting menu at The Pompadour by Chef Proprietor Dean Banks