Meet the Flockers: the pick of the crop is coming to the Royal Highland Show
We're rounding up all the individual artworks that form the massive cross-country public art trail Flock to the Show, which points in celebration to this year's come back for the Golden Shears competition to the Royal Highland Show. Today – Clova by Nina Houston sponsored by RHASS Presidential Team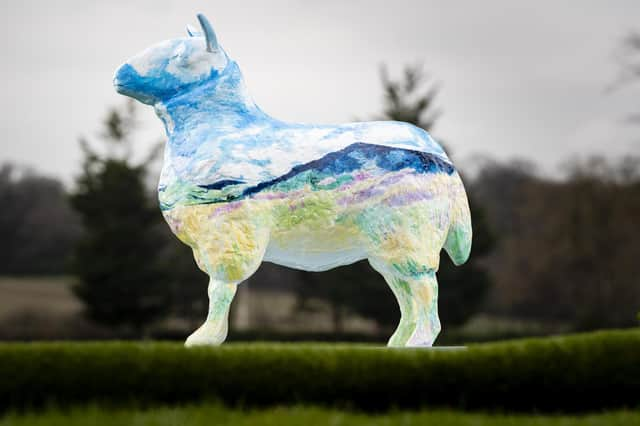 The Golden Shears World Sheep Shearing & Woolhandling Championships is returning to the Royal Highland Show in June after 20 years.
Held in the MacRobert Theatre, more than 35 countries from across the world will battle it out to see who is the fastest sheep shearer and who has the best woolhandling technique.
The highly-anticipated event will feature 39 decorated sheep sculptures that are currently on tour across Scotland in the Flock to the Show public art trail.
The Scotsman is the media partner for both events and the Royal Highland Show is held from 22 to 25 June.
Nina Houston is an artist living and working in Kirriemuir, Angus. After graduating with a BA/Hons in painting at Edinburgh College of Art in 2009, she and her husband started their family.
Alongside being a mum, Nina has continued to create, and draws inspiration from her beautiful surroundings in the "Wee Red Toon".
Whether a bold land or seascape in oils with chunky brushstrokes, or a delicate floaty watercolour of a much-loved animal, Nina relishes creating unique commissions for her clients.
Clova derives inspiration from one of Nina's paintings of the ever-changing, rolling hills of the Angus glens. Home to some mighty Munros and the winding River Esk, Glen Clova is a breathtakingly beautiful spot.
Nina says: "Not only is this glen home to a hard-working farming community, but we are also lucky to share this ever-evolving rural landscape and enjoy its beauty on a daily basis."
Clova by Nina Houston highlights the vital need for crop variety in Scottish agriculture.
It can help increase resilience to pests, diseases and climate change, as well as promoting a diverse and nutritious diet, reducing soil degradation, and supporting local economies by providing a wider range of products and improving food security.
Scotland has been at the forefront of crop variety for many years, and it has played a significant role in boosting the Scottish economy. With a more diverse range of crops, the country can produce a greater variety of nutritious foods, ensuring a more stable supply of these yields.
The Scottish agricultural system's use of crop variety also provides economic benefits by creating employment opportunities, supporting rural economies, and bolstering local food systems.
The method enables farmers to diversify income streams and tap into new markets, growing specialty crops for niche products.
The Presidential Team is a vestigial feature of when the RHS used to travel between the eight RHASS member regions, before it settled permanently at Ingliston in 1960.
The Team serves for one year, made up of representatives from "host" areas. Appointments of the honorary roles of president and four vice presidents is conferred by elected RHASS directors from the host region. This year, Perthshire has the honour of hosting, covering the Fife, Angus, Perth and Kinross areas.
The Team said: "Each year, [we are] tasked with championing a theme for the Show and this year our theme is The Science of Food and Drink.
"We aim to highlight the important connection between scientific research and innovation and explore the basic and artisan foods produced in the area."
Locate today's sheep and access our VIP competition to win free parking, hospitality, and lots more by following this link.