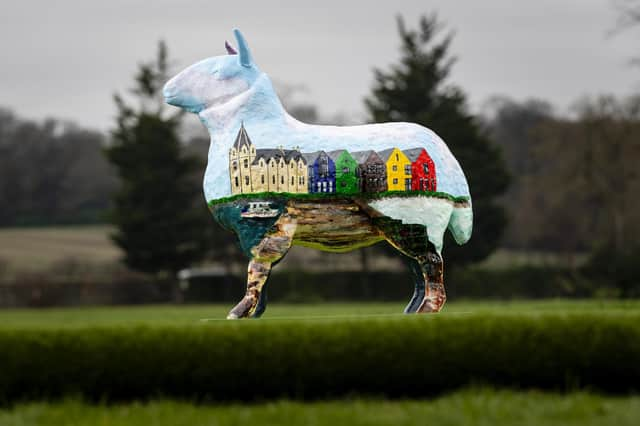 The Golden Shears World Sheep Shearing & Woolhandling Championships is returning to the Royal Highland Show in June after 20 years.
Held in the MacRobert Theatre, more than 35 countries from across the world will battle it out to see who is the fastest sheep shearer and who has the best woolhandling technique.
The highly-anticipated event will feature 39 decorated sheep sculptures that are currently on tour across Scotland in the Flock to the Show public art trail.
The Scotsman is the media partner for both events and the Royal Highland Show is held from 22 to 25 June.
Davie Greig enjoys using the surroundings from his home town Thurso and his wife's place of birth, John O'Groats, as inspiration for his landscapes.
Since 2021, he has raised over £7,000 for local charities and food banks from sales of his portraits of two sporting greats, Celtic manager Ange Postecoglou and Sir Alex Ferguson, after managing to get each painting signed by the men themselves, and fundraisers.
As well as a growing commission waiting list, Davie's most notable commissions to date have been for John O'Groats brewery, depicting Jan de Groot, his family, and Duncansby Stacks.
Davie says: "I took inspiration from my wife Mel's place of birth, John O'Groats, and its beautiful scenery for my design. My sheep is split between two images – Duncansby Stacks and The John O'Groats House Hotel."
John O'Groats to Lambs End
John O'Groats to Lamb's End by David Greig looks to raise awareness of carbon trading and credits in Scottish farming. Carbon trading and credits have the potential to incentivise emissions reductions and promote sustainable land use practices in Scotland.
By monetising carbon emission reductions, these mechanisms can provide a financial incentive for farmers to adopt more sustainable practices, such as agroforestry, renewable energy generation, and reduced tillage.
However, there is also the risk that these methods could promote monoculture plantations, which may not have the same environmental benefits as diversified, sustainable farming systems.
Galloway & MacLeod manufactures market-leading livestock feeds for the UK and European farming industry.
The feeds are freshly made in a mill using premium ingredients to ensure consistent, high-quality products.
These are highly palatable and specifically formulated to optimise growth, improve health, and enhance fertility – producing show-winning livestock.
The company says: "We are a customer-focused, resultsdriven business, serving the needs of livestock farmers.
"We felt that the Flock to the Show campaign provided an outstanding opportunity to support the RHASS, the Royal Highland Show and Golden Shears, while boosting our brand awareness and reputation among customers, stakeholders, and supporters.
"Last year, we chose to support the show with the RHS TV advertising package which we found very beneficial – many of our customers commented how well the package had looked
Locate today's sheep and access our VIP competition to win free parking, hospitality, and lots more by following this link.