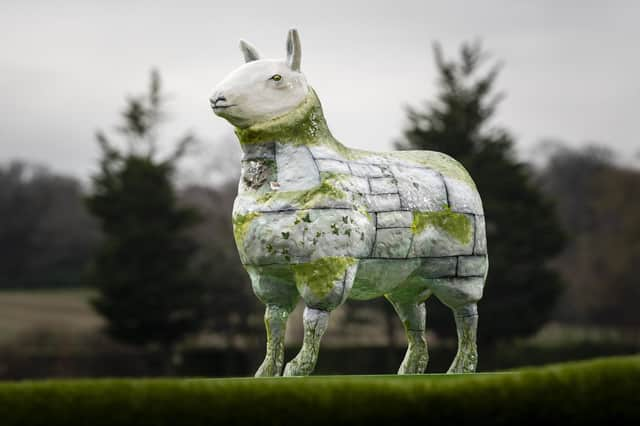 The Golden Shears World Sheep Shearing & Woolhandling Championships is returning to the Royal Highland Show in June after 20 years.
Held in the MacRobert Theatre, more than 35 countries from across the world will battle it out to see who is the fastest sheep shearer and who has the best woolhandling technique.
The highly-anticipated event will feature 39 decorated sheep sculptures that are currently on tour across Scotland in the Flock to the Show public art trail.
The Scotsman is the media partner for both events and the Royal Highland Show is held from 22 to 25 June.
Victoria Randlo is a Glasgow-based textile artist inspired by folktales and nature.
Having originally studied architecture at Duncan of Jordanstone in Dundee, she worked in the field for several years before pursuing an interest in natural building and alternative living.
She likes to use traditional methods for creating things, buildings, and sculptures.
Victoria says: "Tracing lines across our Scottish hills, the dry-stone wall has provided boundary, enclosure and shelter for sheep for centuries.
"Filled with life, providing habitat for critters and plants, creating an intriguing and important vertical ecosystem, as well as being a practical enclosure, they support life at the edge and within.
"A strong monument of our agricultural heritage, stretching across the fields and mountains of the Scottish landscape, as well as reaching back through the land's past and to the future too, with such solidarity and permanence they are part of the story, a testament to our ancestral skill – if only walls could talk."
Stone by Stone by Victoria Randlo highlights the importance of Scotland's dairy industry, which is essential to the country's economy as well as providing reliable produce.
The industry is valued for its sustainability, its use of abundant natural resources, and animal welfare standards, contributing to Scotland's reputation as a responsible food producer.
It also supports local businesses and tourism, promoting Scottish culture and heritage.
The industry has played a significant role in revolutionising animal welfare practices, with farmers implementing strict regulations and promoting ethical farming practices.
This has led to increased consumer confidence and demand for Scottish produce, improving the reputation and competitiveness of the country's agriculture.
Scotland has many areas with climate and geography that lend themselves to the production of excellent milk and other dairy produce.
The Royal Highland Show is delighted to support Farmstrong Scotland, a new network that has been in development for the last three years. New Zealand has used the model for nearly a decade, and Farmstrong Scotland will be officially launched at this year's show.
Farmstrong Scotland says: "It is so important to raise awareness of the issues relating to agricultural and rural life, so that collectively we can support each other and ensure we are equipped to manage the challenges that inevitably face us all, and are often out of our control.
"For Farmstrong Scotland, this is all about looking after our own physical and mental wellbeing. Through the programme, farmers and crofters will be able to access practical tools, resources and social events that will help them take care of themselves."
Locate today's sheep and access our VIP competition to win free parking, hospitality, and lots more by following this link.