Flock star moves: Hold the front page!
The Royal Highland Show is celebrating the glittering return of the Golden Shears World Sheep Shearing & Woolhandling Championships with Flock to the Show, a large-scale trail of public art across Scotland, and here's one of the herd now – The Woolly Sheep by Jayne Schofield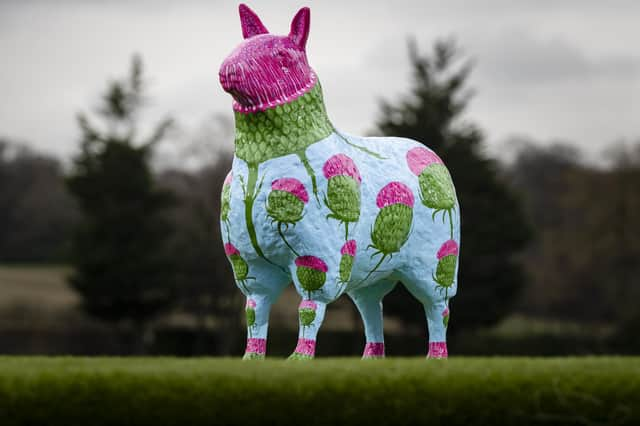 The Golden Shears World Sheep Shearing & Woolhandling Championships is returning to the Royal Highland Show in June after 20 years.
Held in the MacRobert Theatre, more than 35 countries from across the world will battle it out to see who is the fastest sheep shearer and who has the best woolhandling technique.
The highly-anticipated event will feature 39 decorated sheep sculptures that are currently on tour across Scotland in the Flock to the Show public art trail.
The Scotsman is the media partner for both events and the Royal Highland Show is held from 22 to 25 June.
Billy Hutchison graduated from Dundee's Duncan of Jordanstone College of Art and Design in 2001 and now works in the city as an illustrator.
He took part in his first public art trail in Oor Wullie's BIG Bucket Trail 2019, and more recently in Rocket Round Leicester in 2021.
In 2020 and in 2022, Billy was chosen to design Christmas trees in partnership with V&A Dundee.
During the development stage of a concept, Billy researches his idea, looking for connections and or relationships which go on to help provide the framework for his eventual design.
Billy says: "The main inspiration for this sheep is the thistle – in particular, the Woolly thistle, as it is a rare species with an unmistakable globular cotton woolly flower head.
"The flower head comprises reddish-purple florets on top of spiny bracts that are covered in white wool. The stems do not have wings and the leaves are divided with spiny lobes."
Woolly Thistle by Billy Hutchison highlights the benefits of eating locally.
Eating locally brings with it a range of benefits to the wider economy, including supporting local farmers, promoting sustainability, improving food security, creating jobs, and enhancing cultural identity.
By choosing locally sourced food, consumers can help build a more resilient, sustainable, and equitable food system that benefits everyone in Scotland.
Eating local food can help to reduce the environmental impact of food production and transportation, as well as promote sustainable agricultural practices.
By supporting local food production, Scotland can become more self-sufficient, reducing dependence on imported food and improving food security.
Supporting local agriculture can create jobs in farming, processing, distribution, and retail – helping to boost local economies and creating fresh opportunities.
The Scotsman, Flock to the Show's media partner, has been Scotland's national newspaper since 1817 when it was established by William Ritchie and Charles Maclaren.
For more than two centuries, The Scotsman's team of talented writers, photographers and editors has been with its readers through the many events that have shaped modern Scotland.
Under the direction of editor Neil McIntosh, The Scotsman continues to deliver high-quality, trusted journalism every day.
Neil says: "Our partnership will help inspire our audience to learn more about Scottish agriculture, rural life and the vital work of RHASS.
"We call upon our loyal readers and corporate partners to get behind these fantastic initiatives and, in turn, support the very best standards in agriculture, forestry and stewardship of our countryside."
Locate today's sheep and access our VIP competition to win free parking, hospitality, and lots more by following this link.