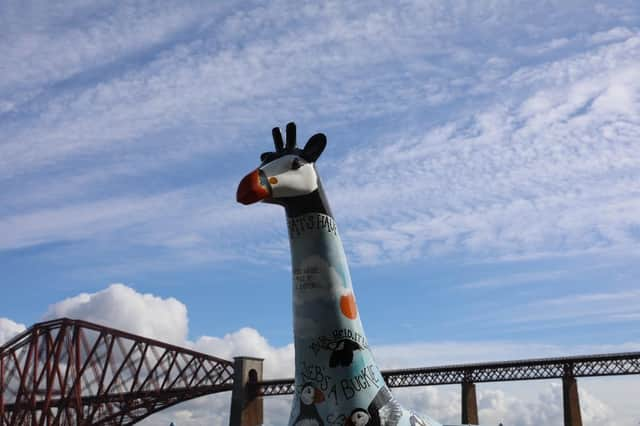 A fond farewell planned for Edinburgh's very own herd of giraffes – and everyone's invited
Visitors are invited to a very special farewell weekend on Friday September 16 at Edinburgh Zoo, where the full herd of giraffe sculptures will reunite until Monday September 19. This will be the only chance to see the whole tower of 72 giraffes in one place, while also enjoying a craft fair, giraffe talks, and performances from the Royal Scottish National Orchestra (RSNO).
David Field, RZSS CEO, said, "It has been wonderful to see everyone enjoying Giraffe About Town this summer, with over 5,728 people downloading the app. The trail has encouraged locals and tourists alike to fall in love with Edinburgh by exploring iconic locations and hidden gems across the city, logging over 27 million steps, all while helping to protect animals in Scotland and around the world.
"As the trail comes to a close, we are so excited to be hosting a grand farewell at Edinburgh Zoo to give our herd one last hurrah and showcase the sculptures in one place with the public, local community groups and businesses who supported our charity throughout."
Julian Fennessey, one of the world's leading giraffe experts and founder of the first and only conservation charity for giraffes, the Giraffe Conservation Foundation (GCF), will also be hosting an inspiring evening at Edinburgh Zoo on Friday 16 September for members of the public, in partnership with Giraffe About Town presenting partner and RZSS giraffe conservation partner, The Glenmorangie Company. With a wealth of incredible stories to share about these wonderful animals, Julian, and his wife Stephanie, have more than forty years of collective experience in conservation and sustainable development in Africa and Australia including wildlife management, environmental consulting, community conservation and land management.
David added, "Having GCF visit the zoo to share the plight of giraffes in the wild and how we can work together to protect this majestic giant is an honor, and it is wonderful to offer this opportunity to visitors too."
Thomas Moradpour, president and chief executive of The Glenmorangie Company, said, "Our whisky owes its delicious taste to our giraffe-high stills.
"The giraffe is a much-loved symbol of our brand, and we are committed to helping protect this majestic animal for the future. Through our conservation partnership with GCF and RZSS, we have been delighted to support Edinburgh Zoo's Giraffe About Town trail and are thrilled to welcome Julian and Stephanie to Edinburgh Zoo."
The Giraffe About Town trail will end with an auction on Tuesday October 4, 2022. Hosted by TV personality and renowned auctioneer Charles Hanson and set in the spectacular surroundings of the National Museum of Scotland, each beautiful sculpture from the trail will be auctioned off to raise money for RZSS to support the charity's vital wildlife conservation work. An online auction will run alongside the event so everyone will have an opportunity to stand tall for wildlife conservation and snap up one of these unique sculptures.