'After heart failure I just felt free. The things that bothered me now don't bother me' - Stand up Emmanuel Sonubi
The comedian, whose Emancipated tour reaches Glasgow next week, talks to Janet Christie about how a health scare changed his life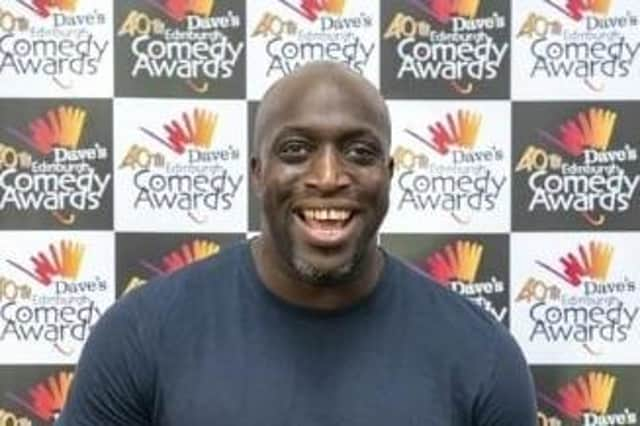 Before he was a stand up comedian Emmanuel Sonubi was a bouncer - and sometimes still is - and his time standing outside some of London's edgiest clubs provides much of the material of his debut live tour show, Emancipated.
Back home in north London on a brief break between performing at venues around the UK, within minutes of meeting me on screen he surprises me by identifying me as a qualified bouncer too. I'm not going to argue because he's giving me the look - a kind of death stare that says you're definitely not getting in here unless you'd like to go through me - so I agree, whereupon he cracks the huge smile that's familiar to audiences who've seen him on TV on the likes of BBC's Live at the Apollo and The John Bishop show, or performing the stand up that saw him nominated for a Dave's Edinburgh Comedy Awards 2022 Best Newcomer and a Chortle Award at last year's Fringe and on stage at Glastonbury.
"You said you have three kids, so you are a qualified bouncer," he says, simultaneously referencing another of the themes of Emancipated - that appearances can be deceptive.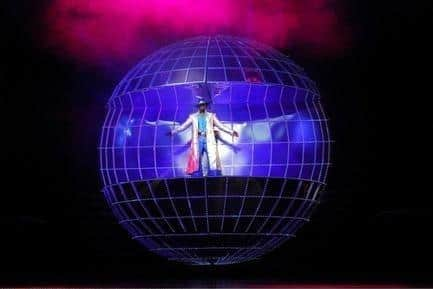 "Being a bouncer is the same as being a parent," he continues. "I guarantee the same things you say as a parent are the same things I say as a bouncer. You spend your whole weekend going 'stop it'. It's an interchangeable skill set.
So if I say 'go over there and think about what you've done'...
"Yeah. I've got two kids and I just run round the same conversation: 'But why?'... 'but why?', and I say 'I'm not going to tell you again…' and then they say, 'But why?' It's the same thing.
"Being a bouncer you have to show a greater level of tolerance and patience than anyone else because the smallest things get you in a lot of trouble. For example, in the eyes of the law if I shout at you, that is a form of common assault which is a criminal offence. So you have to show restraint and have a high level of patience, both of which you need as a parent. And because of being a bouncer I've become a very patient parent," he says.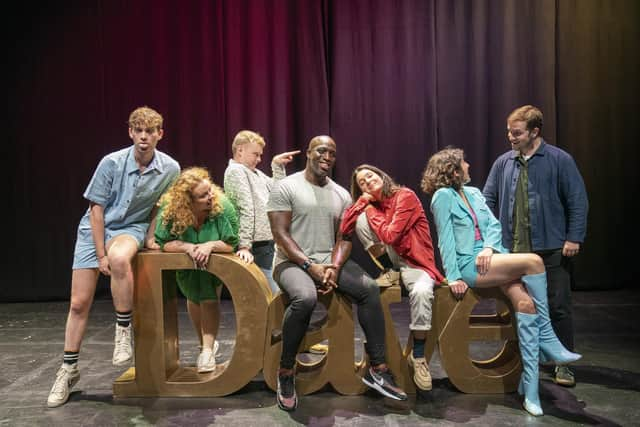 Reading body language and being able to judge character quickly are obviously helpful for bouncers and Sonubi finds this useful in the world of comedy too.
"You learn a lot about people because you see them at their best and worst; you see everything. And it helps in the comedy. I have always liked getting to a club early and finding somewhere where I can watch people come in. What type of crowd are they? What conversations can I hear? Is there anything funny I can pick up from what they're saying? All of that will tell me how I'm going to be on stage."
"That's actually where I feel most comfortable and it's just habit for me. When I first started doing stand up I would be standing outside and people would show me their tickets, so I checked them. Their faces as I walked on stage an hour later… they were 'hold on, he gave me a really awkward search, that dude', and I'm like 'yes I did mate, I'm the one that hugged you.'
Sonubi grew up in north London with five older sisters who played a large part in shaping his personality by telling him they had found and kept him, and also resulted in him being 17 before he finally gave up waiting for his periods to start.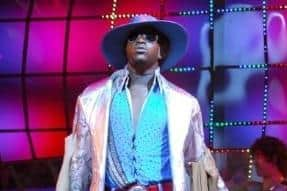 "There are so many things that they used to do to me as a kid so I talk about that in Emancipated. They used to make me wear dresses and are still adamant that I wanted to. I don't know what's true and what they used to lie about. Because my eldest sister is 16 years older than me, I was the perfect size to put in their baby strollers and be a doll for them. They used to say 'we're going to tell mum what you did', and even though I didn't do anything I was so paranoid I had."
Growing up slightly bewildered, Sonubi took refuge in comedy and musical theatre and set about making his siblings and friends laugh.
"I can't remember a time when I wasn't trying to make people laugh. It's how you got attention. I did it at school to get me in and out of trouble. It was a way of getting people to like you, laughing was my everything. As I got older I remember watching Eddie Murphy and seeing one person on a stage do that for an hour, I thought that was amazing.
Sonubi may have used comedy from a young age but it's only in the last few years he's been able to do it full time and he's racked up a long list of other occupations on his journey.
"I've had a lot of jobs. Doing physical theatre, you're not always working so I've done everything from sales to men's hairdressing to office work to being a bouncer. It was only when I found comedy that all the jobs made sense because the one constant has been people. But bouncer is the job people are most interested in because lots have worked in offices, but not many know what it's like to be a bouncer. I went through so many characters before I started just being myself and thought 'You're a bouncer, be a bouncer, that's the one thing you've always done and everything else is sort of intertwined around that'."
"When I was in theatre I did a show in the West End called Daddy Cool and around the corner was a nightclub where I worked at the weekend. I'd finish the show with my tux on, run round and work at the club. Sometimes people that had been to the show would come to the club and recognise me and I'd always go 'no, that's not me, a few people have asked me this, but no, it's not, just for a laugh."
Although he was used to being a performer, making people laugh was something he did off stage until his first standup routine performance seven years ago.
"I didn't know what I wanted to do until I was telling that first joke. It just felt right and from then everything made sense and I thought 'I'm a comedian, this is what I do'.
"On stage is very much my happy place where nothing else matters. That's where I go to escape. You're just in that performance and there isn't anything outside of that. Comedy has always been a coping mechanism. It's helped me through a lot of stuff. It's very hard to laugh and be scared at the same time. A lot of things are easier to deal with when you look for the funny in them."
Such as? What difficulties has comedy helped him through in his life?
"Well, I always had a very estranged relationship with my dad. He was never there. So I wrote a joke about it. I said: I have five older sisters and the age gap means that statistically at every point in my life one of my sisters has been on her period and I had to deal with that in the house. It was constant. It was always there. So I remember being a child thinking 'why did my dad leave?' Then you live in a house with six menstruating women and you get it."
As well as turning loss into laughs, the repercussions of having an absent father mean that it's a role Sonubi takes seriously with his eight-year-old son and five-year-old daughter.
"Now that I'm a father, I see how everything that didn't happen has now been able to happen for someone else, and it probably means more because I'm more appreciative of the relationship my children have with me."
Emancipated is also a reflection of Sonubi's decision to rid himself of other people's expectations, the more so after a health scare in 2019.
"So many different social norms are saying I have to pick a side. And assumptions are made about different types of people. But after I had heart failure I just felt very, very free because all of a sudden things that had bothered me now don't bother me. It was a tense time and I still live with it now, but once you've been close to that door everything looks different."
It's still a very real, recent experience for Sonubi, so he's determined to enjoy every minute of his time on and off stage.
"If I have a message, it's just laugh. You can probably break down all of your experiences in life to happy or sad so I'm going to make mine the most happy I possibly can. It's just not worth the stress of being sad."
"Emancipated is an hour of escapism and fun. That's the comedy I like to do. It's just about laughing, nothing more complex than that. So many acts have a point or a message or a learning curve, whereas I just want to laugh. And when you get to share that with people you can see them in the audience going 'me too'.
Being nominated for awards means more people are watching now when Sonubi gets up to tell jokes and he has appearances on The Apprentice You are Fired and QI, lined up, as well as another Edinburgh Fringe show he will write after Emancipated.
So if you go and see Sonubi at Glasgow's Oran Mor and think you recognise the bouncer, say hello.
"Even if it's me I'll say 'no, it's not', and be appalled," he laughs.
But don't think about arguing, or heckling…
"No-one heckles…" he says and does it again. The stare.
"Oh, I don't mean to do it half the time," he says, realising, and laughs. "But it's quite good. It means you can get on with having a laugh."
Emmanuel Sonubi's Emancipated tour runs nationwide until June and will be at Oran Mor in Glasgow on 31 March. Tickets from www.emmanuelstandup.com or www.emmanuelsonubitickets.com