London Film Festival 2023 in Scotland: Here are all the films getting exclusive screenings in Glasgow
A host of films will be getting special screenings in Glasgow at the same time they are premiered in London.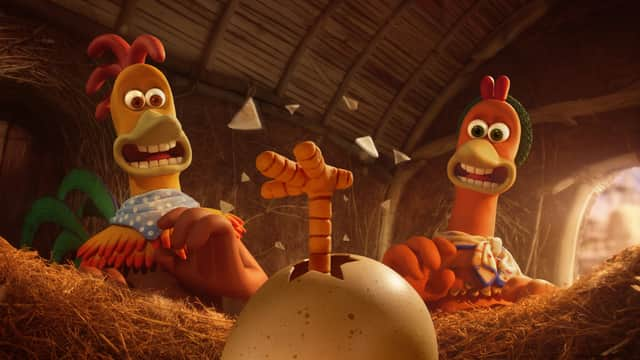 First held in 1957, the London Film Festival (LFF) is one of the world's most prestigious events of its kind - screening a host of premieres each year with stars walking the red carpet in front of crowds of cinema fans.
Since 2018 LFF chiefs have expanded the event to include simultaneous screenings of films in cinemas across the country, the first being Peter Jackson's 'They Shall Not Grow Old'.
Here are all the films you can see, and when you can see them at the GFT. Tickets are available here.
Saltburn - Wednesday, October 4, at 8pm
Struggling to fit in at Oxford University, Oliver Quick finds himself drawn into the world of the charming and aristocratic Felix Catton, who invites him to Saltburn, his eccentric family's sprawling estate, for a summer never to be forgotten. Oscar winner Emerald Fennell set cinematic screens alight with her US-set feature debut Promising Young Woman. For her hotly anticipated sophomore film, the director returns to the UK and sharpens her gaze on the opposite sex for this thrilling tale of an intellectually brilliant student navigating a new and precarious world. Fennell is a gifted writer and Saltburn offers endless delights with its delicious plot twists, dry wit and edgy barbs, delivered with aplomb by the stellar cast, including Barry Keoghan, Rosamund Pike, Richard E. Grant and Carey Mulligan.
May December - Friday, October 6, at 8.05pm
From the outside, Gracie and Joe are the perfect suburban couple. That is, if you don't take into account the fact that their relationship was a tabloid sensation 20 years ago. When Elizabeth, an actor, arrives at their home to research for a role in a film based on Gracie, it becomes clear that the couple's relationship isn't as strong as they'd like to believe. As the truth begins to unspool, and Elizabeth immerses herself in her role, it becomes clear that she's not the only one acting. What is the truth to Gracie and Joe's relationship? And is Elizabeth's presence complicating things even further? With a trifecta of stunning performances from Natalie Portman, Julianne Moore and Charles Melton, Todd Haynes effortlessly combines classical melodrama with contemporary preoccupations of celebrity and scandal.
Earth Mama - Saturday, October 7, at 5.50pm
What to do when you're caught in a system that doesn't want you to win? This is the battle facing Gia (a soulful performance from Tia Nomore) at the heart of Earth Mama – a film that's both a fierce indictment against the foster-care system's treatment of young Black mothers and a captivating portrait of a woman yearning for more.
The Royal Hotel - Saturday, October 7, at 8.40pm
When Liv and Hanna run out of money whilst travelling through Australia, they take the only gig they can find: a live-in bar job in a remote mining town. They quickly pique the interest of the rowdy locals and while Liv looks to fully embrace her desire for adventure, Hanna is uneasy in navigating their increasingly precarious situation. Kitty Green's tightly coiled social thriller expertly examines male-female power dynamics in a microcosm of Australian society.
The Mission - Sunday, October 8, at 2.30pm
In 2018, US-based Christian missionary Chau made an illegal and fatal voyage to an island in the Indian Ocean in order to convert one of the last remaining isolated communities on Earth – the Sentinelese. Making use of the diaries written by John and his father, The Mission examines the calling and the actions that led to his death, revealing the complicated and controversial world of missionaries, and the legacy of religious imperialism in the modern world.
Robot Dreams - Sunday, October 8, at 4.20pm
Dog is lonely so decides to buy himself a new companion in the shape of Robot, delivered in parts for home assembly but soon lovingly transformed into a fully functioning friend. Adapted from Sara Varon's graphic novel, Berger's (Blancanieves, Abracadabra) gorgeous, colourful and sharply humorous film, with its nods to silent cinema, offers insightful reflections on the pleasures of camaraderie.
All of Us Strangers - Sunday, October 8, at 7.25pm
Adam is a screenwriter living in London. He strikes up an uneasy acquaintance with his mysterious neighbour Harry, which edges towards something more intimate. At the same time, on visiting his old family home, he discovers something quite strange and beautiful, which keeps him returning time and again. But as the days continue, Adam begins to question the turn his life has taken and whether it is to his detriment. Andrew Scott's central performance once again shows why he is regarded as one of our finest actors. Paul Mescal is sublime as Harry, while Jamie Bell and Claire Foy's performances elicit some of the film's most striking emotional notes. 
Eileen - Monday, October 9, at 8pm
Oldroyd's eagerly awaited follow-up to Lady Macbeth centres once again on a young woman with unruly desires. Eileen's days pass with listless fantasies of sex and suicide, until Rebecca sets her world alight. As Rebecca, Anne Hathaway's megawatt charisma is showcased to thrilling effect, while Ari Wegner's cinematography creates a pungent, pulpy atmosphere that intensifies as the relationship between the women hurtles towards a shocking conclusion.
Housekeeping for Beginners - Tuesday, October 10, at 6pm
Despite lacking maternal instincts, Dita is head of a found family and helping to create a ramshackle safe space. But sexuality and caste are thorny issues in Macedonia, so she must fight to keep them together. Reuniting Stolevski with You Won't Be Alone star Anamaria Marinca, this drama reminds us that navigating life while queer is still a complex issue around the world.
20,000 Species of Bees - Tuesday, October 10, at 8pm
Ane takes her children away from their French-Basque home for the summer. She is hoping to kickstart her career as a sculptor, while her eight-year-old child Cocó (a dazzling award-winning performance by Sofía Otero) is inspired by the bees kept by their great aunt to ask questions of who they are and who they want to be. With its bucolic setting, this is a beautifully understated paean to the inquisitiveness of youth.
How to Have Sex - Wednesday, October 11, at 8.40pm
Molly Manning Walker's highly kinetic and slyly subversive film focuses on Tara (a superb McKenna-Bruce), a teenager on holiday with friends in pursuit of drinks, sun and sex at a Cretan resort. But when a night of hedonism turns sour, Mia starts to question her experience, her friendships and her own future, even as the neon-soaked, endless partying continues around her.
The Holdovers - Thursday, October 12, at 8.05pm
As the students of New England prep school Barton Academy excitedly depart for the winter holidays, a ragtag bunch with nowhere to go are forced to stay behind. Making things worse, their appointed 'babysitter' is the cantankerous Professor Hunham. But as the days pass, the grumpy professor forms an unexpected bond with smart-but-troubled student Angus, and Mary, the school's cook, who is grieving the loss of her son. Alexander Payne reunites with his Sideways star Paul Giamatti in a film that strikes the perfect balance between pathos and playfulness. The Holdovers is just the kind of warm-hearted and thoughtful work we have come to expect from one of contemporary cinema's great humanist filmmakers.
Birth/Rebirth - Friday, October 13, at 8.40pm
Pathologist Rose and nurse Celie work at the same hospital, but they are strangers to each other. Brusque and antisocial, Rose is the antithesis of Celie, a natural caregiver. However, when her daughter's death leads Celie to discover her colleague's sideline in reanimation, the two women are thrust together. This inspired female-centric revision of a horror classic offers an emotional resonant and morally complex meditation on creation and motherhood.
Omen - Saturday, October 14, at 6.30pm
Koffi receives a frosty reception when he introduces his pregnant fiancé to his family. An incident with his nephew convinces them that he's possessed by an evil spirit and as Koffi struggles to find himself and return to normality, he stumbles upon a bizarre spiritual world that takes him upon a dizzying collision course with his culture. A deserving winner of Cannes' Un Certain Regard New Vision Award, Baloji's magical realist drama is a dazzling debut.
The End We Start From - Saturday, October 14, at 8.30pm
Mahalia Belo's confident feature debut brings Megan Hunter's acclaimed 2017 dystopian novel to the screen as a disaster movie, whose immense power derives from the intimacy of its performances. An excellent Jodie Comer, playing the young mother, is joined by a uniformly superb cast who convey the emotional gravity of this poignant and unsettlingly prophetic tale of survival against the odds, which has echoes of The Road and Children of Men.Read Less expand_less
Chicken Run: Dawn of the Nugget - Sunday, October 15, at 4pm
Having achieved their 'happy ever after' following their break-out from the Tweedys' farm, Ginger, Rocky and their friends have settled on a Chicktopian island, existing in blissful harmony. Ginger and Rocky's daughter, Molly, has her mother's spirit – she longs for adventure and a peek at the world outside. The sight of regular vehicles travelling to a nearby chicken funland is too much for her to resist and, to the islanders' despair, she sneaks away to check it out, completely unaware of the dangers that await her. With more than a passing nod to the Bond films, British stop-motion giant Aardman Studios have created a fun, exciting sequel that's guaranteed to appeal to existing fans while opening the doors to a new generation. It's the best hen party in town!
Comments
 0 comments
Want to join the conversation? Please or to comment on this article.