Blink-182 Glasgow Gig: Likely OVO Hydro setlist, event times, support and age restrictions
The pop-punk band are playing two nights at the Glasgow venue.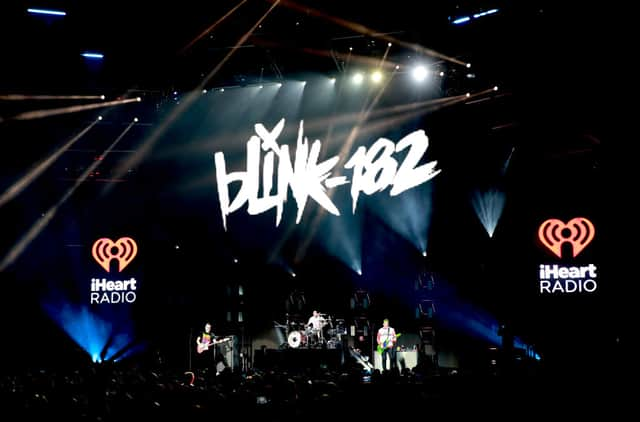 Formed in California in 1992, the punk rockers have sold over 50 million albums worldwide which have spawned numerous hot singles such as  'All the Small Things', 'Dammit', 'I Miss You', and 'What's My Age Again?'
Here's what you need to know about their visit to Scotland.
When are Blink-182 playing Glasgow?
Is there a support act?
Support will be provided by American pop-punk band The Story So Far, who were formed in 2007 and have released four studio albums to date.
What are the stage times?
No official stage times have been announced as of yet, other than that doors will open at 6.30pm. Judging by the timings of similar concerts at the venue, expect support to be on at around 7.30pm and Blink-182 to be on stage between 8.30pm and 9pm.
Are there age restrictions?
You need to be a minimum of eight years of age to be admitted to the seated areas, and over 14 to enter the standing sections. Everybody under the age of 16 should be accompanied by an adult.
Can I still buy tickets?
Limited tickets for both shows, starting from £52.80, are available here.
What's the likely setlist?
The gigs are part of Blink-182's world tour which recently completed its American leg. The setlist was broadly the same each night, so expect to hear the following songs:
Anthem Part Two
The Rock Show
Family Reunion
Man Overboard
Feeling This
Reckless Abandon
Violence
Up All Night
Dysentery Gary
Dumpweed
EDGING
Aliens Exist
Cynical
Happy Holidays, You Bastard
Happy Holidays, You Bastard (faster version)
Stay Together for the Kids
Gonna Fly Now (Bill Conti cover)
Always
Down
Bored to Death
I Miss You
Adam's Song
Ghost on the Dance Floor
What's My Age Again?
First Date
All the Small Things
Dammit
Comments
 0 comments
Want to join the conversation? Please or to comment on this article.