Zakir Hussain on bringing his new Triple Concerto to Scotland
Next month at Edinburgh's Usher Hall, tabla virtuoso Zakir Hussain will perform his new Triple Concerto with the Symphony Orchestra of India. Interview by Ken Walton
He's recorded with George Harrison, toured with the Grateful Dead's Mickey Hart and featured on the soundtrack of Francis Ford Coppola's Apocalypse Now. He's also acted alongside Julie Christie and Greta Scacchi in the 1983 Merchant Ivory film Heat and Dust. Oh, and he refers to the Indian sitar legend Ravi Shankar as "uncle". It's safe to say Zakir Hussain has lived a full, interesting and well-connected life.
Despite the A-list roll call, however, the world-famous 72-year-old Mumbai-born tabla player is disarmingly unaffected. Currently on tour with banjo virtuoso Béla Fleck and bamboo flautist Rakesh Chaurasia, when I speak to him he'd just popped home to California for "a decent night's sleep". They have an album out called As We Speak, recently nominated for this year's Grammy awards in three categories.
Next month at the Usher Hall in Edinburgh, meanwhile, we will see yet another fascinating dimension to the musician who once made a living as a session player recording Bollywood soundtracks, and who frequently jams with jazzers like Dave Holland and Chris Potter. Yes, he'll be performing on the instrument that made his name – the Indian tabla – but he'll be doing so with the Symphony Orchestra of India in a Triple Concerto he himself has composed. He'll be joined by fellow soloists Niladri Kumar on sitar, Chaurasia on bansuri (bamboo flute) and former associate conductor of the BBC SSO, Alpesh Chauhan, in a concert also featuring music by Richard Strauss and Stravinsky that is part of the SOI's nine-date UK Tour.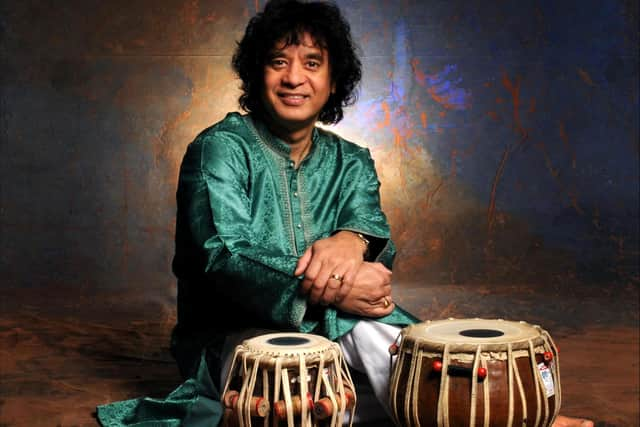 It's not Hussain's first commission from India's only professional symphony orchestra. That was Peshkar, a tabla concerto written to celebrate its tenth anniversary in 2016. "For that I decided to stay with what I know best, playing the tabla," he says. "Impeccable unison with the orchestra – pure genius", was Rolling Stone India's euphoric verdict.
For this latest concerto, premiered recently in Mumbai, he envisaged a musical narrative in which improvisation and the sliding pitches of Indian traditional music exchanged meaningful views with classical music's precise harmonic language and notation. "This orchestra likes to challenge itself with pieces that are inclusive of Indian traditions," he explains. An upbringing defined by an invigorating fusion of cross-cultural stimuli – Hussain's father, Alla Rakha, was Ravi Shankar's long-standing tabla player – surely prepared the way for such a musical challenge.
"I've had the good fortune to live a life that sits in so many different worlds," he recalls. "As a seven-year-old, my Muslim father would sit me down every day at 3am and teach me about Hindu mythology, rhythm, history and repertoire. Then I would go to the Madrasah at 6am and recite the Koran. Then at 7.30am I'd cross the street and assemble with my friends in St Michael High School and Church and sing hymns, then march to our respective classrooms to loudspeakers blaring out the title tune to Bridge Over The River Kwai. Inclusiveness was contagious!" Hussain later married a Roman Catholic.
He has lived in America since 1972. "It was all Ravi Shankar's fault," he insists. "I was 18, on a concert tour in Germany, when Shankar phoned telling me to go to the US Embassy, get a visa, and come to New York tomorrow. 'You have to play for me as your father is sick', he told me. I got there, played five concerts, then Shankar suggested I take an assignment teaching tabla at Washington University in Seattle."
America brought him into contact with everything from Afro-Cuban to Indonesian Gamelan. It was through Shankar, however, that he met George Harrison. "I remember sitting in a Soho studio with Harrison doing a recording with Shankar and my father for Dark Horse records. I told George I would love to play drums. He put his yogurt, honey and nuts cup down and said to me: 'I have 500 drummers standing outside waiting for me to call them in – why do you want to be 501? You have something far more unique to offer'. That one little session put me on the way to what I have become."
Zakir Hussain performs his Triple Concerto with the Symphony Orchestra of India, at the Usher Hall, Edinburgh, 3 December, www.usherhall.co.uk