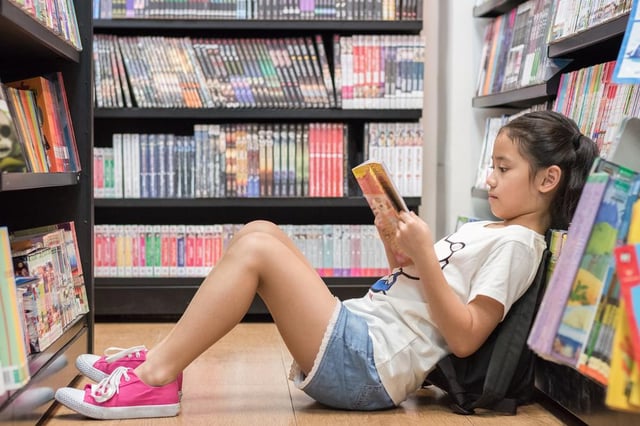 (Photo: Shutterstock)
The day aims to "change lives through a love of books and shared reading", and its organisers say "having access to books and developing a love of reading for pleasure is vital for a child's future."
"We want to bring the magic of books to children and young people everywhere," they add.
Here is everything you need to know about this year's event.
When is World Book Day, and how did it start?
Despite its name, World Book Day isn't actually observed all around the globe at the same time.
In fact, the UK is one of the few countries breaking with the 'official' date.
UNESCO's set date for World Book Day is 23 April – so chosen because it marks the anniversary of the death of Don Quixote author Miguel de Cervantes, William Shakespeare and several other prominent writers – but the UK moved its observance to March to avoid a clash with Easter school holidays and St George's Day.
It always falls on the first Thursday of March here, so in 2021, World Book Day takes place today, Thursday 4 March.
The day was first celebrated as we know it in Britain in 1998, when then Prime Minister Tony Blair launched the initiative to provide every child in full time education with a World Book Day Book Token. redeemable against any book in any UK bookshop.
The day has been celebrated each year ever since.
How can my child take part?
World Book Day's organisers this year are launching the World Book Day Book Club, which can be participated in from wherever you find yourself on 4 March.
From March, youngsters will be able to tune into YouTube and read along, with special programmes sharing monthly reads, interviews with authors, and more.
The first Book Club title will be 'High-Rise Mystery' by Sharna Jackson, a "middle-grade page-turner", and you can sign up for the Book Club newsletter to be kept up to date on the latest news by clicking here.
Book Day tokens are an essential part of the day, and they will once again be available in 2021.
This year, they will be valid from Thursday 18 February to Sunday 28 March inclusive. They can be redeemed at any local bookseller (please check the Covid restrictions for your area) for one of the 12 exclusive, brand new World Book Day books.
Or, you can redeem your £1 off the price of any other, full priced book.
If you can't make it out to a physical bookseller, the tokens can also be redeemed online, and can be spent on audio books over £2.99, and eBooks.