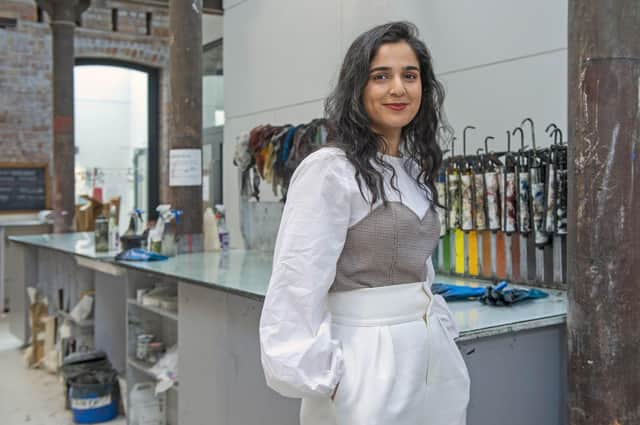 Their experiences of war, displacement, leaving behind their native countries and crossing borders have inspired the work, which will take over a former factory in Edinburgh next month.
Artists from Syria, Bosnia Herzegovina, Iran, Iraq, Somalia, Pakistan, Yemen, Kosovo and Turkey will be among those whose work will be showcased during the three-month exhibition, along with five Ukrainian artists.
Running from 2 April-2 July, the show will be the culmination of a series of special residencies held in studios across Europe, including the historic home of Edinburgh Printmakers beside the Union Canal.
The "Uprooted Visions" exhibition at the Castle Mills complex, which was once home to the North British Rubber Company and was then part of the vast Fountainbridge Brewery, will be unveiled after Edinburgh Printmakers, which runs the UK's first "open access print studio," led the two-year project In from the Margins.
Funded by the European Commission's Creative Europe programme, it has seen "supported workspaces" created for the artists at Edinburgh Printmakers, involved studios at Cork, in Ireland, Aga Lab in Amsterdam, the Funen Printmaking Studio, in Odense, Denmark and the International Centre of Graphic Arts, in Ljubljana, in Slovenia.
A call-out for artists who identified as refugees or have experience of being displaced was issued and each artist was awarded a month-long residency to provide space to experiment, explore and work with the studio technicians.
Among the eight artists who were based at Edinburgh Printmakers was Syrian-born Mousa AlNana, a graduate of Damascus University, who also has a master's degree from Glasgow School of Art, and now lives in the city.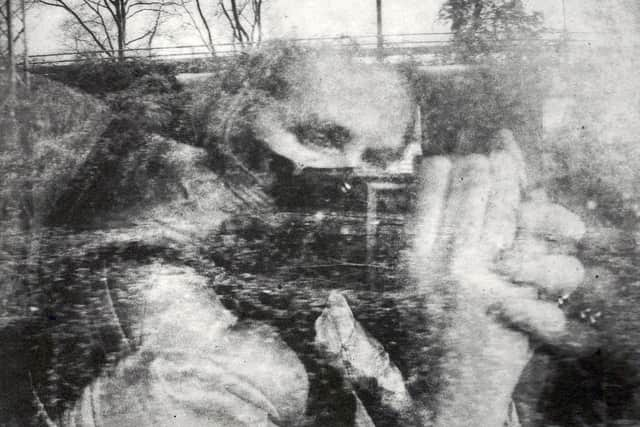 He said: "My project Unorthodox Heretics was about queer people in the Middle East, those who were cast away just for being who they are.
"It highlights the emotion and the humanity of queer people, talking about their struggle, pain and the war they fight every day.
"Even if they left for a new place, where they become refugees, there will be new walls to break and new challenging to overcome. The project challenges the role that religion plays in the judgment of queer people."
Glasgow-based Aqsa Arif, a Pakistani refugee to Scotland, said: "My work is inspired by the Pakistani folk stories of The Seven Queens of Sindh.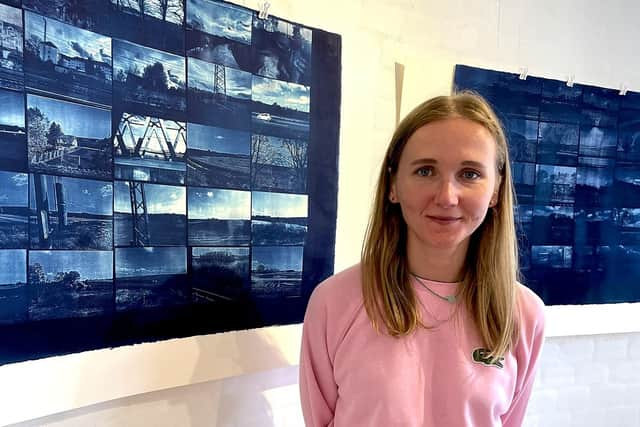 "I found a deep connection with the story of Sohni and Mehar, a girl who is married off, traverses the stormy river each night with the help of a clay pot to be with her love.
"The idealised view of a woman traversing land and culture for personal values despite societal expectations was something I instinctively wanted to explore.
"I'm interested in this historical female narrative as a way to explore and understand my heritage, which I felt disconnected with due to the desperate process of cultural integration as a child.
"I embody these characters as a mirror to reflect on my own experiences of cultural dissonance, ethnic expectations and the female as a vessel of cultural morality. This work has been a process of discovery, connectedness and healing."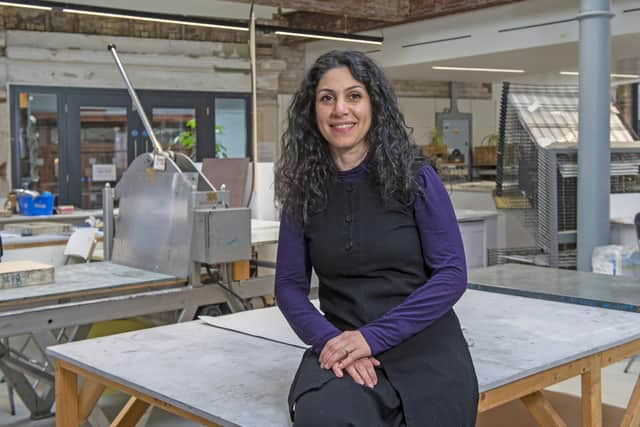 Iranian-born artist Paria Goodarzi, who lives and works in Glasgow, where she studied at Cardonald College and the art school, said: "My work Measuring the Distance Is a reflective process, a conversation between myself and my mum which exists only in the moment and reflects on social and political issues, a tracing of a conversation in the mind that fades like a distant memory. I attempted to represent humanitarian progress in society and to negotiate national identity.
"Unifying patterns extracted from travel documents represent the containment and barriers experienced during the British citizenship process as well as restrictions on movement by borders."
Ukrainian artist Irynka Gvozdyk, who was born in Kyiv, will be showing her work "My way to home" in the exhibition.
She said: "The name itself has an optimistic meaning - fleeing from war, the end point is not a foreign country, but one's own.  
"Having left Ukraine in an unknown direction and without a plan, I had only one clear goal - to live back home."
Croatian artist Barbara Miše said: "At the start of my residency, I'd just moved to Amsterdam, after a long period of moving through different countries.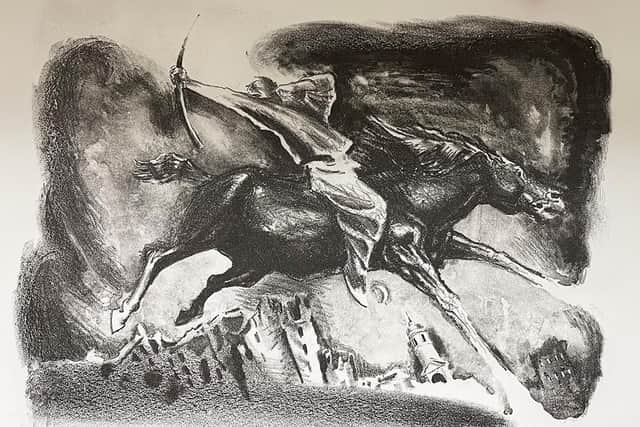 "I was thinking a lot about how much of 'home' we carry with us, the way we connect and transpose our memories to unfamiliar environments in order to make sense of the place. It was interesting to observe how the process of adaptation takes place in my mind and body."
Edinburgh Printmakers chief executive Janet Archer said: "Brought together for the first time, this exhibition invites us to encounter an assembly of makers, each motivated by distinct creative intentions and bringing their own unique individual perspective, while creating room for conversations around meaningful threads that resonate across different works.
"The purpose of the residencies has been to offer a space to artists to explore their art in a way that works for them, whether it is to deepen their artistic practice, develop new techniques or simply enjoy the freedom of a flexible open residency without any expectations on their work.
"From the sharing of knowledge to a greater understanding of the artists' experiences, we're privileged to have hosted such a diverse range of talent.
"The connections established not just with the artists in the studio but across the entire European network of studios has enriched Edinburgh Printmakers.
"I'm excited to see the resulting artworks take over the entire building at Castle Mills."
Stuart Cameron, equalities and diversity officer at Creative Scotland, said: "This is a vital opportunity to platform these artists' work and generate greater visibility of it within the wider Scottish arts sector, promoting better understanding of the barriers that displaced artists experience in developing their careers in Scotland."