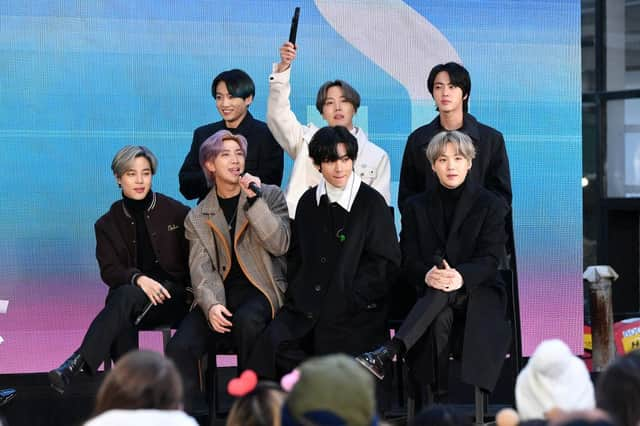 BTS, one of the biggest musical groups in the world, have broken the YouTube record for most views in a 24-hour period with their new song, Dynamite.
This is everything you need to know about the Korean pop band - and why they're so popular.
BTS, also known as Bangtan Boys, are a K-Pop (Korean Pop) group made up of seven members: Jin, Suga, J-Hope, RM, Jimin, V and Jungkook. The members come from all over South Korea.
As is standard with K-Pop groups, each member of the band has a different role:
- RM is the groups leader and the main rapper
- Jin is a vocalist and a "visual" - visuals are considered the most aesthetically good looking member of the group
- Suga is the lead rapper
- J-Hope is the groups main dancer as well as sub rapper and sub vocalist
- Jimin is also a main dancer and lead vocalist
- V is a lead dancer, sub vocalist and a visual
- Jungkook is a main vocalist, lead dancer and sub rapper
The group was first launched in 2013 and have since skyrocketed to global fame.
They have released four Korean language studio albums and four Japanese language studio albums.
BTS are the biggest K-Pop group to find international success, and fans of the group go by the name ARMY.
According to Billboard, their album Love Yourself: Tear, which is sung in Korean, became "the first primarily foreign-language No 1 album in over 12 years".
They were also the first K-Pop group to win a Billboard Music Award for Top Social Artist in 2018, beating out competition like Justin Bieber and Ariana Grande.
What record did they break?
BTS are known for breaking records and on Friday 21 August, they've done it again.
BTS uploaded the highly anticipated music video for Dynamite to YouTube which drew in crazy viewing numbers from their fans. Dynamite is the group's first fully English song.
In the first 24 hours of it being uploaded, the video racked up 101.1 million views, which broke the record of the previous holder - fellow K-Pop stars BLACKPINK, who had held that record with their song How You Like That which garnered 86.3 million views in its first 24 hours.
Dynamite is the first video in YouTube history to earn over 100 million views in a 24 hour period, and in its first 20 minutes of its debut, Dynamite gathered over 10 million views and one million likes.
The K-Pop group have never had a number one single in the UK, but it seems that Dynamite is set to change this.
Should Dynamite earn the group a number one spot in the UK, it will be the second time a Korean artist has done so in the UK after 2012, where Psy earned the top spot with Gangnam Style.
What have BTS said about the fan reaction?
Speaking at a press conference on Friday, band member Jimin said: "Everyone in the world is going through tough times right now, and nobody expected this, and we ourselves couldn't do a lot of things we had planned.
"We really wanted to be on stage, we wanted to meet our fans. As artists we felt empty and helpless and we needed a breakthrough to overcome this emptiness, and we came across this opportunity to try something new.
"Dynamite is a song that can lift anyone's spirits."
Fellow BTS member Suga said: "The chart rankings are always something we watch with a lot of nervousness and excitement. Of course, if they're good results, it's always a great honour.
"But rather than have some sort of result as a target, it's better to do our best so that we can repay the love that our fans show us."